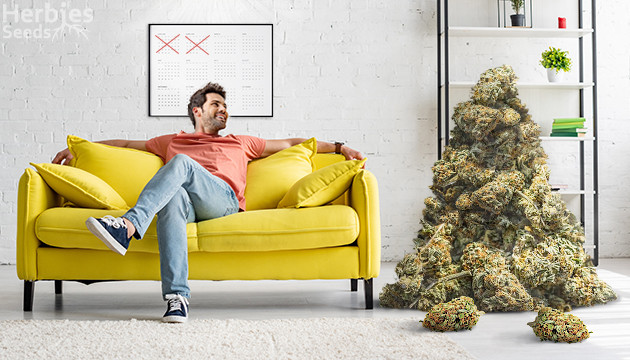 As the next topic of our Indoor Season grow series, we're talking all about autoflowers – specifically, the highest yielding autoflower genetics. Autoflowering strains are ideal for indoor growing due to their size and ease of growth… but does their compactness affect the yields? Sometimes! But don't worry – here, we'll explore everything you need to know about high yielding autoflower seeds, including our top six best yielding autoflower strains.
Can Autoflowers Be High Yielding?
The world of autoflowers is ever-evolving, including the emergence of modern strains that are outputting yields higher than ever. This is great for indoor growers, since it's been a long-time myth that autoflowering plants' compact size produces similarly compact yields. However, now that so many advancements have been made in cannabis genetics and breeding, that couldn't be farther from the truth. Now, there's a plethora of options for high yield autoflower seeds that produce maximized yields in minimized time.
Another factor that contributes to the success of the highest yielding autoflowering strains is the ability to keep light on the plants for 20 hours straight or even 24/7. This allows the best yielding autoflower plants to pack on the weight and grow to their maximum ability. Speaking of lights, the technology there has advanced just as much as genetic breeding has. Using high-exposure and high-strength light sources like LED grow lights can help nurture extra-large autoflower yields, too.
Our Top 6 High Yielding Autoflowering Cannabis Strains
So now that you know autoflowering yields are better than ever, you're probably wondering: what's the best autoflowering strain in terms of yield? Don't worry, we've got just the list for you. Here are our top six proven high yielding autoflower seeds that will automatically boost your harvest.
Orange Sherbet Auto
Orange Sherbet Auto is a strain that not only produces extra-large autoflower yields, but also high potencies of THC. These FastBuds seeds are a feminized variety that treats growers to unusually large crops in just 63-70 days. And when we say large, we mean a whopping 500-650g/m² (1.6-2.1 oz/ft²). Orange Sherbet Auto also does grow taller than most high yield autoflower seeds, which attributes to its hefty final harvest.
Jack Herer Auto
Jack Herer Auto is a strain bred by Green House Seeds that combines the popular, classic genetic with autoflowering capabilities. The end result is bountiful yields that can reach up to 700g/m² (2.3 oz/ft²). Perhaps surprisingly, what makes Jack Herer Auto one of the best highest yielding autoflower strains is her shorter heights. The strain's compact size is able to pack on the huge weight while still usually growing under 80cm (2.6 ft).
New York Diesel Auto
New York Diesel Auto lives up to the Big Apple nickname as one of the best yielding autoflower strains out there. Bred by Expert Seeds, these genetics are preferred by many indoor growers not only for their hefty yields, but also short lifecycle. New York Diesel Auto will be ready to harvest in just 56 days and doesn't stiff you during harvest time, as the strain's typical yield indoors reaches 600g/m2 (1.9oz/ft²).
Monster Bruce Banner Auto
With a name like Monster Bruce Banner Auto, you can expect Hulk-like harvests. So it's no surprise that the supersized genetics bred by Monster Genetics produce extra-large autoflower crops. The beginner-friendly strain thrives in indoor environments and stays at heights under 120cm (4 ft). Even better, after just 56 days, you'll get to enjoy the fruits of minimal labor with maximum yields reaching 700g/m² (2.3oz/ft²).
Zkittlez OG Auto
Zkittlez OG Auto is a Ruderalis cross of two classic strains that come to us from Barney's Farm. While the genetics may take longer to flower than most autoflowering varieties, the strain produces crops that are certainly worth waiting for. After 10-11 weeks, you'll be harvesting THC-rich yields that can reach up to 600g/m2 (1.9oz/ft²). For optimal results, only implement LST techniques, as Zkittlez OG can be susceptible to stress-induced stunted growth.
Glueberry Auto
Glueberry Auto bred by Expert Seeds is a potent, extremely high yielding autoflowering strain that you'll be craving to grow. Pungent with sweet blueberry flavors, the genetics will deliver a bountiful 700g/m² (2.3 oz/ft²) for you to enjoy. Even better, Glueberry Auto is faster than most high yield autoflower seeds and is ready to harvest in just 56 days. The strain typically grows short and wide to produce its impressive autoflowering yields.
Low Effort for High Yields
Like everything in cannabis, autoflowering yields and genetics are improving over time. Now, growers can expect yields from autoflowering seeds to be just as high as those of photoperiod varieties. If you're seeking to maximize your space and produce extra-large autoflowers, our guide to the top highest yield autoflower seeds will get you started on the right foot.
Herbies Head Shop expressly refuses to support the use, production, or supply of illegal substances. For more details read our Legal Disclaimer.