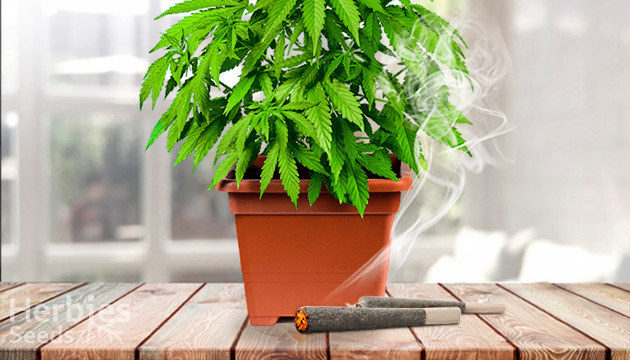 Indica, a subspecies of marijuana, grows into tall, full-bodied plants and produces dense, bulbous buds. Indica strains do well when grown either indoors or outdoors and are generally easy to cultivate. Many cannabis enthusiasts believe this subspecies to result in a sedated, sleep-inducing haze; perfect for a night spent indoors. Indicas are incredibly relaxing, and used to relieve aches and pains as well as reduce nausea. If you're a marijuana grower, there could be no better way to start the year than by searching for the best Indica strains. This list comprises some of the most popular Indica varieties, handpicked by us according to the preferences of our customers. These ten magical varieties have the best Herbies consumer reviews and the most positive feedback from growers. 
Purple Punch – How About Dessert For Dinner?
Purple Punch is one of the best heavy Indica strains in the market. A cross between OG Larry and Granddaddy Purple, both Indica classics, it therefore, gets the best of both of these two worlds and is a favorite among marijuana enthusiasts. It takes 50 to 60 days to flower when grown indoors, and outdoors, reaches 1.5 meters and produces up to 2000 grams (70.5 oz).
Purple Punch has the flavor of baked apple pie, glazed over with not-so-subtle hints of blueberry, caramel and cloves.
It has an herbal pine scent with peppery and citrus undertones.
Smoking this strain results in a blissful, playful and unrelenting punch to the head, starting right between the eyes and floating down to the limbs.
Glookies – Mind-Bending Magic
Glookies is an incredible Indica-dominant hybrid with a delicate and delightful flavor profile. It was created by crossing Thin Mint Girl Scouts Cookies and Gorilla Glue, and it combines the best features of each. It's an easy plant to grow and extremely resilient, making it one of the best Indica strains for beginners. Planted outdoors, each plant may yield up to an outstanding 3000g (6.6lbs) per plant!
This strain has a complex flavor palette with bold notes of nut, citrus, and diesel.
Glookies results in a soothing, full-bodied high that follows the initial rush of energy and euphoria for a top experience from start to finish.
Shiskaberry – The Purple Problem
Shiskaberry is a genetic superstar achieved by crossing Blueberry and an unknown variety of Afghan. When planted indoors, this strain takes 7-9 weeks to finish flowering. The plant produces massive yields, reaching up to 450 grams (15.9 oz) indoors and 565 grams (19.9 oz) outdoors.
Shiskaberry has a distinct smell of berries that bleeds into its taste, with an underlying flavor of earth and fruit.
It has a full-bodied, relaxing and happy high and is ideal for dealing with stress, anxiety, insomnia, depression and arthritic pain.
Its light head buzz slowly morphs into a lazy high as you keep smoking. 
LSD – Barney's Psychedelic Gem
LSD from Barney's Farm is hardy and durable, and loved by farmers for its resilience and resistance to mold and disease. It grows both indoors and outdoors and does well in almost any growing environment. Planted indoors, it can yield up to 600 grams (21.1 oz) per m2.
This strain has a musky fruit and pine aroma that matches splendidly with its herbal chestnut flavor and earthy undertones.
It's commonly used medicinally to control stress, depression, insomnia, anxiety and pain.
Smoking LSD results in a powerful, trippy and uplifting high with sporadic patches of euphoria and psychedelia.
Critical Kush – Barney's Farm's Herbal Trouble
Critical Kush is a powerful plant that exhibits vigorous growth and produces staggering amounts of buds. It also has insane THC levels and is one of the best heavy Indica strains out there. This strain does well both indoors and outdoors.
This strain has a dank, lemon pie and fresh pine aroma to match its spicy, herbal and earthy fuel flavor.
Critical Kush results in a relaxing, calm and full-bodied high that creeps up on you and tucks you in for a heavy and comfortable night's sleep.
It is commonly prescribed to patients with insomnia, depression, aches and pains, and muscle spasms.
Eleven Roses – The Fragrant Lullaby
Eleven Roses is one of the best Indica strains of all time. It does remarkably well both indoors and outdoors, and is also known for great bag appeal thanks to its mouth-watering purple hues. Planted indoors, it takes 55-60 days to flower and produces as much as 600g (21.1oz) per square meter. Outdoors, it grows up to 150cm (4.9ft) in height and yields up to 2000g (4.4lbs) of dense, fragrant buds.
This strain has a unique flavor palette with a rare combination of metal, fruit, and earth notes to create a connoisseur-worthy experience.
Eleven Roses results in strong mental and physical effects, causing an intense and meditative feeling of hazy wandering along with a deep body relaxation.
Northern Lights – The Narcotic Knock-Out
Northern Lights is one of the best Indica strains to grow. It does well both indoors and outdoors, although many farmers prefer indoor cultivation since it gives them more control over its growth. It takes 8 weeks to flower indoors and produces around 600g (21.1 oz) per m2.
Smoking Northern Lights results in an instant and peaceful high, washing gently over you and soothing you into blissful relaxation.
It has a pleasant tropical fruit scent and, when smoked, burns with a spicy, sweet and fruity flavor.
The (Absolutely) Incredible Bulk
If you're looking for a resilient grow machine, look no farther than this beast. The Incredible Bulk produces as much as 1000 g (35.2 oz)/m2 indoors and 1500 g (52.9 oz)/plant when planted outdoors, making it perfect for commercial growers.
Its skunky lavender and pine scent, combined with its sweet, spicy, herbal tea flavor makes it an absolute pleasure to smoke.
Smoking this strain results in an intense euphoric high that manifests itself in a dense, full-bodied buzz and deep body relaxation. 
It's perfect for patients with insomnia, stress, depression and anxiety.
Best used as a nightcap.
Zkittlez Auto – A Strain With Prized Genetics
Zkittlez Auto is one of the best Indicas for beginners. It has prized genetics, being a cross between Grape Ape, Grapefruit and a widely unknown strain of Ruderalis. It does quite well indoors, producing 600 grams (21.1 oz) per m2.
When this plant begins to flower, the buds evoke a sweet chocolate scent that changes to an aroma of ripe berries and candy after curing.
It is used medicinally to deal with insomnia and inflammation and to stimulate the appetite.
Smoking this weed brings on a focused and alert high along with a sense of unconscious, deep body relaxation.
Purple Lemonade Auto – Eye-Candy Of A Strain
Purple Lemonade Auto is a colorful strain with staggering THC levels and plentiful yields. It performs well indoors, producing 500 grams (17.6 oz) of huge bulbous buds after just 7 to 9 weeks.
Purple Lemonade Auto has a zesty, tangy and sweet citrus aroma and a sweet, savory, herb and lemon taste.
It can be used medicinally to ease glaucoma (eye pressure), anxiety, nausea and migraines.
It results in an uplifting high, characterized by giggling and talkativeness that morphs into deep, full-body relaxation.
***
If you're a grower looking for the best Indica strains to cultivate this list has you covered. It was compiled based on consumer and farmer feedback – you can't make this stuff up! 
Have you already tried some of these? Share your experience in the comments below – we can't wait to hear about it!