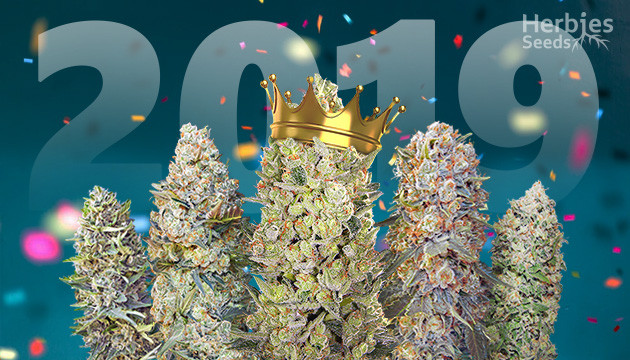 The new year brings new buds to explore, but before we make a fresh start and usher in 2020, we'd like to look back and honor the top 10 trending genetics of 2019. Why did these cannabis strains see a surge in popularity? Let's take a look at these bestsellers and investigate what made them so renowned!
GSC
The legendary Girl Scout Cookies family combines the best of Indica and Sativa genetics. Best known for an ideal balance of cerebral stimulation and body relaxation, the GSC strains are prized for their luxurious flavors of candies, citruses, spices, flowers or diesel, and high THC content reaching up to 28%. Many GSC varieties also feature ample medicinal properties that help to combat stress, depression or anxiety. With all these super powers, GSC's stellar has more than earned its reputation!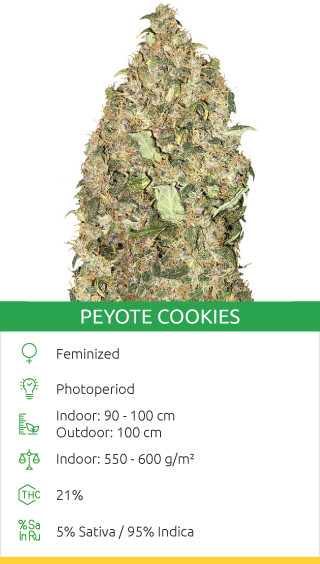 Peyote Cookies: Catching Zen
One of the most popular representatives of the GSC family is the sweet and fruity Peyote Cookies from Barney's Farm. Bred from Peyote Purple and Cookies Kush, this cannabis strain is vigorous and easy to grow. Even those who are new to cannabis cultivation will appreciate its high resistance to mold and mildew, making this strain a perfect choice for both in and outdoors. On top of that, Peyote Cookies boasts mind-melting flavors of guava, vanilla, freshly-ground coffee and earth. Sweet and appetizing, the strain brings calming and euphoric effects, helping to relax a tired body and ease the mind. A proud member of the GSC family, Peyote Cookies tests high THC levels – more than enough to bend your mind and work as a powerful tool against pain and stress.
GG#4 Original Glue
GG#4 Original Glue is an honored member of the groundbreaking genetics that gave birth to many of the most popular cannabis varieties today. GG#4 Original Glue strains are best known for their incredible potency, undeniable sedation qualities and high resin production. Infused with high levels of cannabinoids and terpenes, the GG varieties offer both recreational and therapeutic benefits.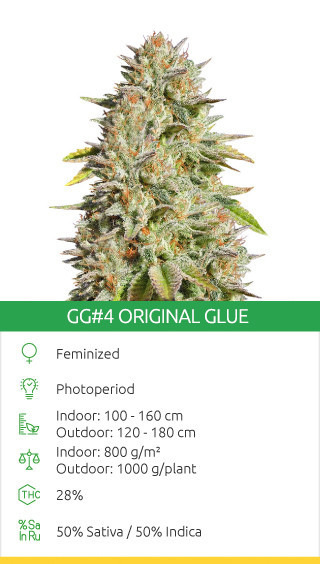 GG#4 Original Glue: A Relaxing Euphoria
One of the best representatives of the GG#4 Original Glue genetic lineage is not difficult to find. GG#4 Original Glue from Original Sensible Seeds is a timeless leader among the strongest cannabis strains. Testing at 28% THC, this 50/50 hybrid is a resin-producing machine that gives a cerebral rush, followed by heavy sedation. Euphoric and uplifting, GG#4 Original Glue is highly effective against all types of pain, muscle tension and insomnia.
Bruce Banner
Named after the Marvel superhero, Bruce Banner strains are renowned for their power of incredibly high THC content and energizing diesel aromas with sweet undertones. Most cannabis strains in this genetic lineage are fast-hitting, euphoric and creativity-inducing, making them especially popular among those who seek cannabis out in order to stay productive, focused and open to new ideas.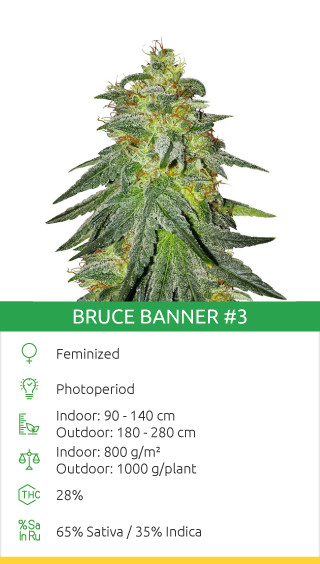 Bruce Banner #3: Fast-Hitting Joy
Bruce Banner #3 from Original Sensible Seeds is a crazy-popular Kush that provides an immediate jolt of euphoria which slowly fades into a full body relaxation. This strain is ideal for creative pursuits like painting, composing music or writing, or simply for enjoying the brighter colors of life.
Wedding Cake
One of the top genetics of 2019, Wedding Cake is packed full of terpenes and uplifting Sativa-like effects. Most strains from this lineage also test a high THC content, which makes them in high demand among cannabis veterans and weightlifters.
Wedding Cake Auto: Bliss, Euphoria And Tranquility
Wedding Cake Auto is a faster version of the namesake strain, offering the joy of sweet-tasting and long-lasting euphoria. Loaded with 21% THC, this strain uses its psychoactive forces to impose uplifting and sedative effects.
Purple Punch
Sweet, sedating and potent – that's all you need to know about the iconic Purple Punch lineage. Most Purple Punch verities are Indica-dominant and feature body-centered effects, including some therapeutic benefits like pain relief, relaxation and sleep promotion.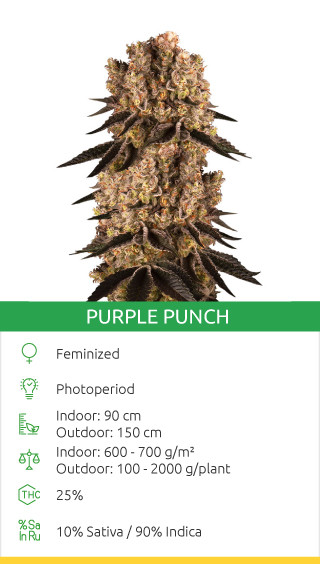 Purple Punch: Epic & Sweet-Tasting Relaxation
Purple Punch from Barney's Farm is a delicious Indica-dominant strain whose appetizing aroma of grape candies and blueberry muffins is so distinctive that you'll want to taste it right away. However, this dessert strain offers more than just a rich aroma profile – with 25% THC, its potency is beyond question.
Do-Si-Dos
The Do-Si-Dos lineage attracts crowds of growers with its short flowering time and dazzling appearance. These cannabis strains are mostly Indicas, highly sought-after and prized for their tangy, sweet and earthy aromas combined with medical-grade body effects.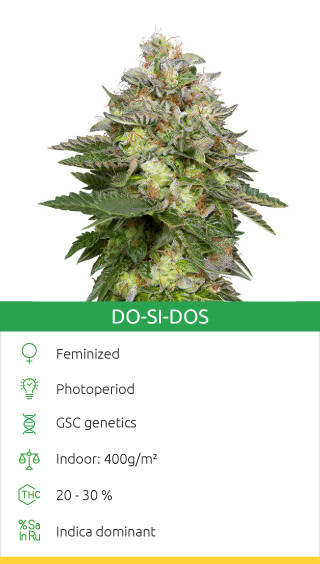 Do-Si-Dos: Sedative & Body-Mending Power
Boasting a rich genetic heritage, Big Head Seeds' Do-Si-Dos strain is a fast-flowering Indica-dominant hybrid blessed with wonderful sedative effects and classic OG aromas. This cannabis strain increased in interest during 2019 thanks to its versatile therapeutic potential – it's a fast-acting aid for migraines, headaches, spinal pain, nausea and sleep disorders.
Zkittles
Candy-flavored and award-winning Zkittles strains hauled their way up the ladder of fame in 2019 thanks to a rich assortment of sweet, fruity flavors and amazing uplifting effects, all combined with a profound body relaxation.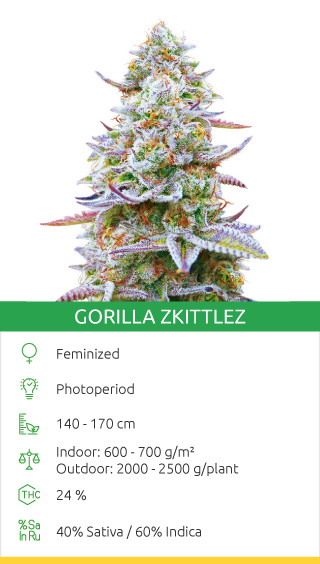 Gorilla Zkittlez: The Pleasure Of Stone-Like Tranquility
Featuring a combo of mood-brightening and relaxing effects, Gorilla Zkittlez from Barney's Farm is a true A-list cannabis strain. This Indica-dominant variety leaves its users focused, energetic and creative while relaxing the body and washing all stress gently away.
Gelato
Gelato is an exclusive genetic from California marked with amazingly sweet, minty and fruity flavors. Delicious and potent, Gelato strains are known for high THC levels, heavy-handed euphoria and wonderful medicinal benefits.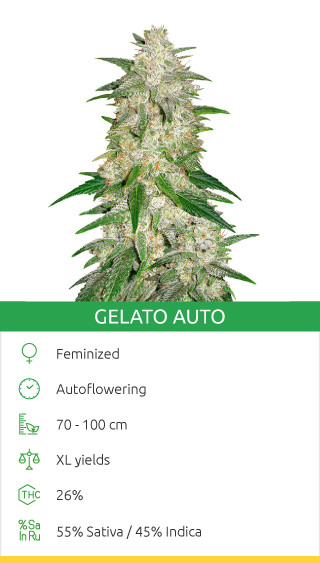 Gelato Auto: Creamy-flavored Jolt Of Energy
Loaded with a jaw-dropping 26% THC and mouthwatering ice cream flavors, Gelato Auto from FastBuds is a flavorsome dessert strain offered in an autoflowering form, guaranteeing a super-fast delivery of creamy-flavored euphoria sprinkled with zesty citrus notes.
OG Kush
Another West Coast national, the OG Kush family is an award-winning combination of mind-bending potency, ample medicinal effects and a rich terpene profile. Featuring high THC levels and complex aromas with undertones of fuel, skunk and spice, OG Kush has many phenotypes blessed with unique yet ever popular properties.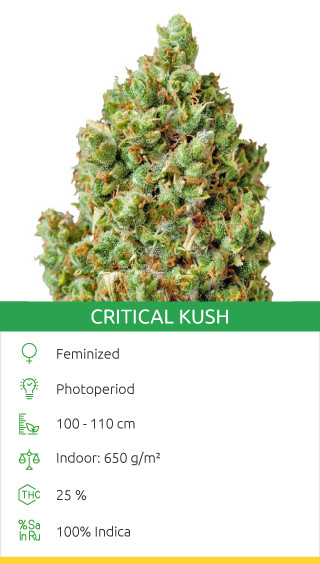 Critical Kush: Long-lasting Stone For A Peaceful Mind
Critical Kush from Barney's Farm is a proud member of the famed OG Kush lineage. Featuring 25% THC and moderate CBD levels, it's an ideal nighttime remedy for all kinds of pain, sleep disorders, stress and muscle spasms.
Blue Dream
Originating from sunny California, Blue Dream has legendary West Coast genetics and is top-rated by novices and connoisseurs like for its sweet berry aromas, heavy tranquilizing effects and high therapeutic potential.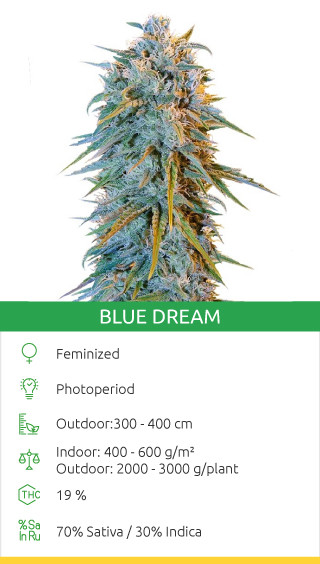 Blue Dream: A Gulp Of Creative Energy
Blue Dream from HSO is an iconic Sativa-dominant strain that has it all: appetizing sweet flavors of berries, uplifting and energizing effects, and solid medicinal benefits. Ideal for daytime use, this strain is popular among patients looking for relief from pain, depression and other conditions.