Cannabis Seeds in Kentucky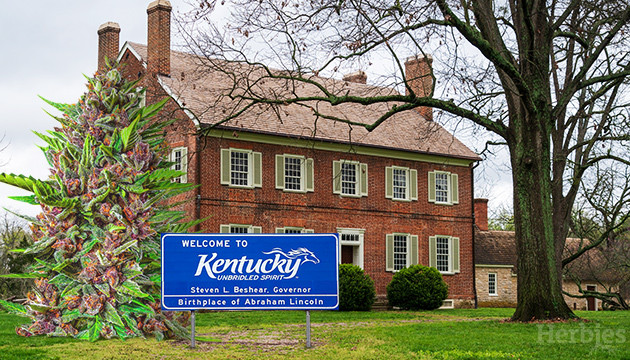 The Bluegrass State is known for many things, but loose cannabis laws are not one of them. While CBD oil is legal, recreational cannabis and medical marijuana remain strictly prohibited. Keep reading to find out a few important things that growers should keep in mind before buying marijuana seeds in Kentucky.
Is it Legal to Buy Cannabis Seeds in Kentucky?
Cannabis seeds are not classified as a harmful drug but rather as collectible souvenirs for adults. Any person above the age of 21 can legally buy and possess cannabis seeds in Kentucky.
Can You Grow Cannabis in Kentucky?
Keep in mind that the same laws don't apply to the possession and cultivation of cannabis seeds. While possession of seeds might be legal, growing marijuana seeds in Kentucky is strictly forbidden and could lead to some serious penalties. If caught by authorities, growers can be charged with fines or even jail time, depending on the amount.
What to Consider When Buying Weed Seeds in Kentucky
Before buying pot seeds in Kentucky, inform yourself about the cannabis laws in the state and the risks of growing cannabis. However, many growers choose to cultivate their plants despite the strict laws. Once you're ready to get some seeds, there are a few more things to keep in mind, such as Kentucky's climate and which cannabis strains you should grow in this area. Below, we cover everything you need to know about the climate in Kentucky and the best suitable strains for it.
Climate in Kentucky
This area exhibits a humid subtropical climate that comes with cold winters and warm and humid summers. Therefore, you should pick disease and mold-resistant cannabis strains that will withstand conditions in this area. Temperatures suitable for cultivating your seeds last only from May to September, so it's best to grow autoflowering and fast Indica-dominant photoperiod strains to avoid losing your yield due to cold weather.
Where to Buy Marijuana Seeds in Kentucky
Unfortunately, you won't find any local cannabis seeds for sale in Kentucky, but luckily, there's an even easier way to get them. You can purchase weed seeds from the comfort of your home by ordering them from an online seed bank that ships to Kentucky. If you're looking for the best service and top-quality cannabis seeds, look no further than Herbies. We offer thousands of cannabis strains for sale that are suitable for any climate. Expert customer service is there for you 24/7 to help you with all of your questions. Plus, all seeds come with a 100% germination guarantee, and on each order, you can expect more seeds – free of charge.
Best Cannabis Strains to Grow in Kentucky
Now to the best part! Below, we've listed cannabis seeds of the highest quality that will flourish in the Bluegrass State.
Strawberry Pie Auto (Fast Buds)
Strawberry Pie Auto is a colorful hybrid strain with 85% Indica genetics. A highly potent autoflower with 26% THC levels, she offers relaxing effects for your mind and body. This strain has sweet and fruity flavors with fuel undertones. Strawberry Pie Auto has a super-fast flowering time and can produce fully formed buds in only 9 weeks. This autoflower can be grown indoors and outdoors, producing yields of up to 550g/m2 (1.6oz/ft2) indoors or up to 160g (6oz) per plant outdoors.
Candy Kush Express (Fast Flowering) (RQS)
Candy Kush Express (Fast Flowering) is a balanced hybrid that was developed by crossing Sweet Special and OG Kush. Its flowers can contain up to 20% THC, producing relaxing effects that will make you calm and sleepy. This strain has sweet and spicy flavors with strong aromas of earth and pine. Candy Kush Express (Fast Flowering) is very easy to grow and is therefore suitable for amateur growers. A plant can produce 525g/m2 (1.7oz/ft2) after7 weeks of flowering indoors, and up to 500g (17.6oz) per plant by early September outdoors.
Auto Colorado Cookies (Dutch Passion)
Auto Colorado Cookies is an Indica-dominant strain, and the result of crossbreeding Auto Blueberry and Girl Scout Cookies. The THC content of this strain can reach up to 26%, offering potent Indica effects of relaxation and bliss. Its buds are packed with sweet flavors of exotic fruit with sweet berry notes. The flowering period lasts around 77 days, after which you can expect excellent yields – up to 500g/m2 (21.1oz/ft2).
Tropicanna Poison F1 Fast Version (Sweet Seeds)
Tropicanna Poison F1 Fast Version is a balanced photoperiod hybrid made by crossbreeding Tropicanna Cookies and Red Poison Auto strains. The THC content of this strain can range from 16 to 24%. Her Indica-dominant side delivers highly potent effects that will leave you relaxed after a long day. The sticky flowers are full of earthy and sweet fruity flavors, along with an incredible citrus aroma. This beginner-friendly strain can be highly rewarding when it comes to harvesting – indoor yields can reach up to 600g/m2 (2 oz/ft2), while outdoor growers can get up to 650g (21oz) per plant.
Jack Herer Auto (Green House Seeds)
Jack Herer Auto, equally as famous as the original photoperiod strain, is a result of mixing Haze, Northern Lights, and Skunk genetics. The 20% THC-infused buds will help reduce your anxiety and pain almost immediately. This strain has pretty much the same appearance as the original Jack Herer, except it's smaller due to its autoflowering nature. Flowers have a peppery flavor with hints of mint and a citrus scent. Indoors, plants have an average yield of 400g/m2 (1.3 oz/ft2), while an outdoor yield can provide up to 120g (4.2oz) per plant. Growers can expect their buds after only 10 weeks of flowering.
Purple Juice Auto (Herbies Seeds)
Purple Juice Auto is considered one of the most complex Purple strains available on the market. This Indica-dominant hybrid has a THC content of 23%, providing an uplifting and head-clearing high, after which many may think of this strain as a Sativa. Purple Juice Auto has balanced sweet and sour flavors, including strong notes of citrus. It requires minimal effort while growing and is a great option for newbies. After just 10 weeks from seed, plants can produce up to 550g/m2 (1.6oz/ft2) indoors or 250g (9oz) outdoors.
Sugar Black Rose Early Version (Delicious Seeds)
Sugar Black Rose Early Version is a multiple award-winning hybrid strain with 80% Indica genes. Flowers can contain up to 25% THC and offer potent effects that will leave you calm and relaxed. It's a great option for both recreational and medical users. Buds are packed with sweet and fruity flavors with slight hints of skunk. Sugar Black Rose Early Version has an incredibly fast flowering time of 45 days, producing massive yields that can reach up to 450g/m2 (1.47oz/ft2) indoors and 900g (31.7oz) per plant outdoors.