Cannabis Seeds in Utah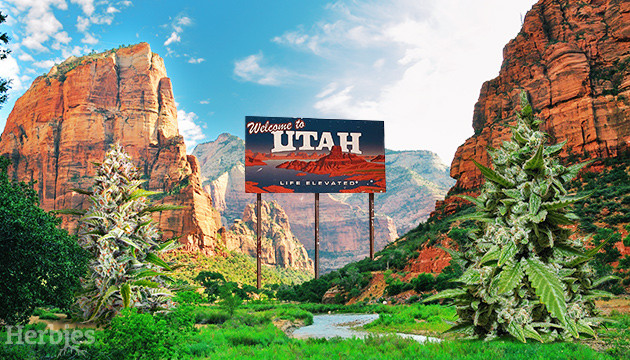 Utah is located in an area with a climate that's highly convenient for cannabis growing. However, the legality of cannabis is a different story, and the laws should be taken seriously. If you're planning to get weed seeds in the Beehive State and want to learn more about them, you're in the right place.
Is it Legal to Buy Cannabis Seeds in Utah?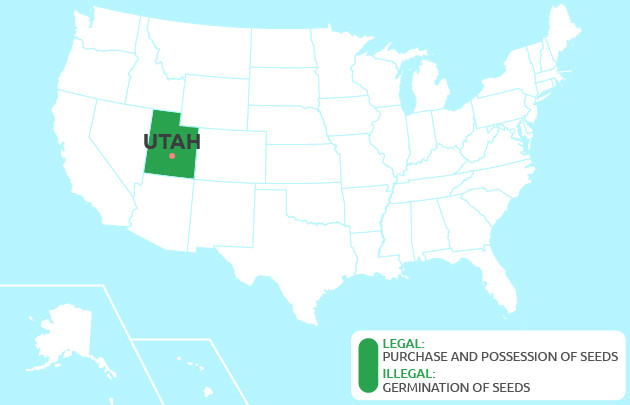 Buying marijuana seeds in Utah is completely legal, and possession is not considered a crime. They are not classified as a drug, but rather as collectible souvenirs that anyone over the age of 21 can legally possess.
Can you Grow Cannabis in Utah?
Despite being legal to possess in Utah, pot seeds become illegal once they germinate and can lead to some serious penalties. Growing recreational cannabis in Utah is not permitted by law, and growers could face jail time if caught. Medical marijuana is legal, but the laws are pretty tight, and registered patients are not allowed to cultivate their own cannabis.
What to Consider When Buying Weed Seeds in Utah
If you want to buy cannabis seeds in Utah, you should understand at least the state's basic laws. Cultivating seeds is prohibited, so you're doing it at your own risk and should always take every precaution. Once you're ready to buy some seeds, look for a reputable seed bank online where you can legally purchase them. Your next step would be finding the right cannabis strain for the Utah climate, but to save you some time, we've already done that part for you.
Climate in Utah
Utah has perfect conditions for outdoor cannabis growing. Long and bright sunshine-filled days together with a dry climate make for an excellent environment for cultivating your seeds. Utah has long summers and short winters, so you want to germinate your seeds by the middle of April if you're located in the warmer regions. Those who live in the state's colder regions might wait until May, or start indoors and transplant outdoors when the weather allows. Choosing cannabis strain according to the climate in your area will secure you a successful yield. For growing in warm and dry regions, you will need a heat-resistant strain, while those who grow in a more humid but colder area will need a strain that's resistant to mold and other diseases. Below, you will find top-quality cannabis strains to grow in the Beehive State.
Where to Buy Marijuana Seeds in Utah
You can easily find cannabis seeds for sale in Utah by searching for online suppliers. Look for a reputable seed bank and simply place an order. If you're looking for top-class service, Herbies is here for you. At Herbies' online store, you can find thousands of marijuana seeds for sale in Utah. If you have any doubts, expert customer service is there for you 24/7. Plus, you can expect a gift with each order – free seeds! If you want to buy marijuana seeds online in Utah, Herbies has the best service and top-quality strains suitable for every climate.
Best Cannabis Strains to Grow in Utah
To leave the search for a perfect seed to grow in Utah out of the question, we've compiled this list of strains. They will not only thrive in Utah's climate, but will also finish their cycle before mid-September, when the temperatures start dropping.
Lemon Pie Auto (FastBuds)
Lemon Pie Auto is a perfectly balanced hybrid strain that comes with 24% THC and effects that will make you feel like you're in heaven. Its flowers are full of citrusy and creamy flavors combined with pine soil and cinnamon. The plants are very easy to manage, and during harvest, growers can get up to 550g/m2 (1.8oz/ft2) of heavy buds in just 6 weeks. Lemon Pie Auto is a great option for novice growers who are looking for a low-maintenance plant.
Delicious Candy Early Version (Delicious Seeds)
Delicious Candy Early Version is a photoperiod and Indica-dominant strain with a super-fast flowering time. Flowers are packed with a combination of sweet, spicy, and cheesy flavors and contain 22.4% THC. This strain has high resistance to mold and pests and can handle temperature changes very well. Plants grow to a medium height and can produce up to 1000g (35oz) per plant if grown outdoors, while indoor growers can expect 550g/m2 (1.8oz/ft2) of buds in just 45 days after the start of flowering.
Auto Orange Bud (Dutch Passion)
Auto Orange Bud is the autoflowering version of the Orange Bud strain. This is a Sativa-dominant strain that has 26% THC and strong fruity flavors of orange with a scent of lime. Auto Orange Bud has an uplifting effect that will activate your creative side. It's easy to grow and is a great option for beginner growers. It's suitable for indoor and outdoor cultivation, and you can get up to 500g/m2 (1.6oz/ft2) of fruity buds in just 10 weeks.
Gelato Auto (Herbies Seeds)
Gelato Auto is one of the strongest autoflowering strains available on the market. It's a balanced hybrid strain that has 26% THC and strong uplifting and energetic effects that will boost your mood. Buds are packed with incredible citrus and earthy flavors. This strain is beginner-friendly and very easy to grow. If you're an indoor grower, you can get around 600g/m2 (1.96oz/ft2) per plant, while outdoor yields deliver 200g (7oz) in just 9 weeks.
Sweet Skunk F1 Fast Version (Sweet Seeds)
Sweet Skunk F1 Fast Version is a photoperiod hybrid cannabis strain with a 35% Sativa/65% Indica ratio. This is a Skunk-based strain with up to 23% THC and sweet and spicy flavors coming from her parents, Sweet Skunk Auto and Early Skunk. A fast flowering time of 45 days makes this strain a great option for those who are impatient to wait for their sweet bud. Yields are quite large and could bring you up to 600g (21oz) of crystal-covered flowers.
Gorilla Zkittlez Auto (Barney's Farm)
Gorilla Zkittlez Auto is an autoflowering and Indica-dominant strain. These flowers are packed with 20% THC and have a smooth and fruity flavor with a pine aroma. It's a great strain for those looking for euphoric yet simultaneously relaxing effects, and it's often used for medical purposes such as insomnia and chronic pain. This fast-growing hybrid has a flowering time of only 75 days and can easily be grown indoors or out. The plant can produce up to 550g/m2 (1.8oz/ft2) of bud if grown outdoors, while indoor growers can expect 420g/m2 (1.38oz/ft2).
Girl Scout Cookies Auto (Garden of Green Seeds)
Girl Scout Cookies Auto is a balanced autoflowering hybrid with 60% Indica genetics, resinous buds infused with 22% THC, and highly euphoric effects. Her flowers are full of flavor, ranging from sweet and citrusy to earthy with a scent of mint. Girl Scout Cookies Auto can produce massive yields for an autoflowering strain, these ranging from 500g/m2 (1.6oz/ft2) to 650g/m2 (2.1oz/ft2) per plant.