5 New Speedy Strains You Can Still Harvest Before Spring
12 January 2021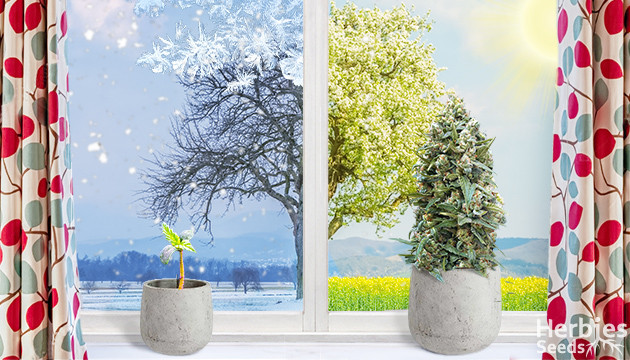 We know, we know – it's still a couple of months before you can start the outdoor season, and you probably can't wait! However, that shouldn't stop you from enjoying some cannabis growing in the meantime – especially with these five new extra speedy additions to Herbies. Plant one under a light and soon enough, you'll be able to finish the whole cycle right before it's time to start growing outdoors.
Runtz Auto (Barney's Farm)
Seed To Harvest in 70 Days
After the cannabis world has been totally consumed by the Runtz phenomenon, it's no wonder Barney's Farm was quick to develop a special autoflowering version of the hit genetics, Runtz Auto. This 70-day seed-to-harvest rendition has the same bomb properties as the original, including the fun, fruity taste and the effects that engulf you with a warm, worry-free sensation while making your belly-laughs ten times louder.
Skywalker OG Auto (Barney's Farm)
Seed To Harvest in 70-75 Days
With this extraterrestrial newcomer from Barney's Farm, you'll be able to blast off into another dimension in as little as 70 days of cultivation! Skywalker OG is an extra potent 23% THC cultivar that's sure to open your mind to great new discoveries and realizations. Perfect for pondering over complex topics and indulging in deep conversations, Skywalker OG also offers a nice complementary touch of fresh, pine scent that works like an aromatherapy for your mind.
Watermelon Zkittlez Auto (Barney's Farm)
Seed To Harvest In 70 Days
Ready to take a gulp of positivity with Watermelon Zkittlez Auto? Working as quickly as a magic potion, this fruity bomb blending sweet and sour will make you forget about any stress or worries you may have accumulated by the end of the day. Just like the namesake candy, Watermelon Zkittlez Auto is all about being fun and giggly. If you've ever felt anxious when smoking, this definitely won't happen again if you choose Watermelon Zkittlez Auto as your go-to strain.
Golosa Early Version (Delicious Seeds)
Finishes Flowering In 45 Days
A warm welcome to Golosa Early Version, a much quicker edition of Delicious Seeds' biggest hit! In just 45 days of flowering time, you'll be able to experience that unique, bitter fruity taste reminiscent of grapefruit, tart mangos, and hints of coffee. The quicker turnaround time hasn't affected the potency – you'll get the same narcotic-like high powered by 26% THC, making this a treat for experienced tokers.
Pakistan Valley Early Harvest (World of Seeds)
Finishes Flowering In 45 Days
For all the fans of pure smoking experiences, here's a 100% landrace-born Indica, Pakistan Valley Early Harvest. With high levels of both THC (20%) and CBD, this feminized strain produces intoxicating and relaxing effects that can easily knock you out if you have a couple of tokes too many. Sweet and flavorful, Pakistan Valley Early Version is a perfect choice for nights in doing something lazy and immersive, like watching a movie or playing video games.
We can vouch for any of these new additions to Herbies. There hasn't been a speedier group yet! Make sure to get some seeds in time, and you'll have your stash refilled in a mere couple of months – enough to last you through a whole season of carefree toking and growing.
Herbies Head Shop expressly refuses to support the use, production, or supply of illegal substances. For more details read our Legal Disclaimer.