An Array Of Cheese Strains To Celebrate Cheese Lover's Day
19 January 2021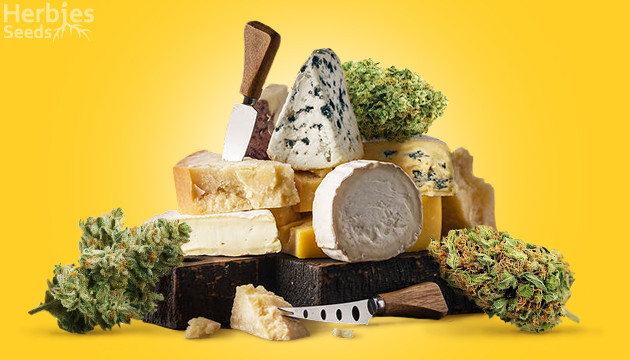 January 20th is National Cheese Lover's Day, and we're feeling extremely gouda 'bout it – or should we say not feeling bleu? Puns aside, this is a perfect day to celebrate the diversity of cannabis flavors. After all, weed flowers don't always smell like flowers – sometimes, they even smell like beautifully-aged cheese, and growers all over the globe are raving about it! Thanks to various terpenes including octanoic and isovaleric acids, we have a whole array of cheese weed strains available, ranging from sweet and delicate to pungent and nose-curling. Here they are!
Cheese (Big Buddha Seeds)
Let's start this list of cheese strains with a straightforward Cheese! These cannabis seeds from Big Buddha Seeds make a big statement, growing into 100% Indica buds that reek of pungent queso. Cheese from Big Buddha Seeds is as good as it gets – the tranquilizing effect of its 22% THC content will comfort your body and soul better than a full cheese platter.
Blueberry Cheese (Blue Cheese) (Barney's Farm)
Barney's Farm knows that cheese tastes even better when served with a side of fruit, and that's why they created Blueberry Cheese cannabis seeds. In this cheesy strain, the sweetness of Blueberry genetics successfully counters the pungency, creating a duet that's incredibly pleasant to the palate. This 23% THC delicacy is perfect for a relaxing night in and enjoying the munchies.
Triple Cheese (Barney's Farm)
It's never enough for true cheese lovers, so why not multiply it? Coming forward with the Triple Cheese strain, Barney's Farm is here to please every turophile out there. This mix of Blue Cheese and OG Cheese has an unmistakable creamy flavor with hints of sweet, sour, and herbs. Add to this the effects consisting of euphoria and carelessness, and you've got the recipe for a perfect fun night!
Franco's Lemon Cheese (Green House Seeds)
Franco's Lemon Cheese from Green House Seeds adds some juicy and sparkling citrus notes to the platter. This energizing hybrid also provides a complex set of cannabinoids to help you loosen up and rid yourself of any social anxiety. A couple of tokes and you'll feel as cheesygoing as ever, making Franco's Lemon Cheese the perfect companion for a long night out partying and socializing.
Wedding Cheesecake Auto (FastBuds)
Oh, if looks curd kill! Wedding Cheesecake Auto from FastBuds is the beauty standard of our cheesy weed strains list with her glistening white buds covered in potent resin. Perfect for making concentrates or smoking it as is, Wedding Cheesecake Auto is a marvelous blend of cheese, fruit, and earth flavors. Effects-wise, this cannabis strain provides pure energy for a clear mind and a smooth flow of focus and imagination.
Things honestly couldn't get any cheddar than this on National Cheese Lover's Day! Or could it? Check out our Cheese Collection for dozens of cheese-flavored strains!
Herbies Head Shop expressly refuses to support the use, production, or supply of illegal substances. For more details read our Legal Disclaimer.