That's Sweet! Get Your Free Seeds From Sweet Seeds
17 November 2020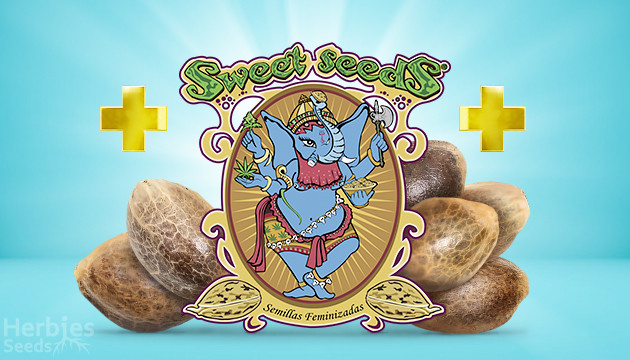 Based in Spain, Sweet Seeds is one of the most prominent seed banks in the world. And as it turns out, they're pretty generous too! 
Starting from November 17th at 11am (GMT), Herbies is starting a sweet deal for all fans of Sweet Seeds – we'll be adding bonus seeds to every order containing seed packs from this breeder. Here are the details:
Purchase a 3-seed pack from Sweet Seeds at Herbies and receive 2 extra seeds as a bonus, OR
Purchase a pack with 5 seeds or more from Sweet Seeds at Herbies and receive 4 extra seeds as a bonus!
Strains from Sweet Seeds
VIEW ALL
The seeds you get for free will be chosen randomly from Sweet Seeds' Auto XL line. Auto means autoflowers containing a potent 20% THC, while XL means extremely high production that will fill your mason jars with flavorful buds to the brim. Here's what seeds you can receive for free along with your Sweet Seeds purchase at Herbies:
Green Poison XL Auto
Green Poison XL Auto (Sweet Seeds)
Autoflowering

Wash away those small nagging worries

15 - 20 %

450 - 600 g/m² indoors
60 - 250 g/plant outdoors
Go to strain
The 3rd generation of the famous strain, which grows 25% taller and yields even more! Despite the name, Green Poison XL Auto is one of the sweetest strains on the market, offering its users delicious notes of fruit, rucola, and walnuts along with its happy, euphoric high.
Big Devil XL Auto
Big Devil XL Auto (Sweet Seeds)
Autoflowering

For active lifestyle

19 - 20 %

425 - 650 g/m² indoors
50 - 350 g/plant outdoors
Go to strain
A highly prized autoflower with Copa Cannabica, Copa Esmeralda, and High Life Cup among the list of her wins, Big Devil Auto XL is an exceptional cultivar with hard-rock buds covered in nose-curling resin. Her effects pack a punch and guarantee hours after hours of strong cerebral stimulation and muscle relaxation.
Sweet Amnesia Haze XL Auto
A member of the brand-new generation of Sweet Seeds strains, Sweet Amnesia Haze XL Auto is a cannabis strain with a complex and deep aroma of pungent incense and lemon, and a taste that blends nuts and wood with sweet notes. She's extremely productive and resinous – perfect for extraction and restocking your concentrate stash.
Hurry up, because this deal only lasts until December 1st, or until bonus seeds are still in stock!
P.S. The rest of Herbies' deals and offers remain active, which makes the period of Nov.17th - Dec.1st a complete shopping frenzy – don't miss your chance to take part in it and basically double the number of seeds you can get completely free of charge. Our website's platform doesn't allow to show several bonus types in your cart at once, but don't worry! All of them will be added to your purchase.
Dec.8th Update: the promo is finished.
Herbies Head Shop expressly refuses to support the use, production, or supply of illegal substances. For more details read our Legal Disclaimer.