Buckets Of Flavor: The Tastiest Monster Yielders In Stock
19 November 2020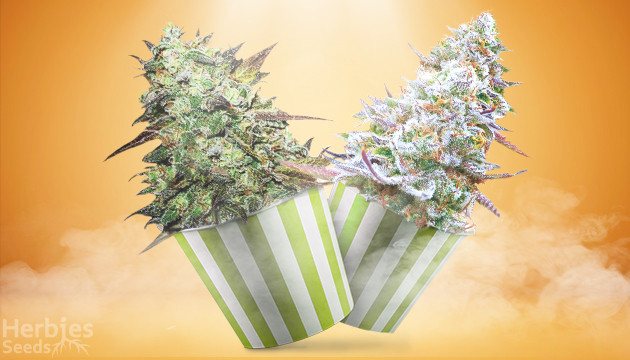 When weed is really flavorful, it's often hard to stop and not finish the stash sooner than you'd want to. Luckily, Herbies' warehouse is now full of cannabis seeds that won't make you compromise on either flavor or the size of your stash! These high-yielding seeds produce buds that are both beyond yummy and will last you months and months of gourmet toking. Here they are:
Sugar Candy
Delicious Seeds has won multiple awards with their Sugar Candy for a reason. This cannabis strain is a super powerful accumulator of everything we're looking for in cannabis seeds. First, its terpenes, thanks to which Sugar Candy has a complex taste that blends mango, lemon, and licorice. Next, sticky, gooey resin full of THC, the content of which reaches 25%. Finally, dense, plump buds – get ready to spend hours manicuring them, because harvests get as large as 2000g (4.4lb) per plant!
Eleven Roses
Powerful, sedating, and narcotic-like, the Eleven Roses strain is no joke! Her THC content hovers around 25% THC, so you won't need to toke a lot to get really high. And that makes her abundant harvests of 600g/m2 (1.96 oz/ft2) indoors and 2kg (4.4lb) per plant outdoors last even longer! You'll easily make it through the year with your stash of Eleven Roses until it's warm outside and time to grow again.
Money Bush
This is the case where the name says it all! Money Bush from Heavyweight Seeds is the ultimate cash crop strain. She produces beautiful fluffy buds with high levels of both THC (21%) and CBD (3%). Money Bush produces 800g/m2 (2.6oz/ft2) indoors and 900g (2lb) per plant outdoors – in a short flowering time that doesn't require much maintenance, you'll fill your buckets to the brim with strong and relaxing buds with a rich, woody aroma.
Gorilla Zkittlez
With Gorilla Zkittlez, Barney's Farm has created an instant legend of a strain – all because its flavor evokes such vivid memories of the namesake sour candy that it's hard to ever forget. In addition, this cannabis strain sports 24% THC to power up its euphoric effects, along with enormous production rates that reach 700g/m2 indoors (2.3oz/ft2) and a record 2500g (5.5lb) per plant outdoors.
Super Lemon Haze
If you're looking for a strain that's basically super in every regard, Super Lemon Haze from Green House Seeds will be right up your alley. This multi-colored hybrid is a celebration of color, with a sweet citrus scent and tarty taste, providing a background for its rejuvenating effects. With its invigorating high, Super Lemon Haze is an excellent choice for daytime usage. Its moderate 20% THC will get you super high but without making you overwhelmed or anxious, while the abundant harvests of 800g/m2 (2.6oz/ft2) indoors and 1200g (2.6lb) per plant outdoors will grant you months of care-free toking.
Get yourself some seeds from this list and remember the main tips for bigger harvests:
Give your plants lots of light
Use cannabis nutrients and bloom boosters
Don't harvest too early
If you need more inspiration for tasty and productive strains, you can always go to our High Yielding Collection, where you'll discover plenty of ideas for what strains to fill your garden with!
Herbies Head Shop expressly refuses to support the use, production, or supply of illegal substances. For more details read our Legal Disclaimer.