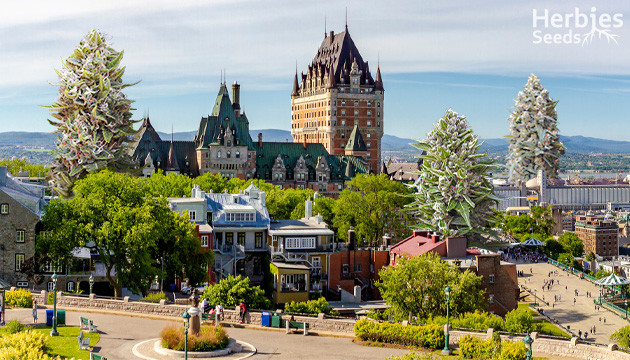 Although recreational cannabis was legalized in Canada back in 2018, each province has its own laws and regulations regarding the substance. While in most Canadian provinces, the legal age for cannabis is 18 or 19, the minimum age for use in Quebec was raised from 18 to 21 in January 2020. The province of Quebec is more legally conservative about cannabis than most others, so that begs the question: can you legally grow weed in Quebec?
Quebec: Cannabis Seeds Should Be Bought Online
In Quebec, the only legal way to buy marijuana is through the Société Québécoise du Cannabis (SQDC). Currently, weed seeds in Quebec can only be legally grown into plants by companies or persons with a cultivation permit. This means that the cultivation of marijuana for personal use is not allowed like in other Canadian provinces, although this may change later this year. However, the aforementioned regulations don't apply to licensed home-grown medical marijuana, which remains under national jurisdiction.
Luckily, you can order cannabis seeds from Herbies' vast collection. Herbies provides stealth shipping options to keep curious eyes away from your order. We also love to throw in free seeds and helpful gifts with every order, just because we care!
Top Cannabis Seeds for Growing Weed in Quebec
Growing weed in Quebec is certainly possible, but it requires some planning! Autoflowering strains and Indicas are particularly well-adapted to the continental climate of southern Quebec. The summers are relatively short, with the warmest months being June through August. Temperatures tend to reach highs of 22.3-25C (72.1-77F) in these months, along with a fair amount of precipitation.
With these conditions in mind, we've curated a list of weed seed varieties that flourish in Quebec's climate. We recommend cannabis strains that are hardy and resistant, with shorter grow times to ensure harvest by September. Especially if you start plants indoors and move them to Quebec's open by late May, the cannabis seeds will transform into giant weed plants drooping with buds by the end of summer!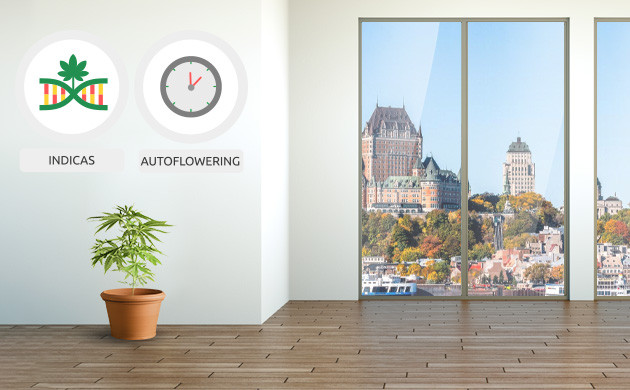 You've got the main point, right? When growing in Quebec, cannabis seeds chosen for cultivation must be quick autoflowers or Indicas – no pure photoperiod Sativas! Otherwise, you'll be left with a plant frozen to death before you can bring anything to harvest. Luckily, we've already picked weed seeds that the Quebec climate will have mercy on! Here are these champs.
Bruce Banner #3 Fast
Considering how short Quebec's summers can be, Bruce Banner #3 Fast from Original Sensible Seeds is a quick option for some amazing bud. She flowers in only 50-55 days, producing big, beautiful buds that are covered in resin. This Indica-dominant hybrid induces pleasantly energetic and euphoric effects, which are certainly emphasized by the fruity aromas and Kushy flavors. With 25% THC, Bruce Banner #3 hits as hard as her namesake and makes for a delightful afternoon smoke.
Blueberry Hill
Herbies' own Blueberry Hill is a nearly pure Indica strain developed from a cross between Blueberry and Afghan. You might just find yourself stuck to the couch after enjoying her sweet, berry-like smoke. Growers who are trying to keep things on the down-low will appreciate her short height of 70-120cm (27-47"), as well as her ridiculously heavy harvests both indoors and out. However, Blueberry Hill does have a very strong earthy scent while growing, so we recommend a carbon filter for indoor setups.
Extreme Impact Auto
Next on our list is another mighty Indica, Extreme Impact Auto from Heavyweight Seeds. You might have a hard time staying awake through the smoking session with this one! The high comes on quickly in waves of relaxation through her spicy, hashy smoke. This lady grows into a strong and bushy autoflowering plant with sturdy bushes. Such a structure makes Extreme Impact Auto an excellent strain to grow in many different environments and climates.
Sugar Black Rose Early Version
An award-winning Indica-dominant strain from Delicious Seeds, Sugar Black Rose Early Version is high in THC (25%) and chock-full of flavor. Cannabis connoisseurs will be head over heels for her loaded flavor profile that journeys from fruity to spicy to skunky. With a flowering time of only 45 days, you can time this lady's growth perfectly with Quebec's summer. Start Sugar Black Rose Early indoors and move her outside at the end of the vegetative stage for maximum growth!
Tutankhamon
A balanced hybrid through and through, Tutankhamon from Pyramid Seeds is fit for a king! This strain is infamous internationally for her incredible 25% THC potency and consistently uplifting effects. When lit, the buds release a skunky lemon scent that translates to a euphorically blissful high. King Tut, as the strain is affectionately called, easily adapts to most environments and will grow like crazy – outdoor plants can reach pyramid-level heights of 6.5ft (200cm). Despite growing to this height, Tutankhamon will still be ready to harvest in September! And if you're trying to keep things on the down-low, LST and HST techniques can help manage her regal stature.
Purple Haze Auto
Another strain from Original Sensible Seeds, Purple Haze Auto is an amethyst-tinted hybrid that finishes in just 70-75 days from seed to harvest. Due to her Ruderalis genetics, she's not only fast-growing but also a champ at handling various environmental conditions. With THC levels testing around 17%, Purple Haze Auto is ideal for socializing at a party or simply toking on throughout the day. You'll be the center of attention with your baggie full of fruity, earthy purple buds!
Orange Sherbet Auto
Since autoflowering strains are so great for areas with short summers, Orange Sherbet Auto belongs on this list as well! Ready in just 63-70 days, this Sativa-dominant lady produces surprisingly large harvests of 650g/m2 (2.1oz/ft2) of flowers packed with THC. Plants can reach unexpected heights for an autoflowering strain, stretching up to 150cm (4'11") even indoors! For outdoor growers in Quebec, Orange Sherbet Auto is best started indoors to develop a bit before being moved outside into the summer sun.
Godzilla Glue #4
If you're in the market for a stickier strain, Godzilla Glue #4 is just what you're looking for! She has monstrous THC levels of up to 29% and is oozing with gooey resin. This balanced hybrid has powerfully medicinal effects wrapped up in a thick cloud of chocolate-citrus smoke. Plants will stay at a reasonably discreet size of 100-150cm (39"-59"), and she thrives outdoors when the sun is shining.
Wedding Cake Auto
Autoflowering strains being the name of the game for successful growing in southern Quebec's short summer, Wedding Cake Auto is an essential addition to any Canadian cannabis garden. This sweet slice of heaven tastes as decadent as her name implies, with 25% THC and 2% CBD as the icing on the cake! Watch this lady explode even in mild summer temperatures, yet remain at a tactful height of 90cm (3ft). Her skunky, spicy buds will be ready for harvest in just 70-75 days.
Tangie'matic Auto
Without further ado, Tangie'matic Auto graces the final spot on this list. This classic fruity cannabis strain from FastBuds is easily one of our favorite strains to grow and smoke. She's a mood-boosting Sativa-dominant hybrid that can be enjoyed any time of the day for a creative, motivating high with mental clarity. Due to her excellent Sativa and Ruderalis genetics, this lady will experience explosive growth from day one!
Start Planning for Growing Weed in Quebec!
Herbies' huge collection of cannabis seeds for your Quebec weed garden is available with stealth shipping so you can get to growing discreetly. Although summer has already gotten started, there's still plenty of time to get to growing indoors, outdoors, or in the greenhouse. Any of the above strains will treat you right!
If you're from Quebec, what other cannabis seeds have you had success with? Let us and fellow growers know in the comments below!
Herbies Head Shop expressly refuses to support the use, production, or supply of illegal substances. For more details read our Legal Disclaimer.