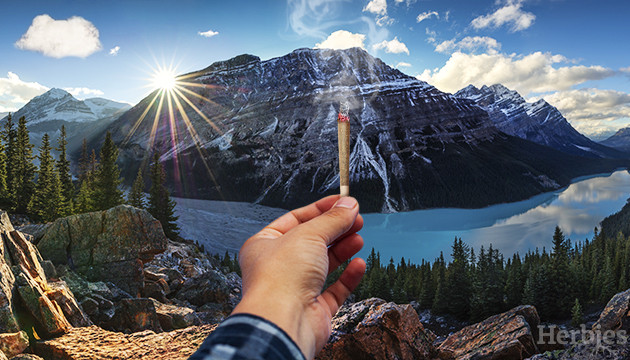 There's nothing like exploring the great outdoors. However, what can make your hiking experience even more fun is lighting up a jay while you take in the beauty of nature. If that sounds like a dream to you, keep reading to find out how to safely combine cannabis, camping, and a whole lotta laughter with our best weed strains for hiking.
How Do Hiking and Smoking Weed Fit Together?
There's more to hiking and cannabis consumption than simply getting high. Hiking, camping, and smoking weed fit together for many reasons. While enjoying the usual effects of smoking weed is great, cannabis has many physical benefits.
Firstly, your heart rate elevates when you go hiking, and you need to take in more air. Cannabis has short-term bronchodilation properties, relaxing the lung walls for improved airflow and oxygen intake.
Secondly, if you suffer from joint pain or inflammation, making hiking and exercise more difficult, smoking weed on the trail can certainly help. Weed acts as an anti-inflammatory, reducing swelling and pain throughout the body for a smoother hiking experience.
Last but not least, some of the best strains for hiking have an epic euphoric quality, much like the classic "runner's high" that happens with distance running. All you have to do is hit your favorite hiking trail, light a joint at your favorite rest spot, and enjoy the ride!
Dos and Don'ts of Cannabis Hiking
Hiking, camping, and smoking weed is a fantastic pastime combination, but only if you take the necessary safety precautions for yourself and the wilderness around you. Make sure you follow these cannabis hiking dos and don'ts before you attempt to go wild on the weed.
Know Your Park Policies
Before you whip out your lighter and jay at a public park, read the park policies and regulations. Most parks will have rules about whether or not you can smoke and specifically where you can smoke if so. Pay attention to designated smoking areas and be sure to stick to them to avoid fines.
Be Respectful
Although cannabis camping might be your favorite new hobby, not everyone shares the same love of cannabis smoke. Keep others in mind when you feel like a toke and be respectful. Make sure to keep any leftover nips and butts to yourself, and enjoy your weed in peace without harming the environment or disturbing other campers.
Don't be a Fire Hazard
Where there's bud, there's usually blaze. One of the most important don'ts of hiking and cannabis consumption is this: don't be a fire hazard! The tiniest spark can grow into a forest fire, so stay vigilant of your flame and any coals that you ash onto the ground.
Pack Enough Water and Food
When you smoke weed, your metabolism is revved up. It's vital to bring enough food and water whenever you go hiking, but this is even more important when you're hiking while high. Rest up regularly and replenish your system before continuing forward.
Avoid Going Alone
It's never a good idea to go out hiking alone, especially if you're hiking a more advanced trail. However, when you're high, your senses might be altered or delayed. If you're out cannabis camping or hiking, be sure to bring a buddy or two. Having each other's backs will make all the difference and reduce the chances of accidents or getting lost.
Don't Go Too Hard on Weed
It goes without saying that cannabis can put you in an altered state and sometimes have negative side effects. If you plan on camping and smoking weed, try not to smoke too much. If you still have some walking to do or need to set up your tent, feeling nauseous, dizzy, or anxious will set you back and potentially spoil your entire trip.
Bring the Right Amount
Most states have their own rules for how much cannabis you can have on your person at a time. Before you leave the house, be sure to look up the cannabis laws in your area and the laws for the park as well. Stick to the limit and don't bring more weed than you're allowed to.
The Best Strains for Hiking
You wouldn't want couchlock in your camping chair while you're enjoying the fresh air. Choosing the right strain for outdoor activities like hiking and camping is important, and you won't go wrong smoking any of these best weed strains for hiking.
Strawberry Amnesia (Herbies Seeds)
Sometimes the best parts of hiking are the quiet moments spent tuning into nature. That's where Strawberry Amnesia by Herbies Seeds shines. This Sativa-dominant Queen gives you all the classic cerebral euphoria with 22% THC and a psychedelia that'll leave you hazy and happy.
Reaching 700 g/m²(2.3 oz/ft²) indoors, prepare to fill up your jars with glorious berry-scented buds in just 10 weeks. Your satisfaction will only grow as the taste of wild berries and citrus excites your tastebuds, along with hints of pine and smoked wood.
Sour Diesel (Blimburn Seeds)
Packing punches fit for a pro, Sour Diesel by Blimburn Seeds hits you with a heavy happiness strong enough to melt away any pain or depression. You'll be trekking up that hill in no time, leaving a trail of the most pungent lemon-diesel smoke known to mankind.
As a Sativa-dominant variant with up to 25% THC, you'll want to take this one slow. However, get excited for the epic harvests of nose-curdling buds, which come in at 600 g/m² (2 oz/ft²) indoors.
Durban Poison (Dutch Passion)
Do you need a strain that'll pick you up and lead the way? Then Durban Poison by Dutch Passion is one of the best weed strains for hiking. After a refreshing daytime toke of this Sativa-dominant strain with 22% THC, you'll have all the energy and optimism you could wish for.
Durban Poison is great for sharing with your trail buddies as you all savor the spicy terpene profile, including licorice, anise, and cloves. Luckily, with harvests of 500 g/m² (1.6 oz/ft²), you'll have plenty to share.
Bruce Banner #3 (Herbies Seeds)
Tackle your hiking trail like a beast as you smoke up some Bruce Banner #3 by Herbies Seeds. One of the best strains for hiking, its 27% THC will give you a hybrid energy boost and enough relaxation to ease any tension.
Rated one of the most potent strains on the planet, you won't need much to soar as you soak up the moreish diesel flavor softened by notes of sweet fruit. Like the monster that it is, it's no surprise that you'll get harvests of 800 g/m² (2.6 oz/ft²).
Trippy Gorilla Autoflowering (Big Head Seeds)
Dominate the wilderness with Trippy Gorilla Autoflowering by Big Head Seeds. A perfect hybrid, this strain takes the best of both worlds, combining ideal Sativa effects with the satisfying growability of Indica.
With up to 28% THC running through your veins, prepare to go ape as its energetic, cerebral stone takes you over – and know that each puff of this 750 g/m² (2.4 oz/ft²) high-yielding strain will be discreet, as the bud's pine and citrus aroma will blend in with your surroundings.
Lemon Pie Auto (Fast Buds)
Sometimes the great outdoors can leave you craving the comforts of home. A strain of perfect harmony with 24% THC, Lemon Pie Auto by FastBuds brings a classic clear-headed Sativa high with the melting relaxation of an Indica.
As one of the best strains for camping, the balanced experience of a daytime high with nighttime coziness is complemented by the smooth lemon pie flavors of lemon zest and cinnamon dough. With 550 g/m² (1.8 oz/ft²) harvests of multicolored buds, this strain is all but flawless.
Solomatic Auto CBD (RQS)
If you're looking for a dose of therapy for your hike, Solomatic Auto CBD by Royal Queen Seeds is for you. With a CBD to THC ratio of 21:1, you won't have to worry about psychoactive effects as the clear-headed, calmed state gently soothes you.
While you enjoy the Indica-dominant effects of this gentle variety, you won't have to miss out on flavor, as deliciously sweet aromas of citrus with hints of pine and ginger will fill the air in a comforting blaze.
Banana Sherbet (Original Sensible Seeds)
When you venture out into the wilderness like a curious George, grab a packet of Banana Sherbet by Original Sensible Seeds. One of the best weed strains for camping, this impressive Indica-dominant hybrid will squash stress in seconds with its 28% THC content.
While your mind and body experience the uplifting cerebral high and happy sedation of this potent therapeutic strain, let the sweet banana flavors and aromas excite your primal brain as you marvel at your 600 g/m² (2 oz/ft²) harvest.
Wedding Cake Auto (Barney's Farm)
There's nothing like a sweet snack to give you a quick pick-me-up on the trail. Wedding Cake Auto by Barney's Farm is one of the most luxuriously flavored sweet treats in the cannabis world, along with its 25% THC content.
The delectable flavors of sweet earth, cream, and fruit, served with a layer of skunk and wood, are reminiscent of a perfect wedding day. The happiness continues with this Indica hybrid's relaxing yet euphoric high and 500 g/m² (1.6 oz/ft²) harvests.
Auto Night Queen (Dutch Passion)
As one of the best weed strains for camping, Auto Night Queen by Dutch Passion will soothe even the tensest camper. Not every person has to hit the trails with a skip in their step, so take it slow and indulge in a 26% THC Indica-dominant high.
Once the tension melts out of your body, expect your mood to rise like the moon and comfort any anxiety about being in the great outdoors. Then, savor the pungent hashish smells as the spicy, citrusy, and earthy flavors unfold.
Seize the Day With Herbies
Don't be afraid to seize the day, as the strain of your choice will give you what you need to embrace the full joy of cannabis hiking and camping. Simply match up the strain to your needs and buy a pack of seeds right here at Herbies.
Herbies Head Shop expressly refuses to support the use, production, or supply of illegal substances. For more details read our Legal Disclaimer.