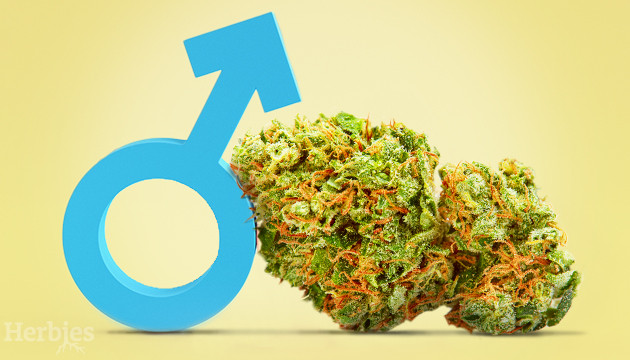 Weed is known to turn even trivial things like chewing food into an almost orgasmic experience, but what happens when we smoke cannabis before sex? Does it bring the sensations to the next level? Does it make us more aroused? And if it does, are there weed strains that make you horny more than others? The answer to all these questions is 'yes!'
How Does Cannabis Help With Libido?
Many people use cannabis for arousal for a good reason. There are countless anecdotal reports linking marijuana use and good sex, as well as some observational studies showing that cannabis-smoking couples make love more often and self-report greater pleasure from the process.
All this supports what every weed smoker already knows: that our favorite substance increases the intensity of orgasms in both men and women, makes love-making longer for some users (and makes it seem longer for everybody), enhances the sense of connectedness with your partner, and turns the whole body into an erogenous zone so that every touch becomes exciting.
A recent small study also showed that cannabis helps relieve sex-related anxiety and overcome stigma, which is especially important for gay men but also in extra-marital sex, chance hook-ups, and similar activities that society may frown upon.
Moreover, no matter how weed improves your love life, you immediately enter a positive feedback loop when your next sex sessions get better even without smoking and even the smell of weed, let alone its effects, puts you in a horny mood.
Should I Smoke Indica or Sativa for Arousal?
When shopping for weed that makes you horny, you'll have to choose between Sativa, Indica, or a hybrid of the two. Your choice will depend on how exactly you expect your buds to help you in bed.
For some users, the best weed strain for arousal may be a Sativa because they need something to keep them up all night and increase stamina. Sativas also make you more social and talkative and thus more likely to 'connect' with your partner, as well as increase your creativity and the desire to experiment.
Indicas tend to produce more physical sensations, with your body acutely responding to every touch and your orgasms reaching epic proportions. So, maybe an Indica will become your best weed strain for sex.
Finally, hybrids give you the best of both worlds – starting with arousal and ending in blissful body relaxation – which means that the most horny weed strain for you may be a Sativa/Indica cross.
The Best Weed That Makes You Horny in 2023
When making this list of the best weed for male arousal, we made sure to include strains from the whole Indica/Sativa spectrum as well as autoflowers and even high-CBD genetics.
Pineapple Chunk (Barney's Farm)
Make your nights smell like a honeymoon in Hawaii – of sex, sweat, and fruit – with Pineapple Chunk. This strain's extreme potency of 25% THC may be the only thing that prevents it from being the best weed strain for sex – you may get such overwhelming bliss that all the Netflix and chill in the world might not seem worth the effort. However, smoking in moderation is sure to arouse you, making you talkative, giggly, and horny at the same time.
Strawberry Amnesia (Herbies Seeds)
Smoke Strawberry Amnesia before sex if you're already in sync with your significant other, can play your part with your eyes closed, and want to add some psychedelic magic to the whole experience. The high is an electrifying rush in the head that turns the world into a kaleidoscopic blur, while the body buzzes with loud euphoria and responds to every caress with a wave of pleasure. These buds pack 22% THC, which is enough fuel for a long session of love-making.
GG#4 Original Glue Auto (Fast Buds)
Everything about GG#4 Original Glue Auto, aka Glue Auto, is larger than life. Her flavor profile packs smells and tastes as diverse as pine, citrus, and diesel, and her high pumps you up with both upbeat euphoria and mellow relaxation. This combo isn't unlike sex itself, so it's no wonder these two work in synergy to produce an unforgettable experience, while the 24% THC makes sure your bliss will last for hours. It may well be the best weed strain for arousal as far as autoflowers go.
Tatanka Pure CBD (RQS)
While the arousing effects of weed come primarily from THC, in some situations, it's CBD that's likely to help you more. Tatanka Pure CBD is practically hemp, as its THC levels don't go higher than the legal limit of 0.3%, while the 14% CBD makes these buds a potent medicine. Most smokers use them against anxiety, and maybe anxiety is exactly what prevents you from relaxing and having fun in the bedroom. Taken regularly over a long period, this weed can make you a calmer and more confident lover.
Gelato Auto (Herbies Seeds)
One of the sweetest treats on the cannabis market, Gelato Auto is also among the most potent. If you use these 26% THC buds for sex, just one hit will be enough to put you in a creative and exploratory mood with a sharp focus on every little detail and pleasurable sensation. Whenever you feel the effects subside or become too relaxing, just take another cream-flavored toke to get a new burst of energy.
Wedding Cake Auto (Barney's Farm)
With a name like this, this herb has to make it on the list of the best weed for arousal. Although the idea of matrimony isn't particularly arousing for some men, Wedding Cake Auto is in fact a very horny weed strain. With its 25% THC and 2% CBD, the former cannabinoid fuels one's passion while the latter makes it completely anxiety-free. Beware though – the flavor is so varied that you and your partner may end up taking puff after puff, guessing every little nuance and forgetting all about your previous, naughtier plans.
Sour Diesel (Blimburn Seeds)
You can hardly find a more macho strain of weed than Sour Diesel, which is bold and dashing in every respect, from the stench of fuel and lemon juice to the invigorating high that's as powerful as it is long-lasting. When men discuss the best cannabis for arousal, the name of this 25% THC powerhouse always comes up, but women likewise often find this strain equally effective, making this the perfect bud for sharing with your partner.
Do-Si-Dos OG (Original Sensible Seeds)
Don't even think about going to a bar and chatting up girls or flirting with your Tinder hookups when high on Do-Si-Dos OG – with 28% THC, the shit's too potent, and you'll forget all your pick-up lines and tricks. However, when you and your partner are in the safety of the bedroom and ready for some action, these buds can make the whole thing absolutely epic. This Indica-dominant hybrid produces a euphoric headrush and toe-curling relaxation at the same time. It's like an orgasm in itself, but when paired with real orgasms, it gets even better.
Blue Dream (Garden of Green)
One of America's most popular varieties, Blue Dream is an uncontested top-seller in dispensaries across the country thanks to its versatility. Whatever your symptoms, these buds will take care of them and do so without ruining your day with laziness or lack of motivation. What does it mean for the bedroom? A strong buzz, a lot of stamina, and a clear-headed and focused high that will give you a sense of total immersion.
Green Crack Auto (Fast Buds)
Some people use cocaine to lose their sexual inhibitions, but Green Crack Auto is a much safer alternative. Don't mind its badass name and crystalline appearance – it's just a good old cannabis strain, but one that will make you aroused and active, pumping you full of energy. Also note that this is yet another autoflower in our list of the best strains for male arousal in 2023, attesting to the fact that autos are finally becoming as good as normal, photoperiod varieties.
Tips and Tricks for Smoking Weed Before Sex
When people wonder what weed strain makes you horny the most, they often forget that the manner in which you consume your buds may be just as important.
Don't Get Too High
Even with the best weed for male arousal, you can ruin the whole thing if you consume too much. If you want to calm your nerves, you may find that an extra toke makes you even more anxious. Instead of being talkative and bright, you may space out. In general, too high a dose puts you in a place where sex will become the last thing on your mind.
Use Lube – Lots of It
If you share a bowl with your partner, her first symptom of being high might be not friskiness but vaginal dryness, so think about lubrication. On a side note, in legal states, they sell weed lubes that do the job and make you high at the same time.
Have Something to Drink at Hand
Cottonmouth is one of the most common side effects of cannabis use – something totally incompatible with things like kissing or performing oral sex – so be sure to have a glass of water on your bedside table.
Do Edibles Help With Arousal?
Edibles are just another way of consuming marijuana, so if you put your favorite weed that makes you horny into food, you'll feel the same arousing effects. Edibles also produce a more pronounced 'glowing' body high that may enhance whatever pleasure you feel. Moreover, the high lasts much longer – very convenient if you plan a long sesh.
On the other hand, edibles take much more time to kick in compared with inhalation, and that may lead to issues with timing, with you and your partner 'peaking' at different moments. So, maybe you should create some background buzz with ingestion and smoke or vape a little more if needed.
Final Thoughts
Having sex while using weed can be so intense that every pot smoker should have it on their to-do list. Our article sums up what makes the best weed for arousal and introduces some of the weed strains that make you horny – there's something here for any situation and cultivation skill level. Pick one and have a potentially transformative experience!
Herbies Head Shop expressly refuses to support the use, production, or supply of illegal substances. For more details read our Legal Disclaimer.