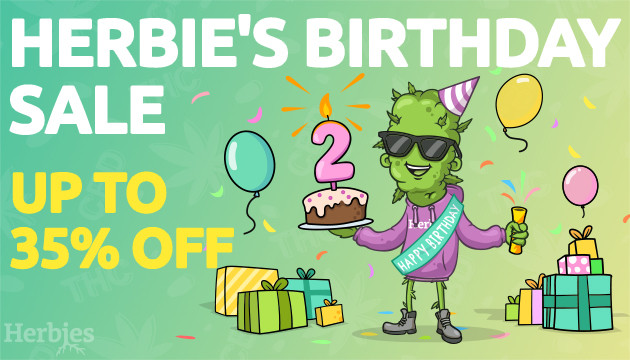 Get ready to celebrate because Herbies is throwing a party like no other! We're launching a huge sale this month in honor of our beloved mascot Herbie's second birthday.
Starting from 8:00 May 18th until 8:00 May 25th (PDT), you'll have a whole week to save up to 35% on the strains from our in-house line, Herbies Seeds.
These are just a few of our star products that will be on sale:
Apple Betty: A Psychedelic Indica Delight
Apple Betty is a mesmerizing Indica-dominant hybrid with mind-blowing THC levels of up to 33%. This strain washes you over with a wave of relaxation and euphoria that sweeps through your body, but don't let its soothing nature fool you – Apple Betty also packs a psychedelic kick that will take your mind on a captivating journey.
A medium-sized and robust plant with a bushy structure, Apple Betty thrives in a controlled indoor environment, where she can yield an impressive 600-800 g/m² (2-2.6 oz/ft²) in just 55-65 days of flowering. However, this beauty truly shines outdoors, producing incredible harvests of up to 2,600 g/plant (5.7 lbs/plant).
Critical XXL: Experience Critical Relaxation
Critical XXL has its roots in the classic Skunk #1 as well as Afghani and Critical Mass genes, which gave her an Indica plant structure and mostly Indica effects. With THC levels ranging between 24-27%, Critical XXL provides tranquil and calming effects that mainly act on the body, transporting you to a state of blissful serenity.
Not only does Critical XXL offer a profound high, but it also rewards growers with impressive yields. Indoors, you can expect harvests of 500-600 grams per square meter (1.6-2 oz/ft²) in just 50-55 days of flowering. Outdoors, this strain pumps out 1300-1600 grams (46-56 oz) of frost-covered bud per plant.
Dessert Mix Pack: Unleash Your Sweet Tooth
If you're into mouth-watering terpenes, don't miss out on our Dessert Mix Pack that includes three fruit-flavored strains: Banana Pudding, Apple Betty, and Mango Mousse. These herbs are high on the Indica side, offering a calming and relaxing experience.
Enjoy the creamy banana with a hint of spice in Banana Pudding, the wood-fired apple pie with notes of cinnamon and chocolate in Apple Betty, and the tropical fusion of coconut and mango in Mango Mousse. With thick and bushy growth and dense buds, this mix pack will satisfy your cravings for both flavorful and potent cannabis.
Sour Diesel Auto: An Exhilarating Ride
Sour Diesel Auto is a modern touch on the classic dominant Sativa that packs 22-25% THC. This potent autoflower is perfect for daytime use or socializing, with an energizing head high that sparks creativity and fuels your desire for exciting adventures.
Due to its Sativa genes, Sour Diesel Auto takes 82-87 days from seed to harvest, but it's well worth the wait! Your crops will reward you with 300-450 g/m² (1-1.5 oz/ft²) indoors and up to 550 g (19.4 oz) per plant outdoors.
Will You Come to the Party?
These are just a taste of what we have in store for you during Herbie's Birthday Sale. With a total of 26 items, including individual strains and mix packs, you're sure to find something that will tickle your fancy!
This sale won't last forever, so make sure you get in on the action before the candles burn out. Spread the word and get ready to join us in celebrating Herbie's special day!
Herbies Head Shop expressly refuses to support the use, production, or supply of illegal substances. For more details read our Legal Disclaimer.