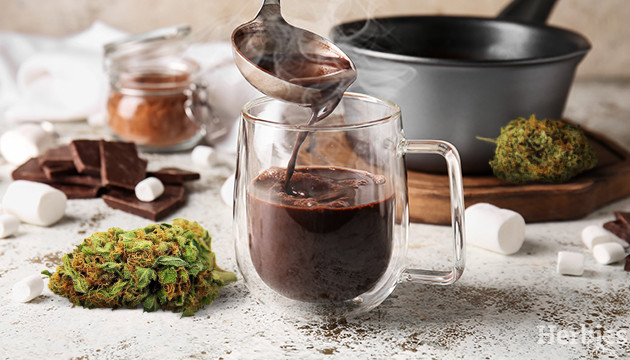 Rain or shine, there's nothing that can brighten your day like a good cup of hot chocolate. Or was that a good joint of delicious weed? Doesn't matter, because this recipe is here to show you how to make weed hot chocolate and get the best of both worlds.
Not only does marijuana hot chocolate taste amazing, but chocolate is also known to enhance the effects of cannabis, much like mango, eggs, or coffee. So keep reading and get ready for relaxation level one thousand!
Will Cannabis Hot Chocolate Get Me High?
Anything infused with THC-containing cannabis will likely get you high. The same goes for cannabis-infused hot chocolate. This weed hot chocolate recipe calls for the use of cannabis flower or cannabutter and is intended to induce a psychoactive effect.
However, if you're not keen on getting high but still want to try out this recipe, simply make your cannabis hot chocolate with CBD weed instead. If you're just a little nervous about getting too high, start by adding the lowest dose of cannabis possible to your weed hot cocoa. Once you get comfortable with the high, you can increase the dose and have fun with it!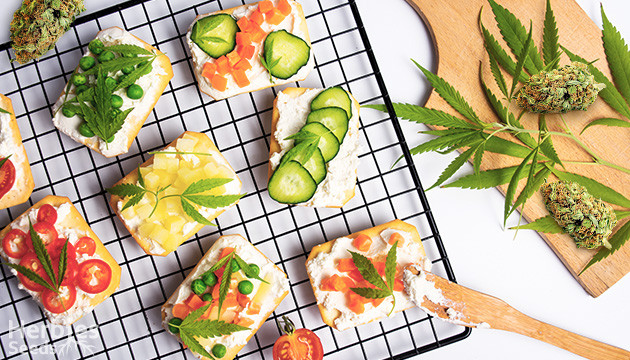 Best Strains For Edibles
READ NOW
The Tools You'll Need
In order to ace this cannabis hot chocolate recipe, you'll want to prepare your tools beforehand. Make sure you have the following before starting:
Baking tray
Oven
Weed grinder (optional)
1 small-medium saucepan
Stovetop
Stirring spoon
Coffee filters/small mesh strainer
2-4 of your favorite mugs
Ingredients
Next, you'll want to prepare your ingredients for the cannabis-infused hot chocolate. These will include the following:
1-2 grams of decarboxylated cannabis flower
1 cup water
1 cup milk (will work with plant-based milk if preferred)
1 tsp coconut oil
2-4 tbsp cocoa powder
Alternatively, if you have pre-made cannabis butter at home, you can switch out the coconut oil and decarbed weed for 1-2 tsp of cannabutter. If you prefer this alternative, you can follow this homemade cannabutter recipe or this plant-based cannabutter recipe before starting your cocoa. Cannabutter is great to have on hand if you plan to enjoy edibles or cannabis hot chocolate more regularly.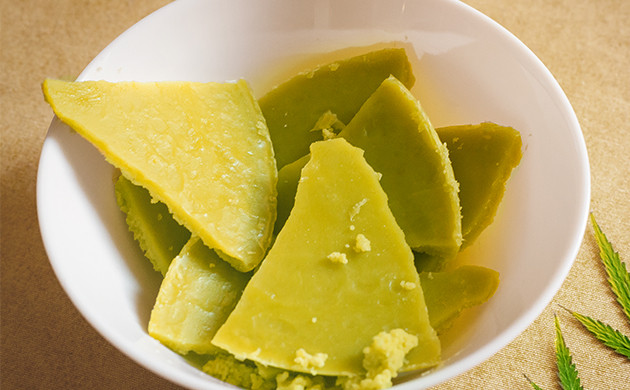 Optional Ingredients
For an added oomph of flavor to your weed hot cocoa, you can choose to add one (or more) of these optional ingredients:
Vanilla essence
Hazelnut essence
1-2 blocks of dark chocolate per mug
Pumpkin spice seasoning
Mini-marshmallows
Whipped cream
Whatever makes your hot cocoa taste like gold, go ahead and add it to this recipe. After all, this weed hot chocolate recipe is all about your pleasure!
How to Properly Decarb Cannabis
If you don't have cannabutter on hand, this recipe calls for adding decarbed cannabis bud directly to the mixture. Decarboxylating cannabis bud is the process of unlocking the THC from its non-psychoactive state (THCA) using heat. This is important, as you will not get high without this step.
All you'll need to do is crush your weed to a fine state and spread it out evenly over a lined baking tray. Place the tray in a preheated oven at about 230°F (110°C) for no more than 45 minutes. Once done, turn the oven off and allow the weed to cool before using it in your marijuana hot chocolate.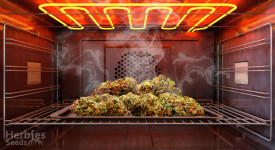 How To Decarb Your Weed
READ NOW
Instructions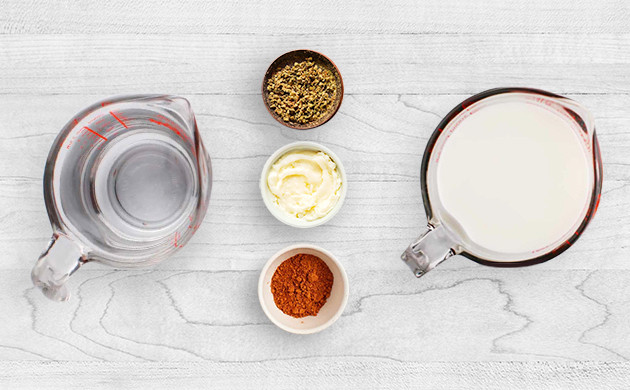 Finally, it's time to brew your THC or CBD hot chocolate! For the yummiest cannabis cocoa surprise, follow these steps and get ready to relax:
Step 1: Combine your liquids
Place your saucepan on the stovetop and turn the heat to medium. Pour in your milk, water, and coconut oil. It's important to add coconut oil, as this is what the weed will infuse with (cannabis compounds can only attach to fat solubles). Stir the mixture until warm.
Step 2: Add your cannabis
Once your liquids and oil are combined and slightly heated, stir in the decarboxylated cannabis. You should have already ground up the cannabis to a fine state to mix it in directly. If you're using cannabutter, add it to the mixture in step 1 instead of the coconut oil, then skip to step 3. As for dosage, be sure to check out the dosage instructions later in this article.
Step 3: Heat on low
Continue to heat your cannabis-infused hot chocolate base on low to medium heat for about 5-10 minutes. You want the mixture to heat just enough so that it's hot but doesn't reach boiling point. If you notice that it's bubbling, remove it from the heat immediately.
Step 4: It's time for cocoa
Now that your mixture is ready and waiting, scoop your desired amount of cocoa powder into two to four dry mugs – 1-2 tablespoons of cocoa per cup is usually plenty.
Step 5: Filter liquids in
Place a coffee filter inside each mug above the cocoa powder you've already placed inside. After a final stir of your base mixture, carefully fill each cup while filtering the mixture through the coffee filters. Pour slowly and be sure not to spill any of the mixture directly into your cup, as bits of weed are not appetizing.
Step 6: Discard waste
When all the liquids have filtered through into your mugs, carefully squeeze any last mixture through the filters and discard the filtered waste.
Step 7: Embellish & enjoy!
Now that you have your cups of weed hot chocolate, embellish your drinks however you please and get comfy on the couch with your favorite stoner movie.
If you're using essence, add one or two drops per cup and stir in before continuing. Then you can add your dark chocolate if you wish, allowing it to melt into your cocoa for extra cannabis enhancement. Cover in whipped cream and marshmallows if you're feeling fancy.
How to Calculate the Dosage
Although the recipe calls for 1-2 grams of decarbed cannabis, only add as much as you're willing to ingest. The average gram of weed has about 15-20% THC, which translates to a dose of 150-200 mg of THC per gram of weed.
Generally, edibles only transfer about 50% of the dosage, so it's safe to assume that 1 gram of weed in an edible mixture translates to 75-100 mg of THC. Given that a comfortable beginner dose is between 5-10 mg per person and an experienced user's dose is between 10-20 mg of THC, 75-100 mg of THC may be way too much for one person.
Consider how many portions you're splitting your cocoa recipe between and go from there. If you need to add less weed to your mixture than the recipe calls for, don't be shy! It's better to be underwhelmed than overwhelmed. See these common edible mistakes for extra precaution.
Tips for Consuming Cannabis Edibles
When it comes to cannabis edibles like this cannabis hot chocolate recipe, there's always the potential to overdo it. Before embarking on your edible experience, consider these tips:
Start small and go from there
Wait for the full effects before taking more (at least 2 hours)
Eat a meal before ingesting edibles to slow the onset
Enjoy with friends, especially if it's your first time or a new edible
Drink water throughout the experience
Don't drink alcohol while taking edibles
Always work out the dosage beforehand
Get High, Get Comfy
If you ever thought that cuddling up on the sofa with your favorite snacks, blankets, and movies couldn't get any better, you obviously haven't tried making cannabis-infused hot chocolate. Brew a saucerful of this high-inducing, melt-in-your-mouth cocoa, and make sure to use your favorite Herbies strain to take it to the next level.
Herbies Head Shop expressly refuses to support the use, production, or supply of illegal substances. For more details read our Legal Disclaimer.