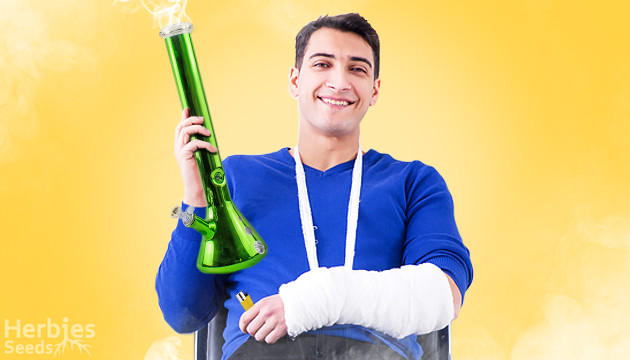 For the longest time, cannabis growers, both commercial and hobbyists, have focused on coming up with strains with the highest THC levels. THC is the psychoactive component in the marijuana plant, and having strains with such insane concentrations implies getting as high as possible. In recent times, however, we've understood that CBD is one of the most healing and therapeutic cannabinoids in the plant. Now, the attention of many growers and users has turned to low-THC high-CBD strains, to which we're dedicating this article.
Benefits Of Low THC Strains
The discovery of CBD's benefits has sent breeders and seed banks back to the grow room to come up with low THC weed that's loaded with CBD. The benefit of such strains is that they allow users to take advantage of the plant's medicinal and calming effects without getting high. These strains are also useful in making CBD extracts. Thanks to their low THC content, such strains are legal to grow and consume not only in the US but also in many other countries around the world.
If you're keen on growing non-THC marijuana for its beneficial properties, here are some of the best CBD loaded and low THC strains you can choose from.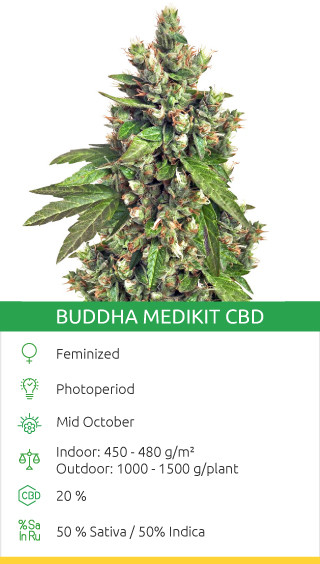 Buddha Medikit CBD – The Citric Wonder
This is a perfect hybrid from Buddha Seeds that's loaded with 20% CBD and only 1% THC. Buddha Medikit CBD is perfect for dealing with anxiety, depression, tension, mood disorders, and physical aches and pains – an effect that was achieved by back-crossing the Harlequin strain with a Latin American cultivar.
Buddha Medikit CBD has a strong sweet citric aroma with subtle hints of fresh pine, mangoes, lemons and oranges. When smoked, it leaves a golden earth and fruity and refreshing pine aftertaste in your mouth, making it a delight to smoke.
This beauty expresses developed lateral branching and is easy to grow. When appropriately fed and placed under 18 hours of light per day, the plant grows bushy and bulky, becoming a minefield of heavy, dense buds. When cultivated indoors, Buddha Medikit CBD takes 70 to 75 days to finish flowering and produces 450 to 480 grams (15.87 to 16.93 oz) per square meter. Outdoors, this plant may produce as much as 1000 to 1500 grams (35.27 to 52.91 oz) per plant.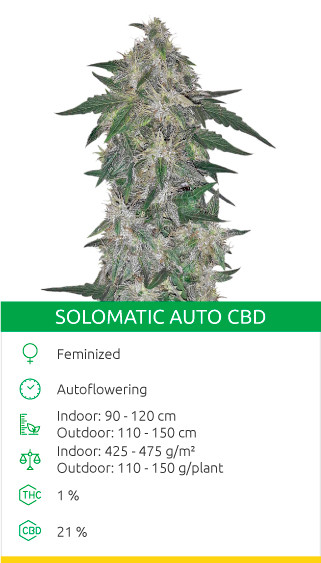 Solomatic CBD Auto – The Ginger Wonder
This strain is an autoflowering variety from Royal Queen Seeds. Solomatic CBD Auto has 21% CBD and often less than 1% THC, allowing it to deliver calming, non-psychoactive effects. It's used to combat pains and aches, and is therefore perfect for people struggling with glaucoma and other ailments that cause physical discomfort. Solomatic CBD Auto has a delicate and seductive aroma and a strong fruity taste, with hints of ginger, earth and pine that make it a delight to smoke.
Bred from Diesel CBD Auto and Asia CBD Auto, Solomatic CBD Auto has incredibly rich genetics. Thanks to these, it takes 49 to 56 days to finish flowering when cultivated indoors, and produces about 475g (16.8 oz) per square meter.
CBD Auto Charlotte's Angel – The Fruity Mistress
CBD Auto Charlotte's Angel is one of Dutch Passion's first non-THC marijuana strains. This variety contains up to 15% CBD, giving it calming and relieving effects. CBD Auto Charlotte's Angel offers medicinal effects without the racy, cerebral high, and has a musky and earthy aroma with subtle nuances of fruit and pine.
CBD Auto Charlotte's Angel grows perfectly well both indoors and outdoors. It's a feminized strain that was developed by breeding CBD Charlotte's Angel with CBD Auto Compassion Lime, hence its short grow time. Planted indoors, it takes only about 91 days from seed to harvest and produces 400g (14 oz) of dense, heavy buds per square meter.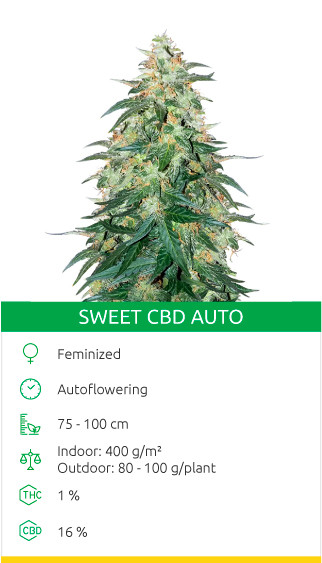 Sweet CBD Auto – The Gentle Indica
This is an Indica-dominant high CBD strain bred by Auto Seeds. Sweet CBD Auto is one of the most popular pure CBD strains, its 16% CBD and less than 1% THC making it legal to cultivate in many countries. It has a sweet orange and tropical aroma, a flavor to match, and is ideal for dealing with pains, aches and other physical ailments.
Sweet CBD Auto is a feminized autoflowering strain that does well both indoors and outdoors. It was achieved by crossing Auto Pounder with a high-ranking CBD strain. Cultivated indoors, it takes about 70 days to grow from seed to harvest and yields 400g (14 oz) per square meter.
Harlequin CBD – The Strain That Won't Get You High
Harlequin CBD is a feminized low-THC strain from Kera Seeds. It has 15 to 17% CBD and less than 0.5% THC, making it ideal for dealing with recurring medical conditions without getting you high. Calming and relaxing, this is the perfect high CBD strain to help combat anxiety, depression, stress and pain. As the child strain of Harlequin and Black Domina, Harlequin CBD has a strong herbal, fruity essence and a rich, hashy aftertaste.
Harlequin CBD does well both indoors and outdoors. It's quite easy to grow, flowers within 9 to 10 weeks and achieves generous yields, making it ideal for both beginners and seasoned growers.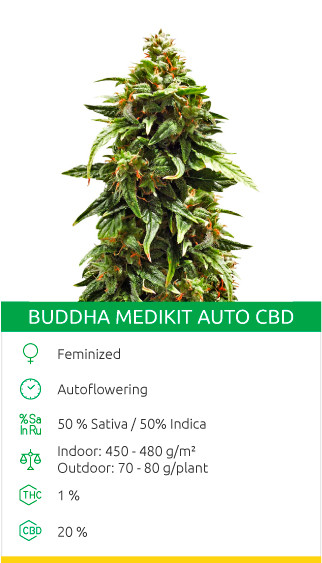 Buddha Medikit Auto CBD  – Sweet Healing
Buddha Medikit Auto CBD is an autoflowering and feminized low-THC weed strain from Buddha Seeds. Thanks to its high CBD concentration of up to 20%, this strain is used medicinally to deal with pain, anxiety and depression, among other common conditions. Buddha Medikit Auto blossoms with a sweet citrus essence, with not-so-subtle hints of fresh mango, lemon and orange. It has a sweet pine flavor with mild earthy undertones and is a delight to smoke.
This strain is a perfect hybrid, genetically crossed with a Ruderalis variety for the benefits of its autoflowering properties. Thanks to this genetic background, when planted indoors, it produces up to 450g (15.9 oz) per square meter in less than 75 days after germination.
Sweet Pure CBD – The Mysterious Treat
Sweet Pure CBD is a Sativa-dominant feminized marijuana strain from Sweet Seeds that has a lot to offer in the medical world. This strain generates 8%-15% CBD and is very calming and relaxing. It's commonly used to deal with anxiety, stress and depression, and for pain relief from conditions such as arthritis and glaucoma. Sweet Pure CBD is also known for its strong, sweet and fruity essence with woody, cypress notes.
When planted indoors, this strain takes just about 63 days to finish flowering and produces 500 grams (17.6 oz) per square meter. What's interesting is that the genetics of Sweet Pure CBD remain widely unknown; this mystery probably explains why the strain is so popular.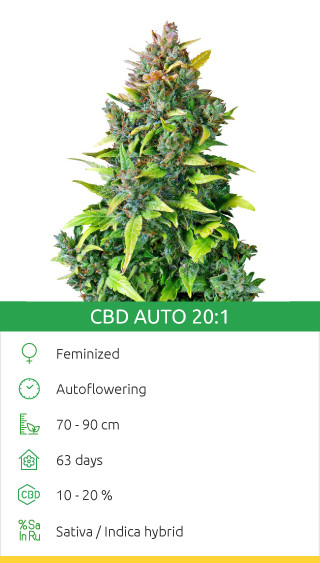 CBD Auto 20:1 – A Relaxing, Bushy Strain
This is an entirely medical high CBD strain from Fast Buds. CBD Auto 20:1 produces CBD and THC in the ratio of 20:1 and is one of the most concentrated non-THC marijuana strains in the market. The strain has a calming and relaxing effect, and thus is ideal for dealing with pain and other body aches. On top of that, CBD Auto 20:1 has a subtle and sweet essence, making it incredibly pleasant to smoke.
This marijuana variety takes around 9 weeks when planted indoors to fully mature and produces generous yields. The plant grows tall and bulky, and growers ought to provide enough space to accommodate this growth.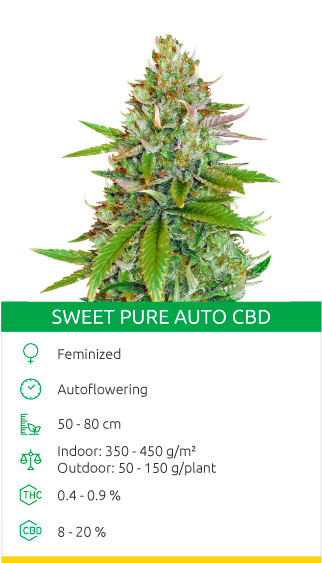 Sweet Pure Auto CBD – The Autoflowering Medicine
Sweet Pure Auto CBD is a sixth-generation autoflowering strain from Sweet Seeds. This strain was achieved by crossing select high-CBD and low-THC strains, coming up with a pure CBD strain. Its CBD levels reach as high as 20%, making Sweet Pure Auto CBD ideal for combating pains, aches, depression and anxiety, along with other physical and psychological ailments. These effects are complemented by a sweet and fruity aroma, with strong hints of citrus and underlying woody nuances.
Sweet Pure CBD Auto grows quickly and vigorously, producing as much as 450g (15.87 oz) per square meter. Since its height can be controlled and maintained, this strain is perfect for growers with small, enclosed spaces.
Get On The Low-THC Train
THC is still illegal in some US states and most countries globally. This is why low THC weed is quickly gaining popularity. No wonder – low-THC marijuana has insanely rewarding effects! Calming and relaxing, it offers relief from bodily aches and pains. Here's your opportunity to take advantage of all of marijuana's medicinal benefits without getting hazy and high – don't hesitate to seize it.
Medical Cannabis Strains
Medical Seeds