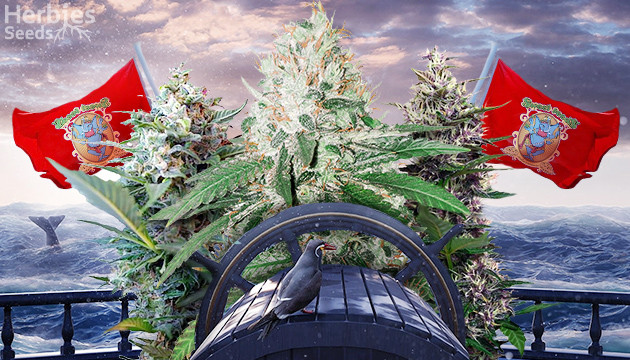 You may have already read our previous posts dedicated to some of the world's most reputable breeders and their most important creations. This list wouldn't be complete without Sweet Seeds, who has made quite a contribution to the genetic diversity of today's cannabis market. So meet this Spanish seed bank and their best selling varieties.
Sweet Seeds Strains: Wickedly Delicious And Drop-Dead Gorgeous
Sweet Seeds are located in Spain, and since 2006, have been using the freedom to grow cannabis for a good cause and experiment with its genetics that growers in this country enjoy. As a result, this seed bank has bred an endless succession of first-rate strains suitable for both indoor and outdoor cultivation. Buds grown from their seeds are real eye candies that will delight you with purple, red and almost black colors, as well as the sweetest smells of exotic fruit. But bag appeal aside, Sweet Seeds plants also offer more solid qualities such as genetic stability, vitality, hefty yields, and high THC content and other mind-altering cannabinoids.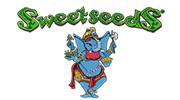 Sweet Seeds
VIEW ALL
No Copies, Only Original Creations
If you take a minute to study the catalog of Sweet Seeds, you'll notice that most strain names are original. That's because this company prefers to develop their own unique genetic lines and slowly build its reputation around them, rather than simply get a hold of a hyped variety and ride the wave. And this philosophy seems to pay off: some of the celebrity strains by Sweet Seeds have won more awards individually than a whole range of strains by many other seed banks.
Sweet Strains
VIEW ALL
Top 5 That Represent The Whole Spectrum
Sweet Seeds' R&D team works in several promising directions: they keep and constantly extend their selection of photoperiod varieties, turning the best of them into autoflowers, and they also make 'Fast Versions' for outdoor cultivation in colder climates. In the short list below, you'll find representatives of all these types.
+ Speed Auto (Sweet Seeds)
Autoflowering

The real thing!

15 - 20 %

350 - 500 g/m² indoors
30 - 150 g/plant outdoors
Go to strain
+ Speed Auto: The Fastest Way To Finally End That T-Break
It's obvious why this autoflower is the most popular product offered by Sweet Seeds. Taking only 50 days from sprouting to producing fully mature buds, + Speed Auto is probably the fastest plant on the market. It's very short-statured and compact, but the buds are big, dense, and easy to trim because of the great calyx to leaf ratio. The high is strong, too. No important feature of a good strain of weed has been forgotten here – Sweet Seeds just figured out how to achieve all this in record time.
Sweet Skunk F1 Fast Version (Sweet Seeds)
Photoperiod

Sweet body relaxation

18 - 23 %

400 - 550 g/m² indoors
350 - 600 g/plant outdoors
Go to strain
Sweet Skunk F1 Fast Version: High-THC Weed For Higher Altitudes
'Skunk' used to be synonymous with indoor cultivation, but this new generation of plants created by Sweet Seeds allows you to raise many famous genetics outdoors and in places that were formerly considered unsuitable for growing potent marijuana. So, if you think your climate only allows you to grow autos, think again – Sweet Skunk F1 Fast Version will reward you with plenty of fully mature colas before the arrival of autumn's first cold rains and frosts. The plants will also grow far larger than any autoflower, with correspondingly higher yields, and the 18-23% THC will make you forget this weed was actually grown outside.
Dark Devil Auto (Sweet Seeds)
Autoflowering

Leaving sorrows behind

15 - 20 %

400 - 600 g/m² indoors
50 - 200 g/plant outdoors
Go to strain
Dark Devil Auto: A Treat For All Your Senses
This High Life 2014 Auto of The Year is exquisitely beautiful with its neon green sugar leaves, dark purple calyxes and thick white layer of trichomes covering it all. With lower night temperatures, Dark Devil Auto can even turn almost black. The colas are very big and tight, which only adds to the strain's visual appeal. No one can resist the urge to try how these buds smoke, and it's an experience that never disappoints. The refreshing taste of grapes, citrus and other fruit on the palate is followed by a euphoric rush to the head that later settles into a mellow relaxation of the whole body.
Big Devil XL Auto (Sweet Seeds)
Autoflowering

For active lifestyle

19 - 20 %

425 - 650 g/m² indoors
50 - 350 g/plant outdoors
Go to strain
Big Devil XL Auto: Get Yourself Bigger Scales
Appropriately named, Big Devil XL Auto is not only the most productive of the strains in the large and popular autoflowering 'devil' family, but can compete even with some photoperiod genetics as far as yields are concerned. This compact plant forms many colas that are long, fat and dense, and as a result, very heavy. But it's not all about quantity – the aromatic smoke with notes of incense and lemon ushers in a strong head high, which makes you want to be active and do things thanks to its Sativa influence. This is a type of weed to consume day in and day out, so you'll be very happy you've harvested so much.
Gorilla Girl (Sweet Seeds)
Photoperiod

"Extra" Class High

19 - 25 %

400 - 550 g/m² indoors
350 - 600 g/plant outdoors
Go to strain
Gorilla Girl: A Cross Of Two Legends From Overseas
Those of you who know your way around North American genetics have probably guessed the parentage of Gorilla Girl. This is a cross of Gorilla Glue and Girl Scout Cookies – and not just any 'cookies', but the legendary and most coveted 'thin mint' phenotype. So, expect a plant that's sticky to the point of dripping with resin like Gorilla, and the sweet minty flavor of GSC. Any one of these features separately is enough to make a top-seller, but combine them together and you get a plant that's truly epic. Since both parents are also mercilessly strong, the resulting hybrid contains up to 25% THC, so its potency is no joke.
So Easy To Find A Perfect Fit Your Garden
Despite the fact that Sweet Seeds cuts no corners and spends years developing all of their varieties, they've managed to create a collection of strains that's large and varied, thus able to satisfy any grower or smoker. Whatever genetics or special traits you prefer, you're sure to find a plant perfectly tailored to your needs. And in the highly unlikely event that you don't, read the rest of the articles in our present series and find some other masterpieces by other first-rate breeders.
Herbies Head Shop expressly refuses to support the use, production, or supply of illegal substances. For more details read our Legal Disclaimer.