Cannabis Seeds in Kansas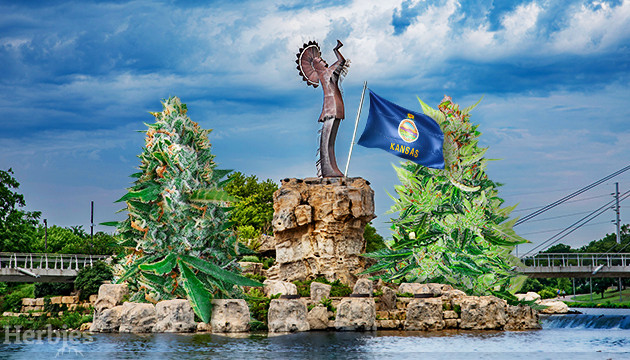 Cannabis laws in Kansas are amazingly out of step with modern trends but perfectly aligned with outdated and harsh federal policy. However, as elsewhere in the USA, the state is home to a bustling underground cannabis culture because when people regard laws as unjust, they tend to rectify this injustice with a bit of civil disobedience. So, buying and growing cannabis seeds in Kansas is a very common thing.
Is it Legal to Buy Cannabis Seeds in Kansas?
The authorities would probably want to outlaw anything that has to do with marijuana, and they do a pretty good job in this respect. However, one thing they can't forbid is for you to buy cannabis seeds in Kansas because federal law now permits it. The 2018 Farm Bill took care of that when it allowed the cultivation of hemp in the United States, and by extension, made hemp seeds of any genetic makeup perfectly legal.
You still won't find marijuana seeds for sale in Kansas, but nothing prevents you from purchasing them online. So, you can freely possess cannabis seeds without raising any eyebrows, but make sure you check where you stand legally if you want to grow them.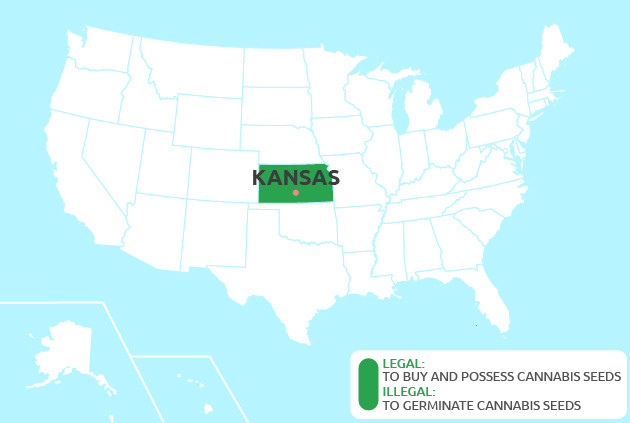 Can You Grow Cannabis in Kansas?
What the state of Kansas expressly prohibits is cannabis cultivation, which is defined as growing five plants or more and is considered a felony. As for having up to four plants in your garden, the law doesn't specifically mention it. It's unclear what this means for you if you're caught red-handed (or rather, green-thumbed) and if there will be any penalties, but regardless, it's best to keep this four-plant limit in mind.
Also, don't forget that Kansas is one of a minority of states that haven't decriminalized even simple possession, so both recreational cannabis and medical marijuana are outlawed. For this reason, never plant marijuana seeds in Kansas for everyone to see – the police will most probably find something to incriminate you. It's all the easier because even having paraphernalia for smoking weed or growing it is a punishable offense.
What to Consider When Buying Weed Seeds in Kansas
When looking for cannabis seeds for sale in Kansas and feeling overwhelmed by the variety of strains, choose ones that will guarantee you the best results under local climate conditions. We mean outdoor growing, of course, because in your indoor setup, you can grow any genetics. Just don't pick the hottest and most humid part of the year, or else it'll be an uphill battle trying to extract heat from your grow tent and bring the relative humidity down.
The Climate in Kansas
For outdoor weed-growers, the Kansas climate presents quite a few conundrums. On the one hand, the weather provides plenty of sunshine (which cannabis thrives on). On the other hand, it sometimes gets too hot. The same goes for precipitation. Unless you live closer to the Colorado border, you'll have enough rain not to care about watering, but on a few occasions, heavy rain might wreak havoc in your garden. Never forget about the high winds either, so make sure you provide sturdy support for your plants.
The growing season is quite long and lets you plant weed seeds in Kansas outdoors as early as April, although May would be a safer option. As for harvesting the buds, the best time is September or early October, so choose a strain that matures within this timeframe.
Where to Buy Marijuana Seeds in Kansas
Anyone who wants to buy weed seeds online in Kansas can easily do so provided they choose a reliable seed shop. You're already at Herbies – a one-stop mega-store that has more than 2,000 strains on offer.
We also have everything today's customers take for granted – we accept credit cards, wire transfers, and Bitcoin, ship to KS addresses, and send off your purchase on the same business day you pay for your order. Your seeds will arrive in your mailbox in a plain, unmarked envelope, and for your extra security, we offer the stealth shipping option. This is when marijuana seeds are removed from their original gaudy packages and put into non-descript Zip-lock bags.
We are so confident about the quality of the beans we sell that we offer a germination guarantee, and our experts offer 24/7 customer support – they will not only suggest the best strain for your needs but also assist you in the matters of cultivation. Try our great service, and don't forget to ask about our freebie policy!
Best Cannabis Strains to Grow in Kansas
Nothing is easier than planting some pot seeds in Kansas and getting a fantastic harvest, but your experience will be even more satisfying if you choose a strain that suits your state's climate. We've compiled a list of a few of the best weed varieties of both the autoflowering and photoperiod types just for you.
Auto Colorado Cookies
Grow the best from your immediate western neighbor with Auto Colorado Cookies! This is the tastiest weed imaginable because it combines the fruity freshness of Blueberry with the sugary sweetness and minty notes of Girl Scout Cookies. With 22-26% THC, it's an ultra-potent smoke, but it's also unbelievably mellow, filling you with a body-numbing buzz and creating torrents of happy thoughts in your head.
This autoflower needs only 11 weeks from seed to reward you with handfuls of premium bud so you can have two consecutive harvests in one outdoor season.
Sweet Skunk F1 Fast Version
Skunks are an amazing type of weed for those who love their smoke to be potent but non-threatening. Enjoy a night of total relaxation with Sweet Skunk F1 Fast Version – your body will float on a cloud, and there'll be not one worrying thought to darken your sunny mood. This sensual effect may be due to the presence of 1% CBD, while the 18-23% THC will come and go in waves of euphoria.
While Skunks in general are a notoriously speedy variety, this fast version is even better – she takes only 42-49 days of 12/12 indoors and finishes in all her scale-busting and frosty glory by early September outdoors.
Green Crack Auto
Green Crack Auto is an exquisitely balanced hybrid that starts by giving you electrifying mental stimulation and then lets you take a rest and just chill when the relaxing Indica part kicks in. Perfect for small gatherings of friends and lively but deep conversations, these sweet and citrus-smelling buds are also great to enjoy alone in the evening or late afternoon, and their 20% THC provides for a potent and long-lasting effect.
The plants seldom grow over 2-3 feet in height and are perfectly inconspicuous, yet they produce anywhere from 1.75 to 7 ounces per plant outdoors. They also finish in 8-10 weeks from seed, meaning you can potentially harvest them twice in one season.
Candy Kush Express
Candy Kush Express is a late-night treat that will help you unwind after a long day, making you blissfully lazy and sleepy. Thanks to its 15-20% THC, the high is strong and long-lasting but lets you enjoy one more bowl every couple of hours. This is fortunate, as you'll want to experience this candy-like sweetness with citrus and earthy undertones again and again. It's truly a very happy and calming kind of smoke.
The beauty of this plant also lies in her speed, which lets impatient indoor gardeners harvest fully mature buds after just 7 weeks of 12/12, while outdoors, she finishes in early September and yields 15-17.5 ounces per plant.
Fruit Punch Auto
If you're afraid the summer months in your region are too humid for super dense Indica buds, maybe you should try the much airier but huge and fat colas of the Sativa-leaning Fruit Punch Auto. You'll also love her effects – ecstatically upbeat, with an urgent desire to talk and laugh your head off. And, of course, her pungent taste of lemon, lime, and mango is like a party in itself.
Taking 70-80 days for the whole of her life cycle, you won't have to wait until fall to smoke this autoflower – plant the seeds in April indoors, transfer them to the ground after two weeks, and have a harvest in July. Then simply repeat to have another one in October.
Lemon Auto CBD
Looks like today, we're having a competition in mellowness, and Lemon Auto CBD will probably walk away with the main trophy. This medicinal lemon-smelling autoflower was expertly bred by Herbies' in-house seed bank to contain a hefty 17% THC and just as much CBD – an astounding feat by any measure. For the recreational smoker, this means a strong euphoric high unclouded by any stressful thoughts, unpleasant memories, or anxious expectations. In fact, you'll forget what the words 'stress' and 'anxiety' even mean.
This balanced Sativa/Indica hybrid is sturdy and fast, with indoor yields of 500-600g/m² (1.6-2oz/ft²) and equally generous yields outdoors.
Sugar Black Rose Early Version
The name of Sugar Black Rose Early Version perfectly sums up her nature – this weed is strikingly beautiful with her silvery crystals against the dark backdrop. One glance and you'll know you're looking at a terrifyingly potent Indica. Buds, concentrates, and hash made from this marijuana have won multiple cups at the world's most prestigious events. The juiciness of these sweet and pungent buds is what attracts connoisseurs, and the mind- and body-numbing potency of 25% THC makes them come back again and again for more.
The early version of this award-winning cannabis offers the same experience as the original but lets you harvest your buds a few weeks earlier – at the beginning of September. Moreover, the yields are insane – 2 pounds of top-shelf bud from every medium-tall but bushy plant.