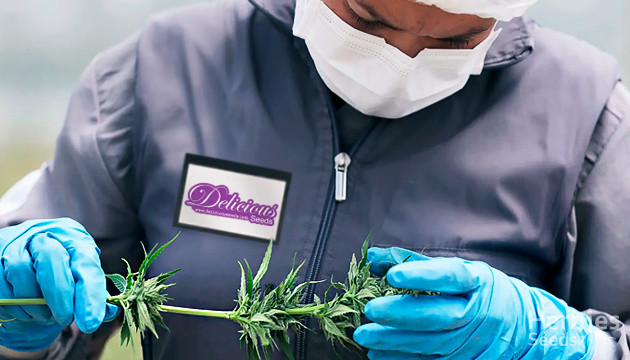 Delicious Seeds is a relatively new seed bank from Spain, but one that's already gained widespread international acclaim, with strains that have earned more than 170 trophies over a period of a single decade. Inspired by cannabis' medical benefits, this seed bank has made it their mission to work and experiment with the world's top genetics until their full potential is realized, both in terms of their healing properties and their exquisite flavors and effects.
Delicious Seeds: A Spanish Company Of International Fame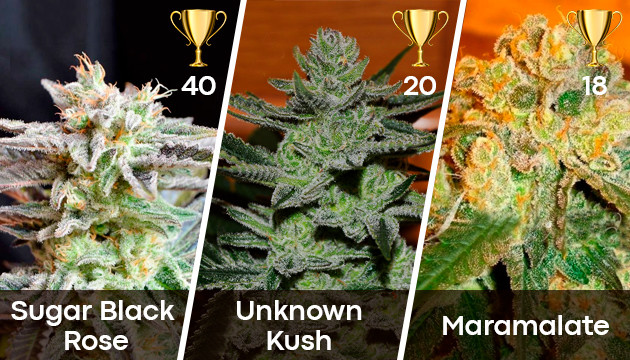 If you look at the company's history, you'll see it was established in 2009 – an astonishing fact if you consider the long list of awards the team has won since then. Only a year after their inception, Delicious Seeds received first prize in 2010 for two plants in their catalog: Caramelo and Sugar Black Rose. By that time, the cannabis market was already fully mature, so competition was undoubtedly tough. In the following years, the appreciation for these deliciously fruity strains continued to rise; Sugar Black Rose went on to receive 40 awards in total, while two other celebrity strains, Unknown Kush and Maramalate, have also won their own impressive collections of trophies – 20 and 18 respectively.
Operating in Spain, their place of origin and the country where their facilities are located, Delicious Seeds have long crossed national borders, and their genetics were among winners at marijuana festivals in places as diverse as Argentina, Uruguay and the state of Michigan, USA.
New Facets Of Success: Regular, Autoflower And Early Version
Following this early tour de force that brought their feminized varieties into the spotlight, Delicious Seeds consolidated their success by expanding the range of products on offer. Five of their bestselling strains are now available as regular seeds and can be used both for amateur as well as commercial breeding projects. Their collection of autoflowering seeds is small but top-notch, and includes Auto Dark Purple, famous for the huge bag appeal of its beautiful buds. One also shouldn't forget the Early Versions (seven in total) of Delicious Seeds flagship genetics that allow growers from places like Amsterdam and Canada to consistently bring them to full maturity outdoors. And of course, like any modern company that values the good opinions of the medical community, this seed bank is now developing its own line of high CBD strains, whose THC content is moderate but whose CBD levels are off the charts.
Our Delicious Seeds' Picks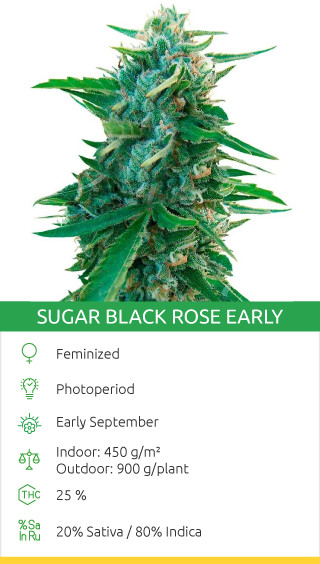 Sugar Black Rose Early Version
Bred specifically for its short flowering time, this strain matures in just over 40 days; a full 10 days less than the original version. Growers who live in colder climates or who are impatient to harvest their indoor buds as soon as possible will fall in love with this fresh take on the famous variety that's also the most decorated among Delicious Seeds' creations. Astonishingly, the early version retained all the best qualities of the original: this 80/20 Indica-dominant hybrid has THC levels of 25%, causing a profound and almost narcotic relaxation in the body with gentle cerebral stimulation. It brings in upward of 450g/m2 (1.5 oz/ft2) indoors and up to 900g/plant (32 oz/plant) outdoors, and has a rich, sweet smell and flavor reminiscent of oranges.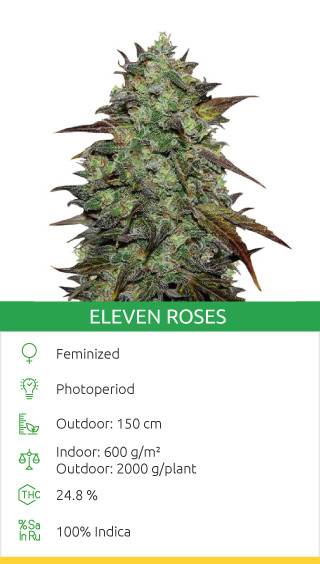 Eleven Roses
In November 2019, the parent of this weed, Sugar Black Rose, was named the no. 1 strain by Discreet Seeds, the UK's largest supplier of cannabis seeds. You'd think that its creators would just rest on their laurels and rake in the dough. Not by a long shot! For three years, they'd been busy refining this hybrid until they got Eleven Roses, the 100% pure Indica that's 30% more productive indoors and yields up to 2000 grams (70 oz) per plant outdoors. Rest assured, the increased production hasn't hurt the quality; its heavy-handed all-round stone, ensured by the 24.8% THC content, remains uncompromised, as does the delicious fruity aroma with some additional earthiness on the exhale.
Golosa
While most Delicious Seeds varieties have 22-23% THC on average, this fruity Indica hybrid boasts a THC level of 26% – a distinction shared only with the Sativa-leaning Chocobang. A breeze to grow, Golosa thrives in any environment, is high-yielding and finishes reasonably fast; after just 55 days of flowering, you can count on 550g/m2 (1.8 oz/ft2), or up to 1.5kg/plant (3.3 lbs) if grown outside. This cross of Blueberry, Grapefruit and Bay 11 is an explosion of fruity flavors with notes of peppermint and coffee. The effects can be devastating, so with Golosa, a little goes a long way!
Game-Changing Packaging For The New Generation Seeds
Loyal customers of Delicious Seeds will be delighted to learn about their new game-changing packaging. Now, besides being shipped in an airtight container, the seeds are additionally protected by an opaque ziploc-style package that can be opened and resealed as many times as you want. After you've germinated all the seeds, you can use the bag to store the samples of the buds, where they'll be protected from light and oxygen while also retaining their THC content and precious terpenes.
High yielding strains
Go to high yielders