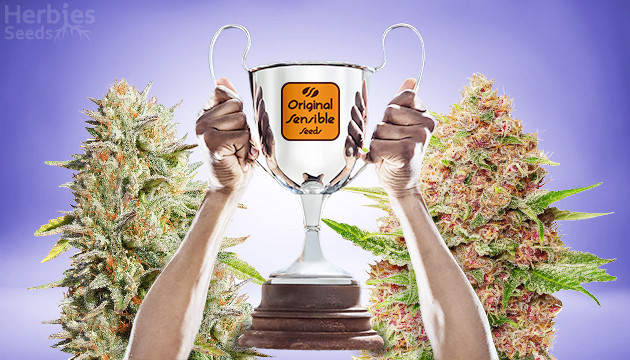 We continue our series of articles dedicated to the world's most trusted seed suppliers and their essential strains. In today's installment, we present you 5 weed varieties by Original Sensible Seeds that perfectly illustrate why this UK-based seed bank has become such a huge success among seasoned and discerning British growers, and why it's established itself as one of the most reputable sources of cannabis genetics worldwide.
Original Sensible Seeds: Breeding For Potency And Flavor Since 1992
The history of OSS goes back more than a quarter of a century, to a time when Amsterdam seemed to be the only oasis in a wasteland of marijuana prohibition. This city and its busy, lively counterculture inspired the future founders of the company to recreate something like that back in the UK. Restrictive policies aren't exactly conducive to innovation, but the guys still managed to breed some of the dankest and most potent 'skunks' whose fame went well beyond the British market. This says a lot about the team's talent and dedication, and explains their resilience when they were shut down by authorities but later came back with a bang.
US Marijuana Grown On European Soil
After a dozen years spent in obscurity, Original Sensible Seeds opened shop again, this time in Spain. Now their catalog was simply awe-inspiring. Besides some of their own earlier classics, the breeders also offered a huge line of game-changing genetics from the United States. These new strains are all like chemical factories, specifically designed to produce the highest quantities of THC and other cannabinoids, as well as terpenes and flavonoids. This is true of any Original Sensible Seeds variety, but especially of their 5 best-selling strains.
Strongest Strains
Open collection
An All-Star Team From The American Legal Market
Among the top 5 most popular varieties listed below, you'll find those bred from original cuts, as well as some hybrids and even one autoflower. What unites them all is the fact that these genetics originated in the US, and could formally only be bought in legal dispensaries in 'green' states but are now available to you in seed form.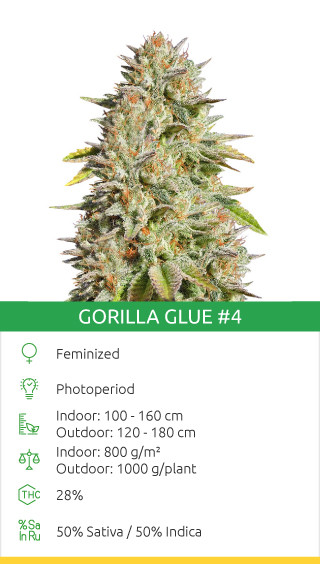 Gorilla Glue #4: The Most Feared Of The Gorilla Family
All of the original Gorilla clones are famous for their gluey, sticky goodness and face-melting potency that goes with it, but Gorilla Glue #4 is by far the most resinous and psychoactive of the bunch. All seed banks that were lucky enough to obtain this special cut guard it as their top asset. Besides the insane amounts of THC and other cannabinoids, GG4 is also chock-full of terpenes that account for its unique flavor of chocolate, pine and citrus and – thanks to the entourage effect – make its euphoric and sedating high even stronger.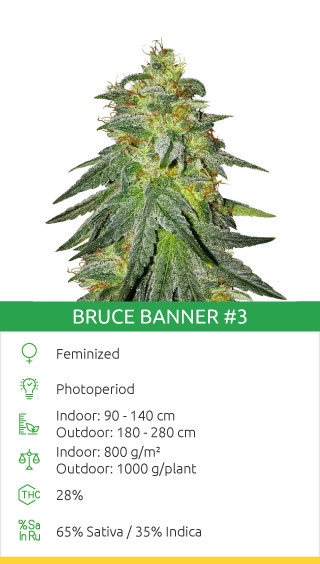 Bruce Banner #3: The Creative Power Of Euphoria
An instant hit among medical users and recreational smokers alike, Bruce Banner #3 became so popular thanks to its intensely euphoric and well-balanced high fueled by 28% THC. Imagine an Incredible Hulk who retains all his superpowers, but is totally mellow and willing to create rather than destroy. That's exactly how you'll feel with this strain: alert, inspired, and ready to do great things. You'll also fall in love with this strain's aroma of diesel with hints of citrus and other fruit.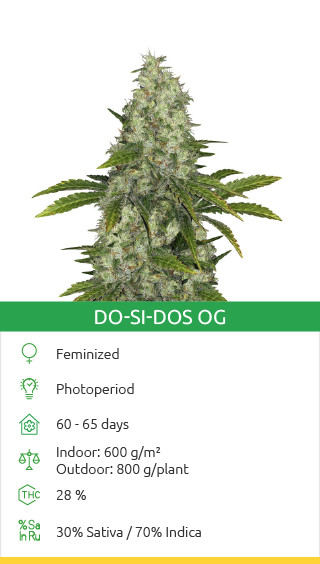 Do-Si-Dos OG: Physically Relaxing And Mentally Invigorating
Do-Si-Dos OG is the ultimate nighttime Indica for people who like to treat themselves at the end of a long and busy day. It offers both ingredients of a perfect rest: the warm and fuzzy body buzz and the mental stimulation that gives you renewed energy to enjoy your evening: watching a movie, listening to music, or just being with your loved ones. Understandably, this weed is also a great favorite among medical patients, as it provides such strong relief for many physical and mental conditions.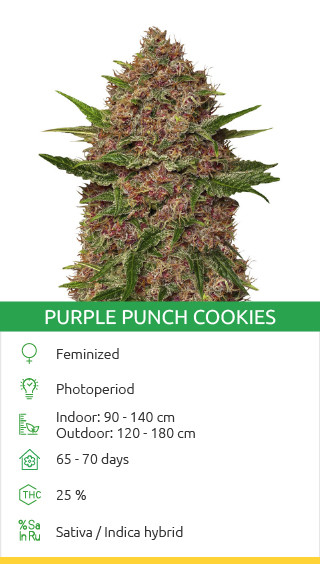 Purple Punch Cookies: Three Sweet Treats In One Hybrid
This three-way hybrid of Gelato, Grandaddy Purple and Girl Scout Cookies offers exactly what its delicious heritage promises: a rich and sweet, candy-like flavor, also reminding the user of grapes and berries, and perfumed with notes of hash and incense. This fragrant smoke will deliver an instant stimulating hit to your head before settling into several hours of long body relaxation. As you can imagine, Purple Punch Cookies is ideal for treating both mental and physical conditions, but can also be used for having cheerful and lively conversations with your friends.
Wedding Cake Auto: Frosty Purple Nuggets Chock-Full Of THC
Visually stunning and smelling of lemon peel, vanilla, gasoline, cherries and freshly-baked cookies, these delectable buds are also super strong and will fill your whole body with an immobilizing buzz and giggly euphoria. What never stops to amaze us is that such a connoisseur-worthy strain actually comes in autoflowering form, and can be harvested – in commercial quantities, no less – in as little as 8 weeks from seed. As such, Wedding Cake Auto is a better alternative to many photoperiod varieties on today's market.
Keep Exploring Original Sensible Seeds' Catalog
It just so happens that the most sought-after varieties sold by OSS also have the highest THC content. It doesn't mean, however, that their other strains are weak. Remember, seeking out the strongest genetics is the proclaimed mission of this seed bank. So, if another title in their catalog tickles your fancy, by all means, go ahead and try it: there's no doubt you'll get a lot of bang for your buck!
Herbies Head Shop expressly refuses to support the use, production, or supply of illegal substances. For more details read our Legal Disclaimer.