Fastest-flowering Strains for Another Harvest This Year
14 September 2021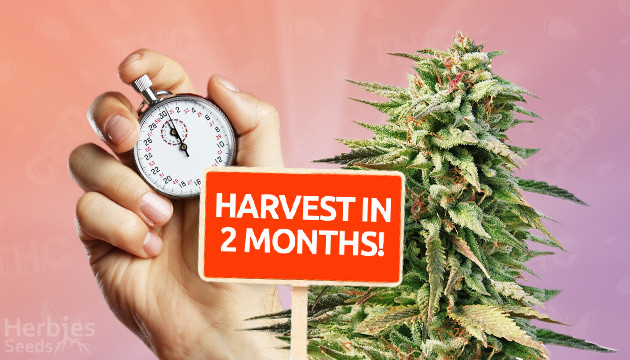 You might have thought that just because summer has passed, your chances of reaping one more harvest this year have disappeared with it. If so, you've never been more wrong! Here at Herbies, we have dozens of fast-flowering cannabis seeds that are able to finish their whole cycle in about two months. This means that if you plant them soon enough, you won't have to worry about Christmas presents! By the time the winter holidays arrive, you should have your shelves filled with delicious, top-notch quality cannabis! Let us introduce you to a few cultivars that can be found in our Fast-Flowering Collection.
Royal Gorilla Automatic (RQS) – 35+ Days Seed to Harvest
Possibly the best strain created by renowned breeder RQS, Royal Gorilla Automatic is a true gem for growers in a hurry. This cultivar guarantees the stickiest, most trichome-laden harvest in just a little over 5 weeks from seed. Its 20% THC is sure to leave you happy for hours. Users can also expect complex flavors of diesel and coffee mingling with and complementing its euphoric effects.
Big Bang Auto (GHS) – 42 Days Seed to Harvest
This entry from industry giant Green House Seeds, Big Bang Auto, is a small and bushy plant that promises huge bang for your buck. In just over 6 weeks from seed to harvest, you'll get to enjoy a bountiful harvest of sweet bud. Its flavor is incredibly multifaceted, combining notes of strawberries, apple, and rose, while the effects promise deep and soothing relaxation.
Sweet Skunk F1 Fast Version (Sweet Seeds) – 42+ Days of Flowering
With this strain from Sweet Seeds, the old-school Skunk makes a triumphant comeback in a new and improved form. While keeping the genetics photoperiod, the breeder succeeded in shortening the flowering phase to an outstanding 42+ days. Despite this change, expect no compromises – you'll still get a high-yielding and highly resilient plant with up to 23% THC and hard-kicking effects. As a bonus, every pack of Sweet Skunk comes with an extra seed for free!
Purple Punch Auto (Barney's Farm) – 50+ Days Seed to Harvest
Despite the breeder's enormous library of strains, Purple Punch Auto finds a way to stand out from the rest. This punchy autoflower's ability to finish in just 50 days from seed to harvest is not its only strength; Purple Punch Auto also stays short for all the stealthy growers out there, yet provides solid yields that reek of delicious fruit and spice. Effects-wise, expect to feel relaxed and happy as if without a single care in the world.
Californian Snow Auto (FastBuds) – 63+ Days Seed to Harvest
For the energy you're going to need this upcoming holiday season, try growing Californian Snow Auto. This highly resinous strain finishes in only 9 weeks and provides tokers with uplifting and motivating effects. The potency is present too, with 23% THC for a truly long-lasting session! Flavor-wise, expect a rich and joyful citrusy palette.
While the year is slowly but surely coming to its end, there's still time to squeeze in one more harvest! What's going to warm you up better during the long, cold winter nights if not a good old bowl of bright green home-grown weed? Go ahead and check out the rest of the strains in our Fast-Flowering Collection! However, while they're indeed fast, the clock is still ticking – be sure to buy your seed of choice while stocks (and decent weather) last.
Herbies Head Shop expressly refuses to support the use, production, or supply of illegal substances. For more details read our Legal Disclaimer.