Your Favorite American Seeds Are Back In Stock!
25 September 2020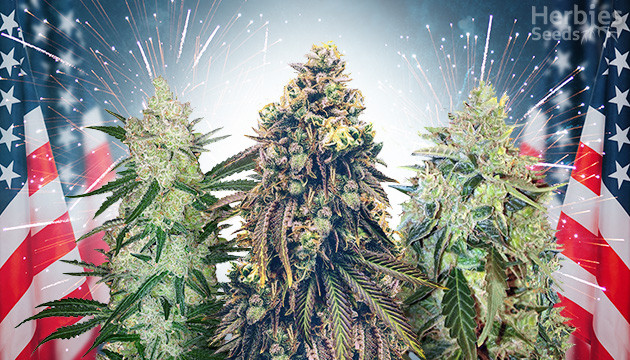 Yee-haw! We know you've been missing some of our top-selling American cannabis seeds. Well, the wait is finally over, because our warehouse is now fully stocked to make your American dream come true. Let's give a warm welcome back to the following American strains:
Let's Party With Cinderella 99
Have you been craving a party in the U.S.A but needed an extra kick? Cinderella 99 by Growers Choice will give you just that: a charge of euphoric energy and relief from social anxiety, so you can party all day and all night. These 22% THC, 70% Sativa feminized cannabis seeds grow to yield plenty of fresh and fruity buds with earthy notes. Trust us, this flavor palette will instantly get you moving your hips like yeah!
American Lemon Pie Auto
Welcome back also to Lemon Pie Auto, an autoflowering cannabis strain from FastBuds that became an instant hit and was swept off our shelves in no time. Small wonder it became such a sensation – Lemon Pie Auto is irresistibly lemony, creamy, and fresh, just like the namesake American dessert. The taste and aroma profile is complemented by its mind-blowing 24% THC, generating a cerebral, clear high under a crust of mellow body relaxation.
Grand Daddy Purp – Daddy's Back!
The legend that needs no introduction, Grand Daddy Purp feminized cannabis strain is the big purple monster we all love. Now that it's finally back in stock, you can once again grow this weed definition of purple: lavender-colored buds with the unmistakable flavor of dark grapes. Puff, puff, pass, and feel how you're body melts into the couch under the influence of Grand Daddy Purp's extra-potent and narcotic-like stone effect.
Now that we've stocked our shelves with these American favorites, it's your turn to get growing and stock your stash with huge, dense buds from these potent cannabis seeds. Besides Cinderella 99, Lemon Pie Auto, and Grand Daddy Purp, don' forget to check out our other restocked weed varieties – the exceptionally resinous Orange Sherbet Auto from FastBuds and the early-flowering MAF, aka Mighty Amstel Freezeland, from Growers Choice.