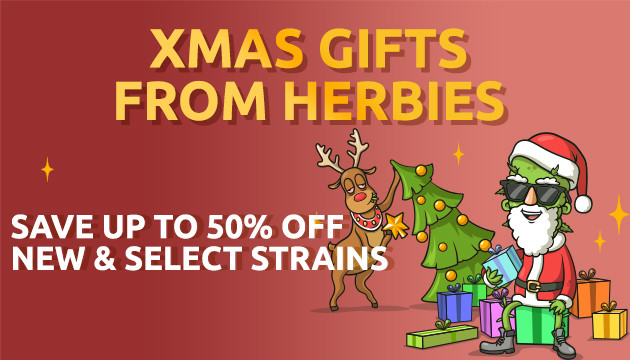 Holidays are coming, which means everyone is decorating their home with Christmas trees. But what if we told you there's another – even more joyful to some – kind of tree that you can have at home? Big or small, green or purple, cannabis plants bring excitement to every home AND have lots of ornaments that will keep people smiling all year round.
We're spreading holiday cheer this year with an exclusive Christmas deal. Starting 00:00 December 23rd and up until 00:00 December 28th (PST), we'll be slashing prices on dozens of strains in our store by up to 50%.
For those who have been good growers all year, we've got a special offer. During Herbies' Christmas sale days, use promo code CHRISTMASGIFT at checkout whenever you order from Herbies to get an extra Sugar Black Rose EV seed by Delicious Seeds for free. Ready for harvest after just 45 days of flowering, this 25% THC-infused herb from sunny Spain won't waste your time, so don't waste it either – the number of promo codes is limited.
Here are some of the strains that will go on this very merry Christmas sale – get first pick of these before the crowds hit!
Blue Dream (Garden of Green)
A magic blend of Blueberry and Haze genetics has resulted in a Sativa-dominant hybrid with a sweet flavor that will satisfy your taste buds as refreshing earthy and piney notes play on your palate. With 25% THC, this weed leaves users with an uplifted, mind-clearing feeling, sometimes paired with a boost of euphoria that may also get your creative juices flowing. The yields are equally impressive at 500 g/m² indoors, making Blue Dream a gift that keeps on giving.
Eleven Roses (Delicious Seeds)
The breeders from Delicious Seeds really outdid themselves with this one; Eleven Roses is very obliging and forgiving, yet capable of yielding an insane 2 kilos (4.4 lbs) of resinous bud per plant outdoors and 600 g/m² (2 oz/ft²) indoors. The eleven steps to a narcotic bliss start off as a strong buzz that's focused on the body, making users zone out peacefully – all courtesy of powerful terpenes and 25% THC.
Mimosa x Orange Punch (Barney's Farm)
Mimosa x Orange Punch is a staple of our catalog – this mostly Indica hybrid is known for its relaxing effects that slam you right into the couch while a burst of euphoria spreads throughout your body. With up to 30% THC, this plant boasts strong therapeutic powers and in the right hands will bring a staggering 1500 g (~3.3 lbs) of top-quality bud outdoors and 700 g/m² indoors.
Dessert Mix (Herbies Seeds)
Herbies' Dessert Mix is meant for those who want to tease their taste buds with enticingly sweet, fruity flavors while enjoying the high potency and powerful effects of some of the most exotic strains on the market. This mix of Indica and Sativa seeds includes three strains: Banana Pudding with its relaxing Indica effects, the psychedelic and euphoric rollercoaster that is Apple Betty, and the calming yet uplifting Mango Mousse. With 21-33% THC, these strains offer up to 800 g/m² of delicious bud indoors and up to 2600 g/plant outdoors.
Haze Gom Auto (Grass-O-Matic)
Haze Gom Auto is a fast-flowering strain created by crossing an early-harvest Super Silver Haze phenotype with Lowryder #2. Despite its Sativa genes, this strain grows basically like an Indica and takes only 65 days from seed to harvest on average. Haze Gom Auto performs great in indoor setups, producing up to 500 g/m² of bud that will tease your taste buds with its fruity and Hazy aromas.
As always, this deal stacks with other active promos and bonuses – feel free to combine them to gain the maximum benefit from your shopping spree. Merry Christmas!
Herbies Head Shop expressly refuses to support the use, production, or supply of illegal substances. For more details read our Legal Disclaimer.