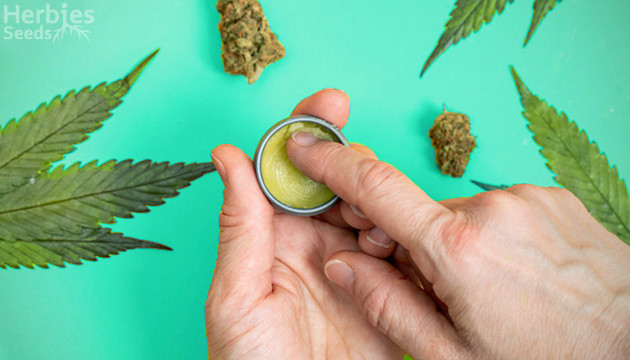 As we already know from extensive research, the medical properties and possibilities of cannabis are extraordinary. Whether you're ingesting it orally or smoking your cannabis, you're also receiving the many benefits cannabis has to offer. But did you know that you can maximize these benefits by applying cannabis directly to your skin? Let's explore how this is possible by learning how to make your own cannabis salve topical cream.
Cannabis-Infused Topicals – How Do They Work?
Throughout the human body, we have what's called the endocannabinoid system – a system of receptors that bind to and react with THC and CBD molecules when they enter our body through the central nervous system, bloodstream, or digestive tract. Humans also have a series of endocannabinoid receptors that are present on and in skin, hair, and nails (the integumentary system). When used in cannabis-infused topicals, the compounds in cannabis – THC, CBD, THCA, CBDA, and many others – react with the endocannabinoid receptors that are on the skin's surface.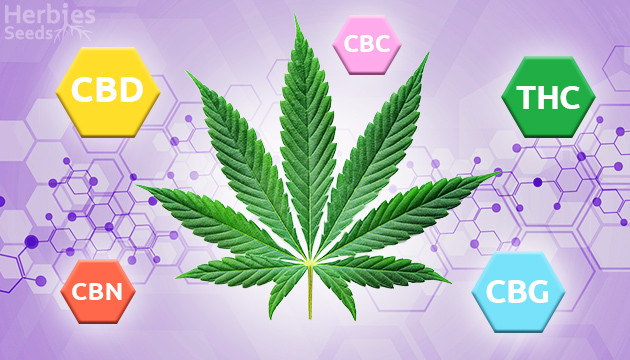 List Of Cannabinoids
READ NOW
Health Benefits Of Canna Salve, Lotion, And Cream
Using cannabis for medical purposes has been a practice for thousands of years for ancient humans, which has finally regained traction now in the twenty-first century. THC, the main psychoactive compound in marijuana, has a plethora of health benefits, such as pain relief and being anti-inflammatory, while CBD also has muscle relaxing and its own anti-inflammatory properties. Because of this, using a cannabis-infused topical like a salve, lotion, or cream is an amazing option for those who suffer from painful or irritating skin conditions such as eczema, psoriasis, dermatitis, and certain skin cancers.
Making Your Own Marijuana Topical For Pain And Other Problems
If you live with complicated skin issues and the mainstream pharmaceutical remedies just aren't cutting it anymore, or if you're looking for a more natural approach, making your own marijuana topical for pain is the way to go. Let's dive into how you can DIY a marijuana pain cream at home.
Cannabis Salve, Lotion, Or Cream: What's the Difference?
In terms of terminology, a "salve" is simply the term for any cream or lotion that has healing properties. In comparison to popular available products like hemp-based lotions and creams for the face and body, a cannabis salve recipe uses activated cannabis so that the compounds in marijuana can enter and react with the body. Lotions and creams that are marketed as "cannabis lotion" but are actually hemp-based will not have the same effects, as the THC and CBD molecules will not be present. Balms, lotions, and creams also typically contain larger amounts of beeswax for a firmer consistency.
Medical Cannabis Seeds
VIEW ALL
Making Canna Salve, Lotion, And Cream: Do You Need to Decarb Your Weed First?
Just like when you're making edibles, the first step to any recipe involving cannabis is going to be the process of decarboxylation, or heating your cannabis at a specific temperature over a period of time. This process occurs instantly when cannabis is smoked or vaped, activating the THCA and CBDA acid compounds and converting them to the psychoactive THC and non-psychoactive CBD molecules. Using active THC and CBD in your salve, lotion, or cream is going to bring many of the health benefits that come with using THC and CBD, but THCA and CBDA also contain many healing properties in themselves, such as relieving muscle spasms, arthritis, cancer, and inflammation and tumor growth respectfully. If you want to get a fully all-purpose, all-healing kind of cannabis salve, using a combination of decarbed and non-decarbed weed is therefore the way to go.
How To Make Your Own Cannabis Salve:
Before we begin, make sure you have all of the correct materials. You will need: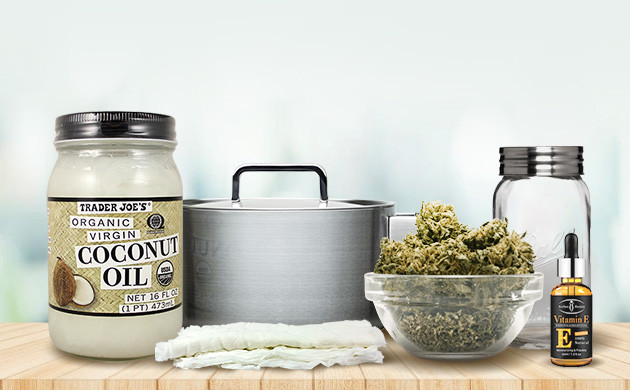 1 cup of coconut oil (207 grams)
1 cup, or about one ounce, of (decarboxylated) cannabis plant material (bud + trimmings)
Cheesecloth for straining
A double boiler or deep saucepan
Jars or other containers for storage
Optional ingredients: essential oils, vitamin E extract
Step One: Melting the Oil
Using a double boiler, fill the bottom pan with water and place the other pan inside. Melt the coconut oil in the double boiler. You can also use a normal saucepan to melt the coconut oil, but be sure to stir constantly.
Step Two: Add the Weed
Once the oil has melted, add the decarbed cannabis into the oil. You can also choose to add decarbed and raw weed together for the benefits of both.
Step Three: Simmering
Let your mixture simmer on low heat for 4-6 hours. This ensures all THC and CBD binds to the oil. Make sure the oil does not burn or boil during this process.
Step Four: Strain the Mixture
With your cheesecloth, strain the canna oil mixture into a large bowl. Squeeze the cheesecloth to remove excess liquid. You can repeat this step several times to make sure all the plant particles have been removed.
Step Five: Store Your Canna Salve
Transfer the liquid from the large bowl into your containers of your choice for storage. Allow the mixture to cool completely before use.
How To Make A Canna Lotion Or Cream
For making canna lotion or cream, you will need most of the same ingredients, just in different quantities, and instead of cannabis flower, you can use the trimmings of weed plants or shake. To begin, you will need: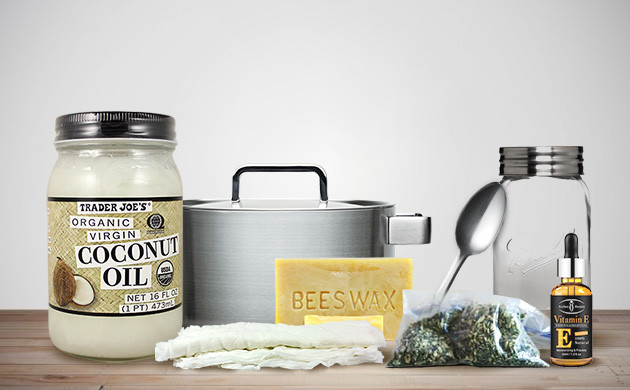 0.5 ounce of cannabis (14 grams)
8 ounces of coconut oil (228 grams)
1 tablespoon of beeswax (14 grams) (as a vegan substitute, use shea or cocoa butter)
Any essential oils that you desire
You will also need:
A crockpot
Cheesecloth
A mesh strainer
A device to grind the cannabis trim
A large spoon
Containers to store your balm or lotion in
Step One: Grinding The Cannabis
Grind your cannabis until it's reached a fine consistency. You can use a grinder, food processor, or coffee grinder for this step.
Step Two: Combining The Ingredients
In your crockpot or another deep saucepan, combine the coconut oil and cannabis. Let the mixture sit for at least 8 hours on your stovetop's lowest setting, stirring often. Once your mixture has simmered for 8 hours, you can add the beeswax. Stir until melted.
Step Three: Oils
This is where you would add any essential oils you desire. A few drops should be enough.
Step Four: Discarding The Plant Material
To ensure a smooth consistency, line your mesh strainer with cheesecloth and carefully pour your mixture through and into a large bowl. Squeeze the cheesecloth to get rid of excess liquid. You can repeat this process several times. Then discard the cannabis trimmings.
Step Five: Packaging
Transfer your new canna lotion into smaller containers like mason jars or metal tins, and voila! You now have your own canna lotion or canna balm.
Best Strains For Making Cannabis Salve, Lotion, Or Cream
The best strains you can use for making your own canna salve or canna lotion cream are those high in both THC and CBD. Having high amounts of both cannabinoids will cover a wide range of ailments and will give you an all-purpose type cream. Here are some of our favorite strains, which you can find on our site!
Try The Popular CBD Blue Shark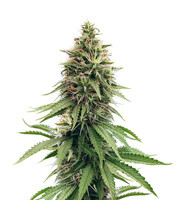 CBD Blue Shark (Barney's Farm)
Photoperiod

Dr. Tenderness

550 g/m² indoors

16 %
View strain
CBD Blue Shark from Barney's Farm is one of the best options available to make a cannabis-infused topical for all your skin needs. With a perfect balance of 16% THC and 16% CBD, you'll be maximizing your salve's benefits by getting the best of both worlds. CBD Blue Shark is a popular strain among growers who love to make cannabis oils, as it has an amazing terpene profile with hints of citrus and a distinct spiciness.
Chill Out With CBD Auto Compassion Lime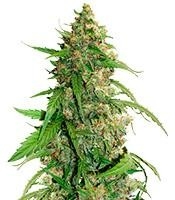 CBD Auto Compassion Lime (Dutch Passion)
Autoflowering

Vibes full of health

500+ g/m² indoors

7 - 15 %
View strain
CBD Auto Compassion Lime from Dutch Passion is one of the most popular strains for medicinal cannabis users thanks to its high CBD content of between 9-10% and an added kick of 7-15% THC. CBD Auto Compassion Lime is the perfect strain for those who want a strong and effective topical while also getting mild anxiety relief from its incredible citrus and orange terpene profile. In a salve, this strain will pair amazingly with orange or citrus essential oils for added relaxation.
Get Relief From CBD Critical Cure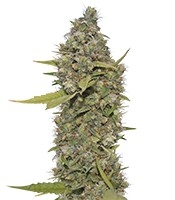 CBD Critical Cure (Barney's Farm)
Photoperiod

Your favorite doctor

600 g/m² indoors

5.5 %
View strain
Coming to you once again from Barney's Farm, CBD Critical Cure will relieve you of all your skin ailments. As an Indica-dominant hybrid with 18% (!) CBD and 12% THC, your skin will feel complete bliss after infusing this bad boy with any of your canna salves by getting the most benefits from such a strong CBD hybrid. This is a highly recommended strain for medical users, as it's commonly used for relieving anxiety and chronic pain. With hints of strawberry, earth, and pine, pair this strain with similar essential oils to truly bring out that incredible terpene profile.
Enjoy Your New Canna Salve At Home
Making your own canna salve at home has never been so easy with our step-by-step guide. There are so many benefits to using cannabis topicals that can help with a wide range of skin ailments. Experiment with different essential oils and strains of weed to find out exactly what works for you!
Herbies Head Shop expressly refuses to support the use, production, or supply of illegal substances. For more details read our Legal Disclaimer.