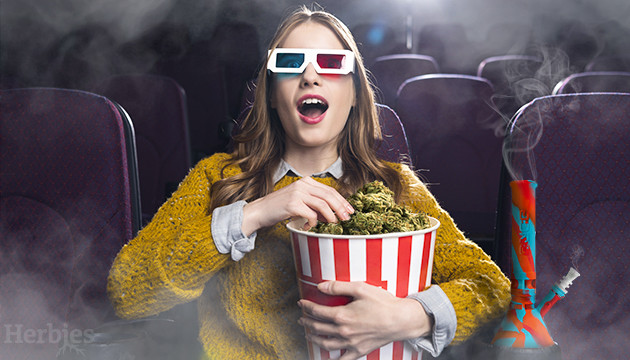 We love watching movies because they have this incredible knack for engaging our senses, thoughts, and emotions. We also love smoking weed for doing exactly the same. The old saying goes that the whole is greater than the sum of its parts, so why not do these two things together?
Whether you're Netflix and chilling or going on a movie marathon with your buds, we've got the perfect strains to make your movie night a blockbuster. Read on to explore the best weed strains for watching movies and learn how to pick the right weed for your cinema soirée.
Changing Perception
If you've ever used weed, you'll know just how profoundly it changes our perception of the world around us. This effect comes from cannabinoids – the active compounds found in cannabis – interacting with our endocannabinoid system.
This system is a complex network of receptors and neurotransmitters that regulate many of our bodily functions, including our sensory perception. When we use cannabis, cannabinoids like THC and CBD bind to these receptors, essentially tuning our sensory processing.
This can enhance colors, sounds, tastes, and tactile sensations, making everything from a slice of pizza to a TV screen more vivid and engaging. It's like getting a VIP pass to a sensory theme park, and it's one of the reasons why weed can turn a good movie into an epic cinematic experience.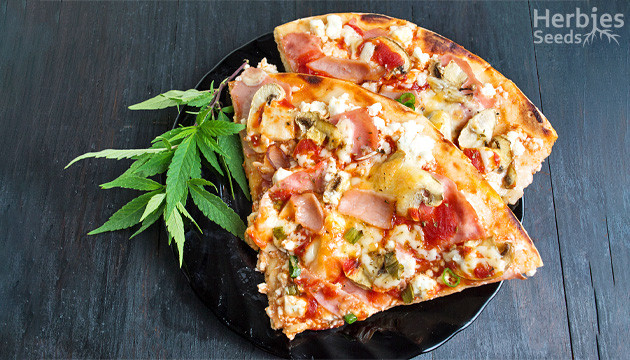 The Best Weed Pizza Recipe: Elevated THC and CBD Effects On A Crust
READ NOW
The Right Strain for the Right Flick
Loosely speaking, cannabis can either chill you out or stimulate your mind. This is all thanks to each strain's unique traits, like its Indica/Sativa ratio, THC and CBD content, and terpene profile. Whether you're in for a heady drama or a laugh-out-loud sitcom, there's a strain out there that'll get you in the right frame of mind.
However, it's important to pick the right one for your movie choice – imagine being stoned out of your mind while watching Tenet or getting all perked up and ready for action just as you're about to dive into a calming National Geographic documentary. The wrong strain can totally throw the vibe off, but with the right strain, you can dial in the experience you're looking for.
To make the choice easier, consider the following:
Genre. Which movie are you in the mood for – a deep drama, a silly comedy, or maybe a nail-biting thriller?
Company. Are you planning a solo binge session, or are you inviting your crew over for a smoke and watch party?
Timing. Are you looking for a midday pick-me-up or a chill evening wind-down?
Kind of high. Do you want to feel energized and engaged or are you aiming for a mellow, relaxed vibe?
Top 10 Best Weed Strains for Watching Movies
Straight-up Indica or Sativa? Nah, too much of a good thing can be too much! It's best to stick to either Indica- and Sativa-dominant hybrids or balanced hybrids for your flick fix.
They'll give you the right mix of relaxation and energy without either sending you to snoozeville or making you bounce off the walls. Without further ado, let's reel off the best strains for movies.
Blue Dream (Blimburn Seeds)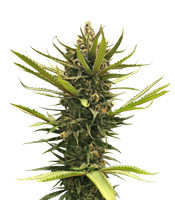 Blue Dream (BlimBurn Seeds)
Photoperiod

Medical high/stone waves

600 g/m² indoors
800 g/plant outdoors

17 - 24 %
View strain
Blue Dream is a balanced hybrid that's beloved by cinephile potheads for providing euphoria and calm without overwhelming the senses. Frankly, it's great for almost any movie and suitable for about any time of the day so long as you're careful with the dosage – too much or too late can make you feel a bit drowsy.
Gelato Auto (Herbies Seeds)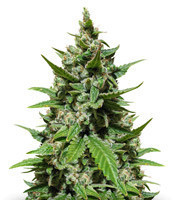 Gelato Auto (Herbies Seeds)
Autoflowering

400 - 600 g/m² indoors

26 %

Outpouring of creativity
View strain
Gelato Auto is the ultimate mood booster. This 60% Sativa fills the room with laughter, making it perfect for a comedy night with friends. You'll find your social anxiety melting away, replaced with infectious discussions and an outpouring of creativity – what better weed to pick for those silly Adam Sander B-list comedies?
Pineapple Chunk (Barney's Farm)
Many Indicas have a mind-numbing effect that puts a sort of emotional buffer between you and the movie. It's like watching the movie from the other side of a glass window – you're seeing it, but you're not really feeling it.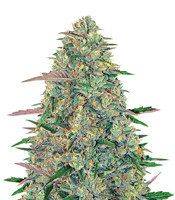 Pineapple Chunk (Barney's Farm)
Photoperiod

Couch-locking stone

600 g/m² indoors

25 %
View strain
Pineapple Chunk is nothing like that. The high kicks off with an energetic, euphoric, and cerebral head rush that'll have you riveted to the screen. As the drama unfolds, so does the calming, relaxing feeling – perfect for those climactic resolutions.
Original Auto OG Kush (Fast Buds)
"Kush" is one of the most frequent entries in 'best weed strains for watching movies' selections. Take Original Auto OG Kush, for instance. This 80% Indica makes you feel like you're right there with the characters, feeling their ups and downs like they're your own.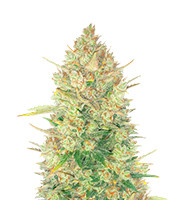 Original Auto OG Kush (FastBuds)
Autoflowering

Overwhelming relaxation

450 - 550 g/m² indoors
50 - 150 g/plant outdoors

23 %
View strain
Add in that classic Kush brain blast and the mellow vibes from the Indica, and you're looking at total movie immersion. You won't just be watching the film – you'll be living it (just take it slow to not zone out in the process)!
Liberty Haze (Barney's Farm)
Liberty Haze is a stellar 60% Sativa that doesn't mess around. The high hits you fast, sticks around for the long haul, and leaves you riding a wave of uplifting euphoria and a fresh burst of creativity.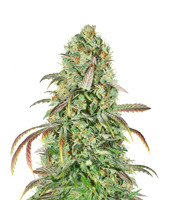 Liberty Haze (Barney's Farm)
Photoperiod

Unwinding freedom

25 %

600 g/m² indoors
View strain
This strain is your golden ticket to anything that'll have your gears grinding. Just imagine watching something like Glass Onion while high on this one – you'll tune into a whole new frequency, picking up all the clues and loving every minute of it!
Wedding Cake (Original Sensible Seeds)
Wedding Cake (Original Sensible Seeds)
Photoperiod

Relaxed with an air of euphoria

600 g/m² indoors
800 g/plant outdoors

25 %
View strain
Wedding Cake offers a dreamy, blissful evening for your senses. It wraps you up in a full-body relaxation, with a side of euphoria and laughter. It's the perfect partner for a chill movie night where all you want to do is sink into your couch and float away on waves of cinematic joy. It might make you a bit sleepier as the credits roll, but who cares? You'll be so engrossed in whatever you're watching, you'll feel like you're part of the cast.
Strawberry Gorilla Auto (Fast Buds)
This balanced hybrid knows how to party, kicking things off with a potent cocktail of joy and creativity, then smoothly transitioning to a state of deep, soul-soothing relaxation. Strawberry Gorilla Auto is a genius pick for those visually stunning animations (Puss in Boots, anyone?) where every frame is a freakin' masterpiece.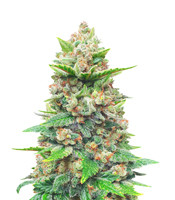 Strawberry Gorilla Auto (FastBuds)
Autoflowering

Happiness intoxication

450 - 600 g/m² indoors
60 - 300 g/plant outdoors

27 %
View strain
If you're in the mood for a good scare, Strawberry Gorilla Auto won't let you down either. Its lively buzz is just the thing to keep you on your toes during horror flicks. So call up your crew, pack a bowl, and brace yourselves for a thrilling night in. Just remember, no peeking through your fingers!
Monster Bruce Banner Auto (Monster Genetics)
This beast of a strain packs a strong Sativa punch and 25% THC, which is pretty insane for an autoflower. The powerful Sativa effects blend perfectly with the Indica sedation, making this a perfect pick for action-packed blockbusters.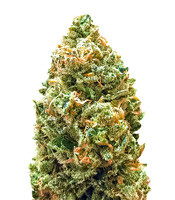 Monster Bruce Banner Auto (Monster Genetics)
Autoflowering

Carried by the flow

25 %

550 g/m² indoors
700 g/plant outdoors
View strain
Now, here's the kicker: this strain is all about empathy. We took it for a spin while watching Sinister and it was intense. Every jump scare felt so real it was like we were in the movie ourselves. If you're looking for a strain that'll turn your movie night into a full-on cinematic roller coaster, Monster Bruce Banner Auto is your ticket.
Sour Diesel Auto (Herbies Seeds)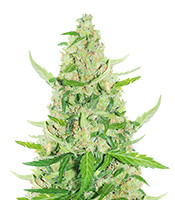 Sour Diesel Auto (Herbies Seeds)
Autoflowering

22 - 25 %

Head rush for petrol heads

300 - 450 g/m² indoors
550 g/plant outdoors
View strain
Bright and clear-visioned, Sour Diesel Auto is a mostly Sativa hybrid that's like a pair of HD goggles for your brain. It hits you fast and hard with a crazy head rush that'll have you riveted to high-octane on-screen escapades or even spark some real-life adventures of your own! With its mood-boosting, mind-zapping effects, this is your go-to strain for all-out action blockbusters or heart-racing adventure epics.
Hawaiian Snow (GHS)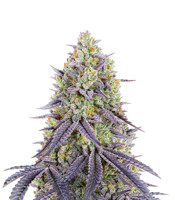 Hawaiian Snow (GHS)
Photoperiod

Get High and socialize

23 %

700 g/m² indoors
1200 g/plant outdoors
View strain
Hawaiian Snow lifts the soul into a sociable and stress-free state, and its powerful Sativa effects last longer than a director's cut. This strain is perfect for those epic movie marathons with your buddies. It brings the laughs, the bonding, and the good vibes. Whether you're pressing play on a comedy classic or a light-hearted TV series, Hawaiian Snow will make it a hit. Just be careful, as it's easy to overdo it.
Happy Watching!
And cut! That's a wrap on our list of the best strains for watching movies. Remember though, these strains are some of our top picks, but they may not be perfect for everyone – experiment and find that perfect mix that will hit the sweet spot for you and your crew. And hey, when you're ready for your next screening, swing by Herbies to pick up any one of these blockbuster strains!
Herbies Head Shop expressly refuses to support the use, production, or supply of illegal substances. For more details read our Legal Disclaimer.