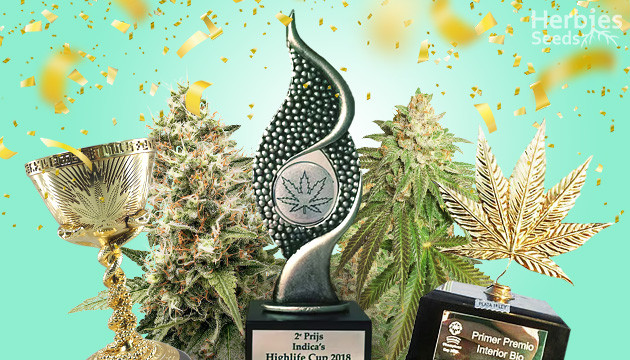 Up against a world of stiff competition, these nine strains had what it takes to become Cannabis Cup Champions with their fine-tuned genetics, impressive potency, and mouth-watering terpene profiles. Each champion strain on this Cannabis Cup winners list has something special that makes it stand out from the thousands of strains competing to make it to the top.
Growing a Cannabis Cup champion ensures your success, presenting you with glorious bud and a breezy growing experience. There's something here for every cannabis enthusiast, so read through each strain and take your pick!
Auto Cinderella Jack (Dutch Passion)
The fairy godmother of this list of Cannabis Cup winners, Auto Cinderella Jack by Dutch Passion swoops in and puts a spell on you with its extreme potency between 20-26% THC, causing powerful couch-lock and a strong surge of dopamine.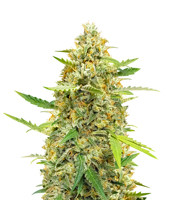 Auto Cinderella Jack (Dutch Passion)
Autoflowering

26 %

Sky-high THC level

400 - 500 g/m²
View strain
Light and crispy on the smoke, the natural herbal aroma with an alluring sweet flavor elegantly rounds off this strain – no wonder this princess won first place in the autoflowering category of the HighLife Cup in 2021.
Critical Kush (Barneys Farm)
A phenomenally powerful, easy-to-grow strain highly deserving of a place among these award-winning cannabis cup seeds is the 100% Indica Critical Kush by Barneys Farm.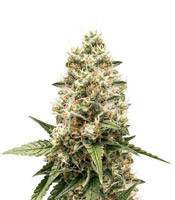 Critical Kush (Barney's Farm)
Photoperiod

Enormous relaxation

25 %

650 g/m² indoors
View strain
Reducing stress and fighting insomnia, the mighty combination of Indica, 25% THC, and a decent 1.8% CBD, along with the scrumptious earthy delight of lemon and pine, landed this strain first place among the best indoor hydros of Spannabis 2015, and it remains relevant to this day.
OG Kush CBD (Dinafem)
A real marvel, the OG Kush CBD strain, excellently bred by Dinafem, is perfectly balanced with a 1:1 ratio of 10% THC and CBD, placing it third in the CBD category of Spannabis 2017.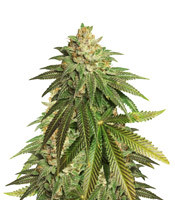 OG Kush CBD (Dinafem Seeds)
Photoperiod

550 g/m² indoors
1100 g/plant outdoors

10 %

Just what the doctor recommended
View strain
This Sativa-dominant strain offers a delicious euphoric high and gentle cerebral massage without the intense psychoactive effects of its parent plant, the original OG Kush. Her smoke is not only therapeutic but tasty too, with a lovely combo of woodiness, fresh lemon, and spicy tones to top it off.
Hawaiian Snow (GHS)
With the number of awards that Hawaiian Snow by GHS has won, you'd think this island goddess was a mythical strain from some tropical daydream. With her snow-covered buds and 23% THC Sativa high, she's taken home the prize for first place at HTCC 2003, first place at IC420 Growers Cup 2007, second place at Champions Cup 2007, and second place at HTCC 2011!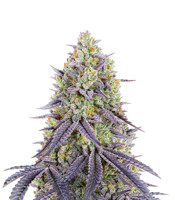 Hawaiian Snow (GHS)
Photoperiod

Get High and socialize

23 %

700 g/m² indoors
1200 g/plant outdoors
View strain
Her sweet, caramelized onion flavor and scent lingers in the air while you receive a burst of social energy, hyping you up to be the life of the party. The uplifting nature of the high, combined with the small CBD and CBN content, makes Hawaiian Snow a good medicinal strain for chronic pain and depression. What would a Cannabis Cup winners list be without this mighty competitor?
Liberty Haze (Barneys Farm)
With a strong heritage of two exemplar strains, G13 and ChemDawg91, and winning second place in the Best Sativa 2015 Amsterdam Unity Cup, Liberty Haze by Barneys Farm is a Sativa-dominant hybrid with 25% THC and 1.3% CBD to give you a mighty medicinal and euphoric kick.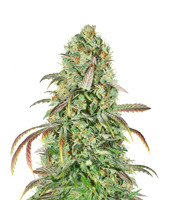 Liberty Haze (Barney's Farm)
Photoperiod

Unwinding freedom

25 %

600 g/m² indoors
View strain
Unlike traditional medicine, this potent smoke will set your mind free with just one hit, as well as tickle the tastebuds with a squeeze of lime and a sprinkle of pine, followed by a warm, earthy aroma to make taking medicine enjoyable.
Sugar Bomb Punch (Dutch Passion)
It's all in the name with this third-place winner of the HighLife Cup 2021, Sugar Bomb Punch by Dutch Passion. With a fruity explosion of sweetness, this strain knocks you out at a 20% THC level, gluing your behind to the couch and planting a big smile on your face.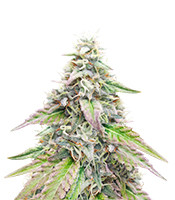 Sugar Bomb Punch (Dutch Passion)
Photoperiod

Euphoric couch-lock

500 g/m² indoors

20 %
View strain
The perks of this Cannabis Cup winner don't end there either. as this strain also exhibits highly stable genetics capable of growing odorless, discreet indoor plants with densely formed buds and an ultra-fast growing time of 49-63 days.
Critical Kali Mist (Delicious Seeds)
Winning the category of Best Outdoor Plant at Spannabis in 2015, the Sativa-dominant Critical Kali Mist by Delicious Seeds continues to impress with a fantastic outdoor growth potential of up to 2m (79") in height and producing up to 1000g (35oz) of delectable bud per plant!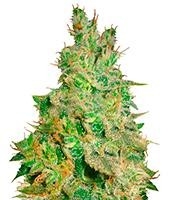 Critical Kali Mist (Delicious Seeds)
Photoperiod

Covered by mist of euphory

22 %

500 g/m² indoors
1000 g/plant outdoors
View strain
A must-see on the Cannabis Cup winners list, this strain is fantastic for recreational use with its 22% THC content, creating intense, long-lasting euphoric effects. It also has a complex terpene profile, resulting in a musky aroma accompanied by pine and wood flavors.
Gelato Auto (FastBuds)
A list of Cannabis Cup winners would never be complete without the famed Gelato Auto by FastBuds. Her nostalgic creamy ice cream and cookies flavor soothingly leads the way to a powerful, uplifting high ready to spark your creativity, delivering a potent kick of 26% THC.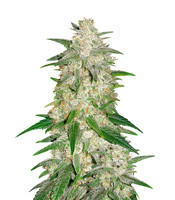 Gelato Auto (FastBuds)
Autoflowering

High escalation

26 %

400 - 550 g/m² indoors
50 - 200 g/plant outdoors
View strain
It's this potency that awarded Gelato Auto a place in the top three extractions at Spannabis in 2020. Having everything it takes to make it to the top, it's no surprise this all-time classic got there in leaps and bounds!
Arjan's Ultra Haze #2 (GHS)
A successful combination of three legendary strains, Arjan's Ultra Haze #2 is an overachiever, winning third place at Champions Cup 2005, second place at HTCC in 2005, and third place at HighLife in 2006.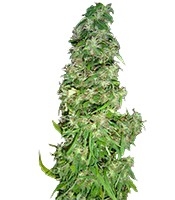 Arjan's Ultra Haze #2 (GHS)
Photoperiod

Social High

17.53 %

800 g/m² indoors
up to 1000 g/plant outdoors
View strain
With almost 18% THC, this strain creates a positive mental buzz ready to charge you up for the next social event. She's also without a doubt worth the grow for those searching for the right Cannabis Cup seeds, as she offers incredible yields of up to 800g/m2 (2.5oz/ft2) indoors of deliciously enjoyable bud. What more can we say – her three champion titles speak for themselves!
Woohoo! You found a bonus seed promo code!
Grow a Cannabis Cup Winner
To all but guarantee yourself high-quality plants and make your grow efforts worth the wait, choose winning Cannabis Cup seeds and get ready for an eventful harvesting season. You can't go wrong with any of these champion strains, so find the one that sounds like your vibe and get planting!
Herbies Head Shop expressly refuses to support the use, production, or supply of illegal substances. For more details read our Legal Disclaimer.