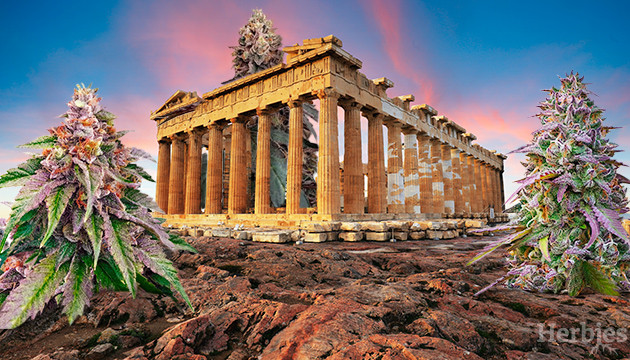 Most parts of Greece are blessed with a Mediterranean climate, giving it some of the best outdoor cannabis growing conditions on the planet. With this in mind, let's take a closer look at Greece's cannabis laws, examine the country's climate for cannabis cultivation purposes, then round out this article with a list of the best cannabis seeds to grow in Greece this year.
Greece Weed Laws
In 2017, the Greek government amended the law to legalize medical cannabis. They also downgraded recreational cannabis from a Class A to a Class B drug, although it remains illegal to grow, buy, or sell weed in Greece.
This law does not apply to weed seeds in Greece, which remain legal in the country. It is legal to order seeds online and to own the seeds. Your cannabis seeds only become illegal when they're germinated with the intent to grow recreational cannabis, meaning weed is still not legal in Greece.
Is the Climate of Greece Suitable for Cannabis Cultivation?
Most areas of Greece are considered to have a Mediterranean climate, ensuring the perfect growing conditions for many different strains of weed. Long, hot summers mean big, bushy plants when grown outdoors, while there is also the option to grow multiple autoflowering crops back to back in a single season.
Greece also features an Alpine Mediterranean climate in the mountainous regions of the mainland, which are suited to the shorter-flowering Indicas and Indica-dominant hybrids, as winter comes earlier to these regions.
Best Weed Seeds to Grow in Greece
Whether you choose to grow your crop indoors or outside this season, we've got you covered. Here is our list of the best strains to grow in Greece in 2022.
Godzilla Cookies Auto (Herbies Seeds)
Named after the beast for good reason, Godzilla Cookies Auto produces monstrously large buds of pure potency. Featuring mind-bending THC levels of 27%, this well-balanced 60% Indica hybrid delivers one heck of a hit. Experience an uplifting and creative high that switches on your chatty nature, making it an excellent strain for social occasions. Taste cookies and diesel on the inhale, which gently gives way to tangy and citrusy undertones. Expect a beginner-friendly grow from a well-suited weed seed for Greece's climate, capable of maturing from seed to harvest in just 70-75 days.
Dr. Grinspoon (Barney's Farm)
Curated for the weed connoisseur, Dr. Grinspoon is the ideal strain for all the purists out there. Although her origins are unknown, this 100% pure Sativa is a descendant of an heirloom Sativa strain, making it relatively untainted and likely to be of landrace genetics. The effects are wonderful – the 26% THC provides an instant jolt of energy that enlivens the brain. Thoughts flow seamlessly as you're caught in moments of brilliant creative thought. The flavor is spicy, with hints of sumac and freshly cut grass. Dr. Grinspoon comes with modest yields in 90-95 days of flowering, making it ideal for Greece's long, warm summers.
Wedding Glue Auto (FastBuds)
Going from seed to harvest in a lightning-quick 63-70 days, Wedding Glue Auto is a cannabis seed set to thrive in Greece and can be planted multiple times in one year. This 60% Indica-dominant strain packs a vanilla-scented punch with 26% THC. The Sativa side of things provides ample doses of motivation, focus, and creativity, while its Indica genetics offer full-body relaxation, resulting in a perfectly-balanced feeling of wellbeing. You can expect to harvest between 450-550g/m2 (1.5-1.8oz/ft2) when grown indoors, while outdoors, Wedding Glue Auto can produce 60-160g (2-5oz) per plant.
CBD Auto 20:1 (FastBuds)
If you're looking for a medicinal strain that's quick to grow, look no further than CBD Auto 20:1, which comfortably ticks both boxes. This strain features between 10-20% CBD at a ratio of 20:1 CBD to THC – so THC levels typically vary from 0.3%-0.85%. This essentially means there are no psychoactive effects associated with consuming this strain, while the high CBD levels are used to treat those suffering from anxiety, insomnia, chronic pain, and inflammation. It also goes from seed to harvest in just 63-70 days.
Auto Orange Bud (Dutch Passion)
After much tinkering, Dutch Passion finally has an autoflowering version worthy of her predecessor in Auto Orange Bud. Created by crossing Orange Bud with Auto Daquiri Lime, this Sativa-dominant strain comes loaded with a high 26% THC and is accompanied by mouth-watering flavors of blood orange and mixed fruit. She grows from germination to harvest in just 70-77 days and is a well-suited weed seed for Greece's climatic conditions. It's also an exceptionally good choice for growers who require a bit of stealth or discretion, as Auto Orange Bud grows short and is fairly compact.
Shogun (Royal Queen Seeds)
Few strains of cannabis hit you quite as hard and quickly as a big puff of Shogun, as its 25% THC combined with its 70% Sativa dominance produces some exhilarating effects. Experience an abundance of euphoric energy, making this strain an ideal daytime companion or if you're out and about undertaking physical activities. It offers yummy earthy aromas with hints of pine and spicy fuel, while it's also a beginner-friendly cultivation choice and will perform well in a Mediterranean climate.
Monster Bruce Banner Auto (Monster Genetics)
Providing mental and physical relaxation in equal measures, this well-balanced 60/40 Sativa/Indica hybrid comes loaded with 25% THC. Monster Bruce Banner Auto flowers in just 56 days from germination, making it feasible to grow four back-to-back crops in one growing season in Greece's cannabis-friendly climate. Expect aromatic buds exuding citrusy whiffs of earth and spice, and about 700g/plant (24oz) when grown outdoors. Indoors, you'll be looking at more like 550g/m2 (1.8oz/ft2).
Gelato (Blimburn Seeds)
True to her name, Gelato grows beautiful dark purple buds that smell like dessert. With wonderful fruit and candy-like aromas complemented by subtle undertones of earth, citrus, and pine, this strain is a delight for beginners and experienced growers alike. Testing at a medicinally high 27% THC, Gelato has been used clinically to treat stress, depression, anxiety, and glaucoma. She prefers to grow in warm and sunny regions, making her perfect for Greece's Mediterranean climate.
Girl Scout Cookies (Garden of Green Seeds)
Another strain that thrives both indoors and outside, Girl Scout Cookies has cemented herself as a worldwide favorite for good reason. Regularly testing at a ludicrously high 28% THC, this perfectly-balanced Indica/Sativa cross offers a powerfully creative mindset that immediately induces full-body comfort and relaxation. From an aroma perspective, it's difficult to beat, conjuring up a complex profile of cherries, blueberries, baked dough, and lemon hash.
Banana Sherbet (Original Sensible Seeds)
With an explosively sweet banana flavor that's true to her name, Banana Sherbet is a potent 70% Indica-dominant strain that's well-suited to experienced tokers. The 28% THC level makes this strain among the most potent on the planet, also ensuring its medicinal value has not gone undetected. It's often used by people suffering from stress, anxiety, and various sleep disorders. Moreover, it works to fully relax the body, so expect all your aches and pains to melt away as the sedating effects take over from an initially uplifting, happy, and therapeutic high.
Strawberry Amnesia
This delicious wild berry and citrus infusion will have your head spinning the way a good Sativa should. A 75% Sativa-dominant hybrid, Strawberry Amnesia comes packed with 22% THC, offering a wonderfully uplifting, euphoric, and energetic high dominated by waves of positive energy. However, she's not one for a grower requiring stealth, as outdoors, Strawberry Amnesia is capable of growing to a skyscraping 3m tall (9'10"). As such, she's also a tremendously heavy yielder, delivering up to 1.2kg (42oz) per plant when grown outdoors under the Mediterranean sun, or around 700g/m2 (2.3oz/ ft2) indoors.
Where Can I Buy Cannabis Seeds in Greece?
Since legalization in the country still has a long way to go, it's hard to find weed seed shops in Greece; for reliable and strong genetics, it's best to get your weed seeds from a reputable seed bank online. You can purchase cannabis seeds in Greece from Herbies Seeds, and we offer approximate delivery times of between 6-10 days. Follow the links above to our recommended strains to grow in Greece, or feel free to browse the rest of our website for a huge range of medicinal and recreational cannabis seeds. And don't forget, all orders to Greece come with free seeds and handy gifts for growers – so what are you waiting for?
Herbies Head Shop expressly refuses to support the use, production, or supply of illegal substances. For more details read our Legal Disclaimer.