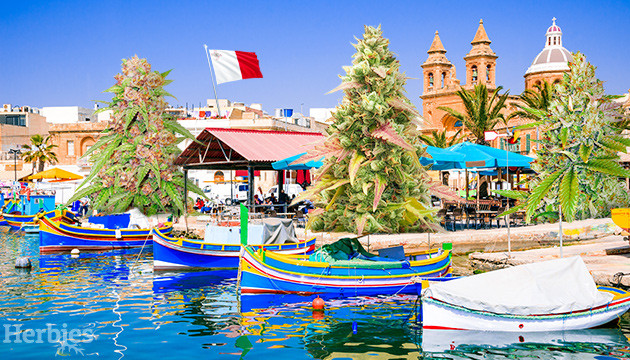 Now that the law is changing, Maltese growers need appropriate cannabis seeds to grow in Malta. The question becomes, which strains mature the best in this region?
The Mediterranean Sea and warm weather offer great conditions even for new cultivators. Even without much skill, growers will likely see large harvests from their plants.
Of course, it takes a reliable source for seeds to get the results you expect. Discover our recommended strains and why anyone can start cultivating at home.
Is Weed Legal in Malta?
Residents will soon get to start growing and even buying weed in Malta. Under the new law, you can possess up to seven grams, although consumers who use in front of children will receive a hefty fine. Smoking in public is also illegal, so it's unclear if the country will enjoy Amsterdam-like cafes.
Luckily, people will be able to order and keep cannabis seeds – legal changes in Malta allow no more than four plants to cultivate at home. Whether you use recreationally or prefer medical marijuana, Malta is about to capitalize on cannabis.
Why the Climate is Perfect for Cannabis in Malta
Malta enjoys a long, hot summer and mild, moist winter seasons. That creates consistent daily temperatures ideal for outdoor growers. The island tends to see the warmest weather of its neighbors. Plus, its higher humidity levels make it feel like a tropical paradise. Malta's location allows it to receive more sunlight than most European countries; in fact, the island may see as much as 4,000 hours of annual sunlight.
Sativa plants especially find Malta's warmer climate perfect for growing. Not many countries can boast the same! Next, we'll introduce our picks for the best cannabis strains to grow in Malta – and there's a good share of Sativas, because you need to make the most of Malta's perfect climate and long summers!
Top 12 Cannabis Seeds: Malta Edition
Despite changing attitudes about cannabis, Malta isn't a marketplace yet. Until then, cultivators will have to grow at home to enjoy weed.
Malta will likely become a leading voice for full legalization. However, the black market with shady weed is currently the only place that people have access to directly. Instead, here are a dozen strains that will naturally take to the region.
Gelato (Blimburn Seeds)
Gelato feminized seeds by Blimburn Seeds is a potent strain that even beginners can manage. This Sativa-dominant flower combines Thin Mint Girl Scout Cookies with Sunset Sherbet genetics.
The result is a delightfully fruity flavor and sticky, resinous buds upward of 700g (25oz) per plant. You can anticipate around 27% THC with a creative, euphoric high.
These seeds grow best outdoors, but they flower quickly at 10 weeks. Plus, they're resistant to mold, mildew, and root rot.
Wedding Glue Auto (FastBuds)
Wedding Glue Auto, autoflowering and feminized, comes from the USA's FastBuds. These white, feathery bouquets will make anyone fall head over heels.
This lovely lady offers a 40% Sativa/60% Indica split for a well-balanced high. She packs a 26% THC punch and a sweet vanilla cake flavor.
She's surprisingly easy to care for, and flowers in only 9-10 weeks – you can easily reap two harvests in a single season in Malta. This strain is ideal for pain relief, and you'll enjoy an uplifting, cerebral experience.
Grandmommy Purple (Herbies Seeds)
Grandmommy Purple is a feminized strain from Herbies Seeds that hits an enormous 33% THC. It grows well both inside and outdoors, producing around 550g (20oz) per plant.
You won't believe something so potent can grow so fast. After around 60 days in flower, this strain will be ready to offer its pleasantly warm, cerebral high.
Those seeking a discreet strain can anticipate plants that reach a maximum of 140cm. However, they stay skunky and sticky from start to finish, so beware of unwanted odors.
Sweet Pure Auto CBD (Sweet Seeds)
Spain's Sweet Seeds provides this potent CBD strain for medicinal users of Malta. Sweet Pure Auto CBD reaches 20% CBD and 1% THC for worry-free recuperation.
Its lineage combines Sweet Pure CBD with Honey Peach Auto CBD for a balanced effect. You can expect a height of around 80cm and a bountiful 150g (6oz) per plant.
Sweet Pure Auto grows best indoors and offers sweet, earthy flavors. It flowers in under 60 days, which may allow for consecutive plantings.
Malawi (Ace Seeds)
Malawi feminized seeds from Ace Seeds are tall, dark, and handsome. This 100% Sativa, 24-27% THC strain creates a powerful psychedelic effect.
Despite their towering colas, these plants are simple to grow. They produce huge trichome-coated buds that finish flowering after 13 weeks.
Enjoy a pleasant woody and citrusy flavor as your mind awakens with a long-lasting high. While easy to grow, this strain might not be for all new consumers due to its extreme potency.
Lemon AK Auto (FastBuds)
Lemon AK Auto is an autoflowering and feminized Sativa-dominant strain by FastBuds. It takes AK 47 and crosses it with a hearty, limonene-rich Ruderalis.
The results are a bountiful harvest from a plant that practically grows itself – and the sweet and tangy citrus flavor isn't bad, either!
Lemon AK Auto grows best indoors and creates a powerful, busy effect. Supercharge your next session with this beginner-friendly strain if you've been lagging.
Girl Scout Cookies (Garden of Green Seeds)
An extremely popular strain among dispensary-goers, Girl Scout Cookies is now easy and rewarding to grow. These feminized seeds by Garden of Green Seeds see THC levels of 28%.
You can expect a balanced 50/50 Indica-Sativa strain with a sweet, earthy profile. A creative yet relaxed high comes from this genetic mix of OG Kush, Durban Poison, and Cherry Kush.
These tasty buds flower in under 60 days and can be enjoyed at any time. Girl Scout Cookies is equally good in social settings by making you more outgoing and relaxed, and for enjoying alone by letting your mind outpour creativity and curious thoughts.
GG#4 Original Glue Auto (Auto Seeds)
GG#4 Original Glue Auto is already a fan-favorite and made even better by USA's Auto Seeds. This Indica-heavy 23% THC strain glues you to the couch and doesn't let go.
The GG genetic has been perfected by crossing GG#4 Original Glue with Auto #1. The results are a potent plant that sees huge flower yields at around 600g/m2.
This famous citrus-diesel blend doesn't grow too tall and is ideal for stealthy cultivation. Look forward to harvesting these buds after 70 days from seed without much fuss.
Orange Hill Special (Dutch Passion)
Orange Hill Special feminized seeds by Dutch Passion reintroduce classic strains with an updated crossbreed. These flowers offer a 50/50 Indica-Sativa ratio and 26% THC from its Orange Skunk parent genetics.
Although a true hybrid, you can look forward to a hazy, sleepy feeling. Enjoy it whenever you need a mindset adjustment.
This award-winning citrusy strain is ideal for beginner and veteran cultivators alike. It should stop at 100cm and produce over 500g/m2 in just 63 days of flowering.
Runtz Muffin (Barney's Farm)
Runtz Muffin by Barney's Farm is the perfect way to unwind. This 70/30 Indica-Sativa hybrid hits at 29% for deep feelings of relaxation.
The fruity, creamy taste doesn't hurt either, as it feels like a vacation cocktail. The combination of Zkittlez and Gelato #33 relieves stress inside and out with a euphoric buzz.
Nearly 200cm tall, it offers at least up to 1,000g per plant outdoors. With a maximum flowering time of 63 days and added resistance to pests, even beginners can enjoy growing Runtz Muffin cannabis in Malta.
Godzilla Cookies Auto (Herbies Seeds)
Those seeking kaiju-sized giggles need Godzilla Cookies Auto seeds by Herbies Seeds. This well-balanced hybrid strain blasts anxiety with a ray of relaxation at 29% THC.
Consumers can anticipate chatty conversations or a mellow and relaxed experience. You'll want to stomp around with it day or night.
The 450-600g/m2 flowers are huge and may need support. That said, even amateur growers will find this 4-inch strain easy to harvest.
Royal Medic CBD (Royal Queen Seeds)
Another popular CBD strain, Royal Medic CBD, offers medicine and recreation in one bud. This unique plant contains 10% THC, 12% CBD, and 75% Sativa dominance.
While Royal Queen Seeds is from the Netherlands, the plant has deep Junita roots. It prefers warmer climates like those in Malta and doesn't grow very tall indoors or outside.
These sweet and earthy buds finish in about 63 days of flower, producing 525g (18.5oz) per plant. Its potent effects are both psychoactive and cerebral, and above all, healing – it's an excellent strain for anxiety, pain, inflammation, and relaxing sore muscles.
Grow Weed in Malta with Our Quality Seeds
People in Malta now get to grow up to four plants. Make sure you start with quality seeds and discreet shipping from Herbies – we've got thousands of varieties to choose from, and weed growers in Malta can basically pick any strain due to the favorable climate conditions. All orders sent to Malta are topped with bonus seeds and gifts from Herbies – try it yourself!
Herbies Head Shop expressly refuses to support the use, production, or supply of illegal substances. For more details read our Legal Disclaimer.