It's CANDY Time! Shop Now To Get Your Sweet-Tasting Freebies
16 March 2020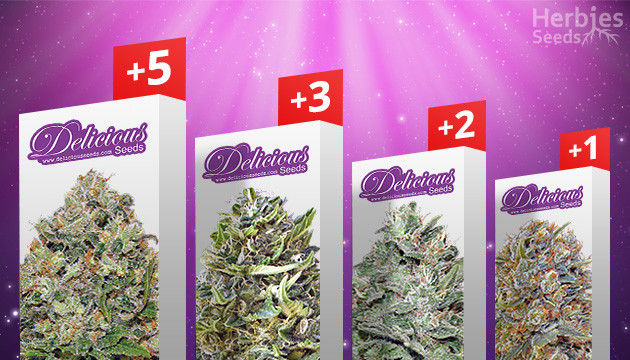 There is no such thing as too much candy, especially when it comes to the amazingly sweet Sugar Candy strain from Delicious Seeds. To bring joy to all fans of best-tasting cannabis strains and add some sweetness into your life, Herbies Seeds is launching a promo for Delicious Seeds strains:
Buy a 1-seed pack and get 1 Sugar Candy seed free
Buy a 3-5-seed pack and get 2 Sugar Candy seeds free
Buy a 7-seed pack and get 3 Sugar Candy seeds free
Buy a 10-seed pack and get 5 Sugar Candy seeds free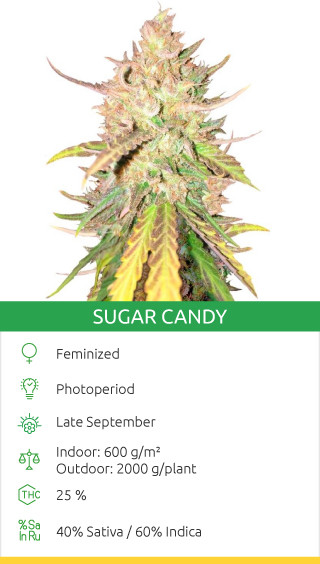 Sugar Candy: The New Taste That Changes Everything
A cross of two Delicious Seeds champions, Sugar Black Rose and Caramelo, Sugar Candy is a combination of the best features of each. The strain features a rich and complex terpene profile that gives a great deal of pleasure. Just imagine – ripe mangoes and freshly-baked biscuits with cool hints of spearmint, plus a touch of licorice and lavender. Yummm! Potent and fast-hitting, this feminized cannabis variety tests at 25% THC, making her far more than just a sweet girl.
To add some sugar to your bowl and get your free Sugar Candy seed(s), pick strain(s) from Delicious Seeds. We went ahead and gathered some crave-worthy finds from Delicious Seeds just for you. You can thank us later.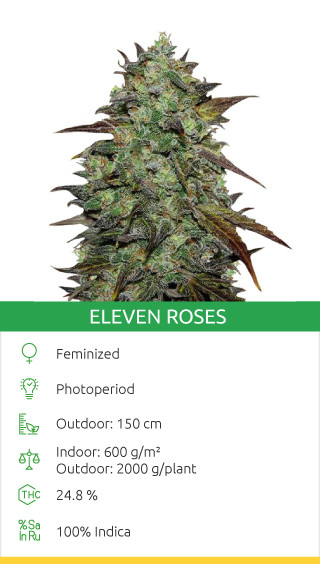 Eleven Roses: Surprising Kush-like Taste With A Sweet Twist
If you're thinking of trying some cannabis flavors that will truly challenge your palate, look no further than Eleven Roses! Bred from Sugar Black Rose and Appalachian Kush, this feminized strain tastes like a nickel in your mouth. With a slightly metallic Kush-like taste, Eleven Roses brings a lot of sweet, fruity flavors with damp earthy notes that will surprise your taste buds.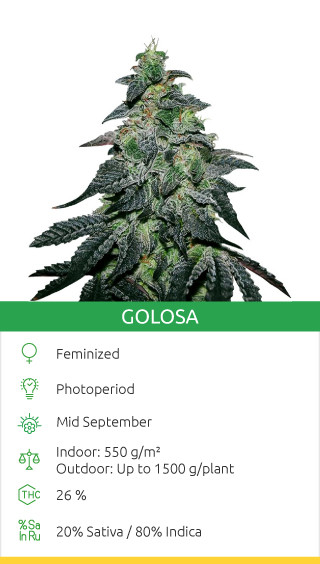 Golosa: Temptation That Tastes Like Fruit, Coffee And More
A new addition to Delicious Seeds' catalog, Golosa is a flavorsome hybrid of Grapefruit x Blueberry and Bay 11 that will please and tease you with its tempting terpene profile. This feminized cannabis variety is brimming with grapefruit and mango flavors with a tinge of peppermint, coffee and licorice. Testing at 26% THC, Golosa brings fast-acting effects that perk up the senses and add new colors to your life.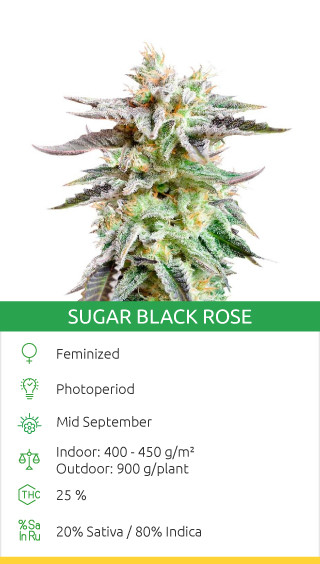 Sugar Black Rose: Fruity Flavors To Shake Off A Bad Day
Full of fruity and flowery flavors, Sugar Black Rose is one of the best-tasting Indicas from Delicious Seeds. This feminized cannabis strain tastes just like it sounds – yes, you can literally taste sweet, sugar-coated rose as you smoke it. Some users also sense citrus notes of lemon and lime, followed up by earthy, spicy and skunky undertones. Along with its amazing flavor and aroma, Sugar Black Rose is a potent pain and stress killer that puts users into a state of deep relaxation.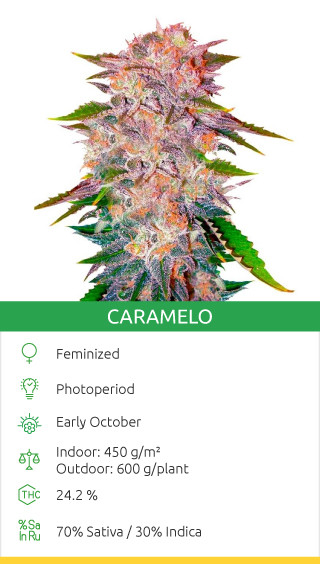 Caramelo: Smells Like Flower, Tastes Like Dessert
Derived from the Lavender cannabis family, Caramelo is a dessert strain featuring a signature floral aroma with a touch of sweet fruits and spices. Despite the name, this feminized variety doesn't taste like caramel, but its appetizing flavor profile will not disappoint. Full of sweet honey-like notes with hints walnuts and musk, Caramelo offers a fast-hitting cerebral high and is said to be a strong aphrodisiac.
We hope this selection helped you make your choice of best Delicious Seeds picks. If you want more, check out the full range of seeds from Delicious Seeds to find your sweetheart there.