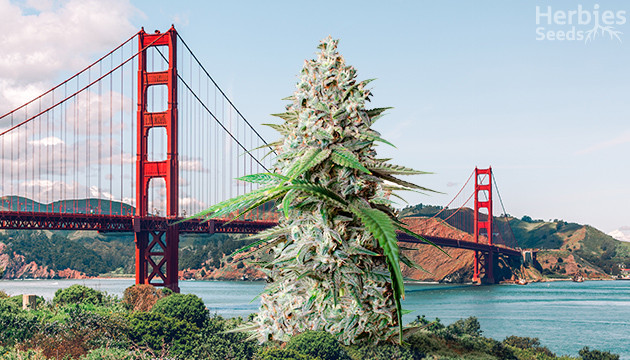 California has been synonymous with the world of weed for quite some time, especially considering many Californian strains are OGs of the industry. The state's northern and southern regions are the birthplaces of some of the top-selling marijuana strains in California as well as many other states, which can be much attributed to Cali's ideal growing climate.
Northern and Southern California have their own unique benefits for cultivating a variety of crops, including cannabis. Legalization-wise, California has been a pioneer for medical, recreational, and grow-your-own marijuana – and over time, legal or not, cultivators in the state quickly figured out the best strains to grow in California.
So, if you're a grower in the area, keep reading for the ultimate California weed strains list.
The Most Popular High-THC Strains in California
For the most part, the Californian marijuana strains that are most successful are quite recognizable. Not only is the state's industry more advanced than most, but it's also been growing the longest. In fact, the list of best cannabis strains to grow outdoors in California probably has a few of your favs, as the climate there allows to grow basically any strain imaginable. So, without further ado, here are the most popular weed strains in California, both to grow and consume.
Mimosa Shot (Herbies Seeds)
When asking "What are the best Indica strains to grow outdoors in Southern California?", Mimosa Shot is definitely on the top of the list. The strain is a double-threat of two classic Indicas: Mimosa and Fruit Punch. This accounts for the strain's reliable growth and maximized yields. This California strain treats growers to hefty harvests of up to 3.5lbs (1600g) per plant when grown outdoors. Mimosa Shot's sweet, refreshing aromas soothe the senses, while the strain produces uplifting, euphoric effects ideal for day or night.
Cookies Gelato (RQS)
With similar traits to Blue Gelato 41 and elevated levels of THC, Cookies Gelato is another delectable gene that's considered one of the best Californian strains. The strain delivers potent effects reaching nearly 28% THC in all phenotypes. Cookies Gelato's resin-coated plants also reach great heights, adding to its heightened yields. It's a top weed strain to grow in Northern California, as lower temperatures at night help the strain's rich purple shades burst out.
Girl Scout Cookies (Garden Of Green Seeds)
Girl Scout Cookies is one of the most popular strains in California that has quickly gained world recognition. The Bay Area favorite is also a top weed strain to grow in northern California, with exquisite, rich flavors similar to the region's wines. Also known as GSC, the strain is a legendary trio cross of OG Kush, Durban Poison, and Cherry Kush. These trusted genetics produce reliable and vigorous growth, delivering crystal-coated buds and high levels of THC reaching 28%+.
Grandmommy Purple (Herbies Seeds)
Grandmommy Purple is our extra-potent rendition of the iconic GDP, one of the most popular California weed strains ever made. The improved version crosses Big Bud with Purple Urkle for the premium 33% THC content. Grandmommy Purple is an almost pure Indica strain that delivers full-body relaxation well-suited for relieving pain. This increasingly popular strain made a huge wave in 2021, became our top best-seller, and now easily makes our list of the best cannabis strains to grow outdoors in California. All thanks to its heavy yields and stunning colors when exposed to the region's natural nighttime temps.
Jack Herer (GHS)
Another classic strain to grow in California is none other than the award-winning Jack Herer. This strong plant is notorious for its larger-than-life yields reaching up to 2.6lbs (1200g) per plant when grown outdoors. Beyond durable and reliable growth, Jack Herer is a well-balanced hybrid that's beloved for its euphoric effects. Like Cali's rich forests and beachy vibes, the strain is uniquely earthy in flavor, with hints of refreshing citrus.
Purple Punch (Big Head Seeds)
Purple Punch comes from an impressive lineage of Grandaddy Purple x Larry OG for equally impressive results. This gorgeous plant reveals its purple colors and grape flavor to become one of the best strains to grow outdoors in California. The strain is pungent in sweet fruity aromas and provides surprisingly balanced effects powered by 24% THC. Users feel an instant mood boost, and an outburst of creative and happy thoughts, all while getting gradually more and more relaxed.
Sour Diesel (Blimburn Seeds)
Love classic gassy aromas? Then Sour Diesel is the California marijuana strain for you. The OG genetic is, not surprisingly, robust in diesel scents, with hints of fresh lemon flavors. As for growth, Sour Diesel is sure to delight, with reliable consistency and hefty yields easily reaching 1.5lbs (700g) per plant outdoors. The Sativa-dominant hybrid might take longer than most to complete its lifecycle, but the wait is well worth it. Beginners beware of her intense, strong high, as Sour Diesel reaches levels of THC as crazy as 25%+.
Wedding Cake (Barney's Farm)
Wedding Cake is another top strain to grow in California, serving as a luscious treat no matter the time of day. The Indica-dominant hybrid bursts with sweet, creamy flavors and a distinct taste of vanilla. With well-balanced, alluring effects, Wedding Cake is perfect for uplifting the mind while relaxing the body. Like a towering dessert, this cannabis strain plant stands tall and is considered one of the best weed varieties to grow in California due to its sunny climate.
Orange Sherbet Auto (FastBuds)
The first autoflowering variety to make the best California strain list is Orange Sherbet Auto. The tropical, citrus-fueled flavors are reminiscent of the state's beachy coast, delivering vacation-like vibes. Grow-wise, Orange Sherbet Auto is ideal for California's climate and thrives outdoors. At the end of her rapid lifecycle, growers are treated to bountiful yields, heavily coated in resin and potent in 24% THC.
Monster Gorilla Glue (Monster Genetics)
Monster Gorilla Glue is by far one of the best strains of cannabis to grow from seed in coastal California. This monstrous version of a classic produces robust, unique flavors, along with well-balanced hybrid benefits. Nearly equal in 50/50 Indica and Sativa traits, Monster Gorilla Glue is popular for its fast-acting effects that are both euphoric and relaxing. Outdoor environments like the ideal climate of California nurture tall, beastly growth from this tried-and-true strain.
The Most Popular High-CBD Strains In California
The demand for high-CBD strains likewise continues to rise. With California being a prime location to grow premium crops, if you're seeking the best California strains for high levels of CBD, this list is for you.
CBD Auto 20:1 (FastBuds)
A ratio so good that she was actually named after it, CBD Auto 20:1 is an impressive example of a CBD-dominant gene that's one of the best strains to grow outdoors in California. The strain has delightfully sweet fruit and honey flavors that deliver highly therapeutic effects without the high. CBD Auto 20:1's compact size produces surprisingly hefty yields, and the plant is extremely hardy for any type of climate or season.
Sweet Pure CBD (Sweet Seeds)
Sweet Pure CBD is a quick-flowering beauty that's becoming one of the best California strains for high-powered CBD benefits. Medical users are quite fond of this potent, up to 15% CBD variety, especially those who are growing their own. Sweet Pure CBD is ideal for beginner growers and produces high levels CBD-rich resin active against many ailments, including depression, sleep disorders, anxiety, and glaucoma.
CBD Lemon Auto (Herbies Seeds)
Equal in CBD and THC with 17% of both, CBD Lemon Auto is a perfect example of 'the best of both worlds'. This slightly Indica-dominant hybrid bursts with zesty citrus flavors and delivers well-balanced effects for any time of day. Ready in under 75 days of flowering, this strain is just as versatile for indoor as it is for outdoor growth. By aroma alone, CBD Lemon Auto exemplifies what it is to be a notorious and delicious California strain while also thriving in the region's climate. Actually, they're a match made in heaven: plant CBD Lemon Auto in early may, and reap two harvests in one season by starting over in early July!
CBD JAM (Delicious Seeds)
Named to show off its incredible fruity taste, CBD JAM is another contender for the best cannabis strain to grow from seed in coastal California. This mighty genetic is fierce in medicinal effects, and has a well-balanced THC (7-10%) to CBD (7-14%) ratio for a mellow and fun high good for any time of the day. CBD JAM sparkles with a crystal coating of resin that's ideal for producing oil or making other concentrates at home. Heavy in yields too, you can expect to harvest up to 2.2lbs (1000g) per plant when growing outdoors.
Stress Killer Automatic CBD (RQS)
Stress Killer Automatic CBD is, unsurprisingly, calming and mellowing in effect, not to mention that this CBD-dominant strain easily makes the list of most popular strains in California for flavor alone. Stress Killer Automatic CBD bursts with tropical citrus aromas while being equally exhilarating in effects. The strain is heavy on Sativa traits, producing a high-powered energy while relieving symptoms of anxiety and stress.
CBD Charlotte's Angel (Dutch Passion)
Easily making the list of the best cannabis strains to grow outdoors in California, CBD Charlotte's Angel is a rare CBD-dominant strain with an impressive lineage, coming to us from the mix of CBD Dutch Charlotte and Red Angel for an international combination of delights. This Sativa-heavy strain can be ready in 9 weeks, and is potent in CBD at a level of 15%. CBD Charlotte's Angel is woody in flavor and highly medicinal. People use it to treat over 50 medical conditions, including anxiety, panic attacks, stress and insomnia.
California's Love For Cannabis
The love for cannabis in California isn't going anywhere soon. The state has expansive land for outdoor growing and ideal climate conditions for year-round cultivation. If you're looking to grow some of the most notorious Californian weed strains, be sure to bookmark this page, as you'll certainly want to return to the ultimate California weed strains list when you're ready to get growing.
Herbies Head Shop expressly refuses to support the use, production, or supply of illegal substances. For more details read our Legal Disclaimer.