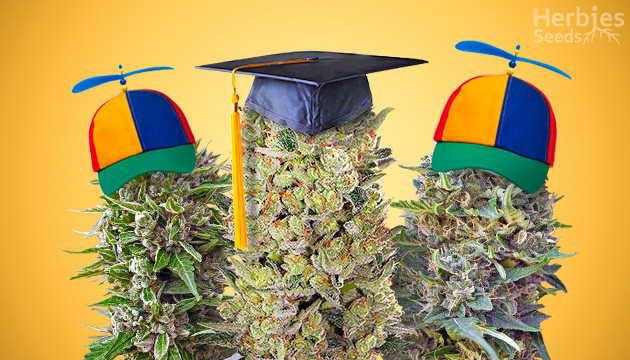 Let's be honest – growing cannabis can be a tough and tedious task. The unique characteristics of the plant mean that time, effort, ideal environments, and ample care is needed for the plant to successfully survive and thrive. Luckily, with a wide variety of strains, some are easier to cultivate than others. These are the best strains for beginner growers who may have a more amateur skillset. If this sounds like you, you're in the right place. Here, we've compiled the top 14 easiest cannabis strains to grow, indoors or outdoors – perfect for newbies who are just starting out on their growing journey.
What Makes a Good Beginner Strain?
Growing cannabis successfully takes quite a lot of experience and expertise. Even though we may call this plant 'weed', unlike its namesake wild grass, it rarely grows well without help. There are just so many factors that play a significant role in the growth process of cannabis, and cultivators need to keep an eye on all of them and not let anything slip. This includes taking control of pests and mold, setting up lights of correct spectrum and power, dialing in the temperature and humidity, and so on. Quite a lot for someone who may only just be learning the ropes of marijuana growing!
Luckily, the abundance of strains on the market allows us to hand-pick varieties that were bred to be not so demanding, and even forgiving to newbie growers. Keep the following things in mind:
A good beginner strain is resilient, with high mold or pest resistance (or both).
Newbies will also benefit from a shorter flowering period, as a shorter amount of time means fewer things can go wrong.
Another characteristic of cannabis plants beneficial for beginner growers is shorter height.
The best seed types to grow for beginner growers are autoflowering and feminized, as they make the process easier.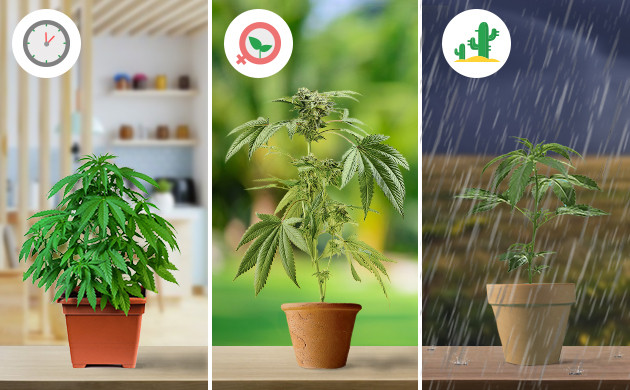 What Cannabis Seeds Should Beginners Choose?
Autoflowering. Beyond having to calculate ideal temperature and humidity levels, environmental conditions, and nutrient supplies, most cannabis strains rely on photoperiod-dependent growing methods. This means that the plants require the grower to switch light cycles to 12 hours of darkness daily in order for them to start producing buds. However, the emergence of autoflowering varieties (by far the easiest marijuana strains) that flower without the switch to 12/12, has rid cultivators of this headache and made growing much easier.
So nowadays, autoflowering strains are some of the easiest weed strains to grow due to their 'automatic' nature of growing buds. You simply plant them and wait for the automatic switch to flowering – there's no risk of late blooming or re-vegging. Additional benefits of autoflowering seeds include:
Short stature of plants – easy to take care of and provide enough room for growth, even indoors.
Extra resilience – thanks to their share of Ruderalis genetics, autoflowering cannabis strains are sturdy and can be grown even in harsh climates.
Lower nutrition needs – many autoflowers can achieve full maturity using a pre-made soil mix without any added nutrients. In fact, nutrient excess tends to be detrimental to these smaller weed plants.
Feminized. If you're starting from seed, another type of easy strain to grow is feminized. When growing from feminized seeds, you won't be unpleasantly surprised by any male plants that will halt your growing plans completely (since only feminized cannabis plants produce the smokable buds that most cultivators specifically grow cannabis for).
Feminized strains produce female plants in 97% of cases, making the growing process much easier since feminized seeds allow newbies to forget about sexing (the process of determining the plant's sex). A mistake during sexing can lead to accidental pollination of the whole garden by a male plant, resulting in the whole harvest being ruined. That's why when coming up with the list of easy to grow strains we only used feminized seeds.
Tips for Choosing Cannabis Strains for New Growers
Before we get to the top picks for weed strains for beginners, consider the following tips that will help you find the perfect cannabis seed to start your first garden with:
For your first grows, always prioritize quality over quantity. This means sticking to smaller plants that are easier to take care of. Most autoflowers are short and extra resilient thanks to genetics derived from cannabis Ruderalis.
Choose strains that include such qualities as resilience, sturdiness, and pest- and mold-resistance in their descriptions
If you want to grow outdoors, it's better to choose quicker-flowering varieties for your first grow to make sure they'll finish before the cold weather comes.
Check out our For Beginners Collection – we always keep it updated with new strains suitable for beginner growers.
Best Indoor Cannabis Strains for Beginners
For beginner growers wanting to dip their toes into indoor cultivation, we've gathered a list of small and easy-to-care-for cannabis seeds that won't mold due to excessive humidity or become prey for pests.
Gorilla Glue Auto (AKA Glue Auto) (FastBuds)
Not only is this FastBuds' Gorilla Glue variety an autoflower, but it's feminized too. This checks two boxes of the traits for being one of the best strains for beginner growers. However, Gorilla Glue doesn't just stop there – it's also one of the best strains to grow indoors for beginners thanks to its short and stocky size. This characteristic makes it easy to conceal and maintain, while still producing buds containing 24% THC for a highly euphoric effect and a buzz in both body and mind.
Auto Night Queen (Dutch Passion)
An award-winning strain, Auto Night Queen is a feminized autoflower that's a cross of the rare Night Queen and Mazar-i-Sharif. This combination makes it one of the easiest weed strains to grow, yet with high levels of THC (up to 26%) to reward your work. In addition, Auto Night Queen is a heavy-yielding plant with an abundance of resinous trichomes. The strain grows short in stature, making it ideal for indoor setups. Plant Auto Night Queen and enjoy its knock-out effects and dessert-like flavor come harvest time.
Lemon Pie Auto (FastBuds)
A natural crowd-pleaser that combines flavors of citrus and cream with clear, 100% cerebral effects, Lemon Pie Auto is a decadent dessert that even beginners will be able to pull off perfectly. Indoors, Lemon Pie Auto stays short and stocky at under 100cm (3'3") tall. Due to its sturdy and bushy structure, this cannabis strain won't require any additional support or trellising to hold its heavy buds chock-full of 24% THC. An extra bonus that comes with Lemon Pie Auto is its short flowering period – you'll be able to puff, puff, pass this zesty weed in just 10 weeks from seed.
Jack Herer Auto (Green House Seeds)
Even if you're a newbie, that doesn't mean you won't be able to grow legendary cannabis genetics right from the start! Green House Seeds has created Jack Herer Auto, an autoflowering version of the famous strain with potent therapeutic effects. Some of the easiest weed to grow, Jack Herer Auto is made to be forgiving of beginners' mistakes, so you can use it as your guinea pig and still enjoy healthy harvests of this 20% THC tranquilizer weed, no matter how your experiments go!
2 Fast & 2 Vast Auto (Heavyweight Seeds)
If easygoing was a plant, it would be the autoflowering 2 Fast & 2 Vast Auto from Heavyweight Seeds! This easy to grow strain is the definition of chill, both in terms of growing and smoking. First of all, aside from being cold-climate-friendly, it's also highly resistant to mold and pests. Second, the smoke of 2 Fast & 2 Vast Auto quickly induces that feel-good atmosphere and euphoria while making you belly-laugh your heart out – a perfect choice for falling in love with cannabis. 
Gelato Auto (Herbies Seeds)
Possibly the best strain to grow indoors for beginners, Gelato Auto from Herbies Seeds combines the ease of growing that comes from the stable, resilient genetics with all of the benefits from being an autoflower. With Gelato Auto, you'll be able to enjoy hefty yields of up to 600g/m2 (1,96oz/ft2) after just 60 to 65 days of completely worriless growing. The results seem almost impossible for the easiest strain to grow indoors: complex uplifting effects; sweet, creamy flavor, and 26% THC!
Peyote Critical (Barney's Farm)
If you don't want the lack of experience to undermine your growing success, Peyote Critical is the cannabis seed you need to choose. Just like the namesake cactus that thrives under the hottest sun, Peyote Critical from Barney's Farm can withstand harsh environments like a champ! Mold and cold have nothing on it either, and just like that, in 50-60 days of flowering, this exceptional photoperiod strain will provide you with solid Indica-leaning buds. Smoking them provides a stone effect with a mystical introspective touch – definitely one to try out.
Best Outdoor Marijuana Strains for Beginners
For beginner growers who want to benefit from the natural resources of sun, rain, and wind, we've picked some reliable cannabis seeds that are easy to grow outdoors due to their resistance to pests and harsh climate conditions.
Tropicanna Banana (Barney's Farm)
If you live in an area with hot summers, you need a cannabis plant that won't get sunstroke – for example, Tropicanna Banana, which doesn't mind bathing in burning-hot light. This strain is also naturally resistant to Botrytis and a wide variety of other pests and molds that often visit outdoor grows. Smoking-wise, you get an enveloping bright and fruity flavor palette, providing relaxing yet potent effects for both body and mind.
Fruit Punch Auto (Heavyweight Seeds)
This Fruit Punch Auto strain by Heavyweight Seeds is a feminized autoflowering variety that's one of the easiest strains to grow both indoors and out. It benefits from warm, sunny climates and will radiate with enhanced hues and colors when the temperature drops or gets lowered at night. The strain also thrives when beginning from its final-sized container or pot, meaning you can avoid the up-canning and transplanting process that some strains require as they grow.
Eleven Roses Early Version (Delicious Seeds)
If you're looking for a deliciously fruity and unique easy-to-grow strain, Eleven Roses Early Version may be for you. Its elusive genetics come from a cross of Appalachian Kush and Delicious Seeds' signature Black Rose, resulting in an easy-growing nature and desirable euphoric effects. Eleven Roses Early Version is a 25% THC feminized variety with a quick flowering period of just 45 days, making it an ideal beginner strain to grow. To add to this, its genetics are highly resistant to pests and molds, and produce plants that are small in size for easier tending.
Tutankhamon (Pyramid Seeds)
Normally, Sativa seeds are more difficult to grow, but that's not the case with Tutankhamon from Pyramid Seeds which rightfully deserves this place among other strains for beginners . Not only is this variety extremely undemanding, but it also grows tall like a tree, providing you with kilos of buds at a time – the only thing you need to take care of is keeping this giant discreet! Come harvest time, you'll enjoy a highly-stimulating brain buzz with lots of bliss and zero stoned feeling.
Gelato (Blackskull Seeds)
One of the most prominent dessert varieties in the cannabis world, Gelato could also be the easiest weed strain to grow thanks to its forgiving nature to common newbie mistakes such as overfeeding or overwatering. In return for just a little TLC, growers will receive buckets of sticky buds that exude a strong floral aroma that's hard to resist. Actually, resisting taking one more toke will be the biggest challenge with Gelato from Blackskull Seeds, but keep your hits in moderation – this strain is extremely potent and contains at least 27% THC for a knock-out high.
Hulkberry (Royal Queen Seeds)
Big, green, and strong, Royal Queen Seeds' Hulkberry inherits the best qualities from the namesake superhero. This exceptional vigor is what makes Hulkberry perfect for beginner outdoor growers who are experienced in toking. Indeed, smoking Hulkberry does require some experience, as it's an incredibly strong variety – some phenotypes reach levels of 28% THC! This cannabinoid amount, together with the sweet and earthy terpene profile, delivers long-lasting and potent effects that will make anyone happy, giggly, and full of life.
Godzilla Glue #4 (Herbies Seeds)
The last but not least, another candidate for the best strain for beginner growers is Godzilla Glue #4. It is a mighty tolerance breaker that packs a crazy amount of THC in it, 27-29%! The best part is that it's beginner-friendly and easy to grow outdoors. There it will grow to a manageable size of 150-170cm, which can be tamed and reversed with LST or HST techniques. This easy strain will be a great fit for new growers who are looking to start their first grow outdoors. It is forgiving to elements, and finishes early enough for most climates, in September, so you won't have to worry about the frost destroying the harvest of this euphoric, pine and lemon scented bud.
Get Growing with the Best Beginner Strains
Growing can be no joke, but luckily, these best strains for beginner growers make it an enjoyable ride all the way. While most cannabis plants require high levels of attention to nurture their best growth, these autoflowering, feminized, and fast varieties we've discussed today aren't as finicky in nature. If you're a beginner to the growing world, we highly recommend choosing any of these easy strains to start off your cultivation journey.
What do you think are the easiest strains to grow indoors and outdoors? Share in the comments below - we'd like to hear your opinion!
Herbies Head Shop expressly refuses to support the use, production, or supply of illegal substances. For more details read our Legal Disclaimer.