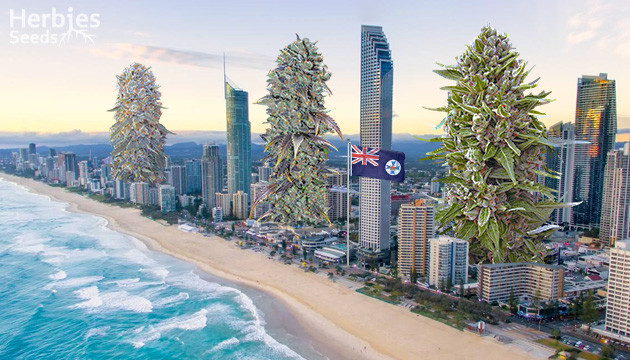 Growing cannabis in Queensland is easier than you might think. However, it does require knowing a bit of the process first.
Not only must you consider the climate, but the strains themselves. Choosing the wrong ones might soon lead to them wilting rather than thriving. Luckily, it only takes a few pointers to see successful cultivations.
Is the Climate Good for Growing Cannabis in Queensland?
The first question to ask is this: can weed even grow in Queensland's climate? After all, doesn't cannabis usually need tropical conditions to flower?
Surprisingly, Queensland offers excellent growing conditions for seeds to sprout and thrive when growing. The region enjoys a long, warm summer while still seeing plenty of rain. Of course, a humid area can also mean that mold will thrive. That is why we recommend planting strains that are naturally mold-resistant.
The Top 10 Seeds for Growing Cannabis in Queensland
We know that in Queensland, cannabis seeds aren't readily available. However, you can always count on Herbies Seeds for affordable packets delivered via stealth shipping. Here, we've specifically picked strains that remain hearty against heat and mold spores – everything you need in a cannabis seed to thrive in Queensland's hot and humid climate. Whether you prefer recreational or medicinal cannabis, Queensland can grow them all, such as:
Super Silver Haze, an award-winning Sativa
Forbidden Runtz Auto, a trendy 26% THC genetic from the USA
Durban Poison, with 22% THC and legendary effects
Stress Killer Auto CBD, medicinal cannabis that will thrive in Queensland
Grandmommy Purple, with up to 33% THC in flavorful buds
Girl Scout Cookies Auto, an autoflowering version of the happy classic
LSD, a 25% THC psychedelic strain
Six Shooter Auto, an autoflowering cash-bush
Sugar Candy, a flavorful all-rounder
Godzilla Cookies, a 27% THC tolerance-breaker
Let's get to know the cannabis seeds we picked for Queensland growers a little closer.
Super Silver Haze (Green House Seeds)
Super Silver Haze packs a Sativa-heavy punch with surprisingly relaxing effects. Its psychotropic-heavy high clears your mind without increasing anxiety. This strain won the HTCC 1st place three years consecutively. How can she not with the pedigree of Skunk, Northern Lights, and Haze?
You can expect around 19% THC from this award-winning strain. Plus, its sweet flavor helps you unwind from the day. Super Silver Haze grows best outdoors in Queensland, where it easily withstands heat, humidity, and mold.
Forbidden Runtz Auto (FastBuds)
What makes the Forbidden Runtz Auto strain "forbidden" exactly? Maybe its tall colas, the 26% THC, or its sweet, earthy flavor? It's hard to learn too much about this beefed-up Runtz strain, although we do know that it comes from legendary FastBuds in the USA.
It's ready for harvest in only 9 weeks, meaning you can double your output in one season. The longer Queensland summers accommodate back-to-back cultivation without sacrificing quality. This strain is Indica-heavy and creates a creeping full-body high. No matter how big your problems feel, it will ease your mind.
Durban Poison (Dutch Passion)
The deadly-sounding Durban Poison is hard to kill and grows well outdoors. That's thanks to years of dedicated breeding efforts in harsh climates. Because of its hearty nature, you can expect Durban Poison to thrive in Queensland. Even inexperienced growers can see great results with these seeds.
It produces highly sticky buds with 22% THC. That can seem rare for such a Sativa-dominant strain. Consumers report a mild peppery flavor with a sweeter floral finish. You can enjoy it either alone or in a group session.
Stress Killer Auto CBD (RQS)
While Stress Killer Auto CBD is high in CBD, it still offers 11% THC. Plus, once the calming effects kick in, you won't care anyway. This tart, citrusy blend can be enjoyed both medicinally and recreationally. It offers an exotic combination of CBD and THC to satisfy any preference.
Because it grows well in mild climates, you can anticipate a healthy yield. Queensland should provide the perfect area for cultivating it. It grows well both inside and outdoors and is ideal for any skill level. Stress Killer Auto CBD comes compliments of Royal Queen Seeds from Canada.
Grandmommy Purple (Herbies Seeds)
Grandmommy Purple by Herbies Seeds can't be ignored. Expect a massive 33% THC with this Indica-heavy strain. It's ideal for anxiety, sleepless nights, and pain management. Unlike other strains, this one works perfectly well for either vaporizing or smoking.
You can look forward to a flavorful hit with a distinctive taste. Sweet and skunky, this strain quickly becomes loud and proud. Like visiting Grandma, you won't be going anywhere for a while. Smoke a bowl, then pull the covers up for some really cozy time.
Girl Scout Cookies Auto (Auto Seeds)
The only thing better than GSC is Girl Scout Cookies Auto – a fan-favorite strain that's now even easier to cultivate at home. These seeds are from the United States' Auto Seeds brand. You can anticipate seeing fully mature flowers in around 70-75 days. The plant won't grow very tall but does create compact colas.
Best of all, the effects take hold quickly for near-instant relief. This Sativa-dominant 24% THC flower produces deep euphoric effects. Luckily, the couch-lock prevents you from the need to go anywhere afterward – just enjoy the happiness.
LSD (Barney's Farm)
The appropriately named LSD by Barney's Farm is already a classic. This Indica-forward strain is hard to kill and easy to cultivate. With Afghani Indica in its genetics, it shrugs off pests and mold growth. It does smell pungent even while growing, which can prove challenging for indoor growers, but a carbon filter will solve the problem.
Despite being an older strain, it still hits at least 25% THC. Its flavor is sweet yet earthy, with a bright, citrusy undertone that's hard to resist. This 2008 Cannabis Cup winner offers a full-body sense of euphoria. Boost your creativity with this potent yet balanced strain.
Six Shooter Auto (FastBuds)
Like a western film villain, Six Shooter Auto is one bad hombre. Combining strains Crystal Meth with Mexican Airlines sounds like a Breaking Bad episode.
The mad scientists at FastBuds created this strain specifically for huge harvests. At around 23% THC, it's a strain every home grower should try. It also flowers after 9 weeks, so growers can easily double up. Queensland's climate is perfect for harvesting this strain consecutively.
Cultivators can plant this earthy and peppery strain inside or outdoors. Despite its pedigree, you can look forward to a long, relaxing session.
Sugar Candy (Delicious Seeds)
Sugar Candy offers well-balanced yet potent buds with a unique flavor. This dessert-like strain from Delicious Seeds packs a powerful 25% THC. Consumers enjoy the body and mind high created by Sugar Candy. The strain is great for those with depression and anxiety. This sweet treat usually causes the giggles, which isn't the worst thing.
Its versatility growing indoors and out is also a plus. It does smell skunky while growing, likely thanks to how resinous these buds become. Luckily, Sugar Candy should finish after about 50 days of flowering.
Godzilla Cookies Auto (Herbies Seeds)
Godzilla Cookies Auto by Herbies Seeds looks large enough to be radioactive. These skyscraper-sized colas produce about 27% THC for a monstrous high. It activates all your senses with perfect pungency and a sweet flavor profile.
Despite these attributes, it's also well-balanced and grows well anywhere. Better still, this beast fights off diseases, pests, mold, and cold climates. Planting it in Queensland should offer easy yet explosive harvests. You may even need to restrain the monster while it grows. It sees enormous buds that could prove too large for the plant, so add some support for the branches.
Where to Buy Cannabis Seeds in Queensland
Since Queensland weed or even cannabis seeds are still hard to come by, many users choose homegrown instead – and that's a great choice for clean product, medicinal or recreational.
Herbies Seeds has been successfully delivering to Australia for years. Our stealth packaging helps to ensure your seeds arrive safely. We also offer discounted packs, free seeds, and 24-hour customer support. Get on the trend and start growing cannabis in Queensland yourself!
Herbies Head Shop expressly refuses to support the use, production, or supply of illegal substances. For more details read our Legal Disclaimer.