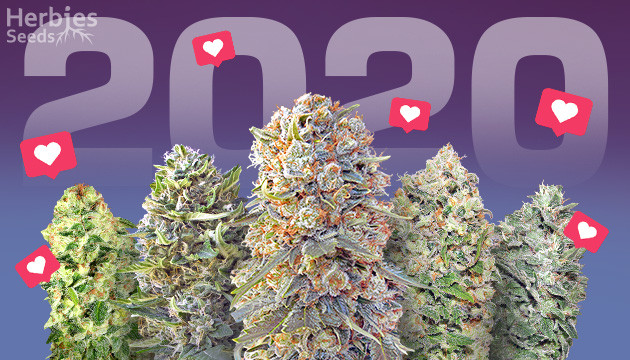 As the unprecedented and unusual year of 2020 comes to an end, it may be difficult to find something to cheer for or celebrate. Luckily, over the year, one thing hasn't changed – the need for weed. From growing your own to consuming it for improved mood, a few strains stood apart from the rest in the eyes of our consumers. So, let's come together to celebrate the popular weed strains 2020 has given us. Here's our full list of the top weed strains of 2020 that have helped elevate the year.
Granddaddy Purple
Commonly known as the 'Purps', the classic Granddaddy Purple strain or GDP is an award-winning variety that isn't going anywhere soon. Its legendary genetics have graced best-of lists for quite some time, and 2020 is no exception. This is especially the case for those who have been staying in more and unwinding with the sweet and intoxicating powers of THC. GDP is a highly potent strain, delivering its consumers 25-35% THC along with intriguing and crave-worthy fruity flavors. The strain is also well-known for alleviating anxiety, pain, and nausea and promoting a sweet and restful slumber.
Gorilla Glue #4
Another beast of a strain and a huge hit of 2020 is the notorious Gorilla Glue #4, AKA GG4. Its genetics come from an all-star triple-cross of breeds that have become a legend in its own right. Not only does GG4 stun your eyes at first sight with its glistening, crystal-covered buds, but its relaxing effects continue to impress. This highly potent hybrid delivers a comforting couch-lock type of buzz, with euphoria enough to uplift anyone's spirits. Prep your repertoire of munchies with a line-up of good comedies, as Gorilla Glue #4 is appetite-inducing and promotes an infectious case of the giggles.
The Incredible Bulk
The Incredible Bulk may be rare to find on the shelves, but it's a growing top-seller for seeds among cannabis connoisseurs. One of the strongest Indica strains 2020 growers have turned to, The Incredible Bulk delivers powerfully relaxing effects with maximized yields. Even better, the strain is beginner-friendly to grow, packing on weight with hefty buds regardless of the type of care she's given. Incredible Bulk is just as wonderful in terms of scent, with a classic piney, skunk-like aroma and hints of musky earthiness. If you're in the mood for a tranquil hike through nature's wonders or a calm and creative game night, this strain is for you.
Bruce Banner #3
Bruce Banner #3 is a strain that's been creeping on a come-up for quite some time now. Growing in popularity, the Sativa-dominant hybrid is now held as one of the highest THC strains 2020 has given us. It certainly packs a punch in potency, with THC levels of 28% and high yields. Not only will you be pleased with your pull, but you can revel in Bruce Banner's well-balanced buzz that's as highly euphoric as it is relaxing for the mind. The strain's citrus and earthy aromas are well-known for elevating mood and alleviating pains associated with migraines or arthritis – so you can feel like a superhero taking on any task, day or night, with the heightened good feels of Bruce Banner #3.
Dos-Si-Dos #33
If you're a beginner grower who wants to cultivate high-potency strains with sweet scents, Dos-Si-Dos #33 is for you. The strain is one of the strongest Indica strains of 2020 that consumers are turning to for reliable results and desirable effects. A delight for the senses, not only does Dos-Si-Dos #33 deliver a sweet, creamy, and fruity flavor profile, but it also catches the eye with its stunning appearance – its nugs are vibrant with neon-green and hints of purple. This makes the strain ideal for impressing your friends, and is perfect for putting on a platter next to the most sophisticated dishes at a hosted dinner party or gathering.
Runtz Muffin
Runtz Muffin is a mouth-watering sweet treat that can be enjoyed either day or night. Its smooth, fruity, and sweet flavors are like a dessert to the palate, while its gorgeous buds will impress any cannabis connoisseur. The rich, deep purple colors are dusted with a crystal coating of trichomes that deliver Runtz Muffin's elevated potencies. In fact, this strain hits the mark as one of the highest THC strains 2020 consumers have enjoyed, reaching up to 29% in most crops. Effect-wise, the Indica-dominant hybrid is ideal for relieving stress and muscle tension for a comforting all-around buzz. Take your Runtz Muffin on a picnic or a night out on the town for an overall elevated experience.
Trippy Gorilla Autoflowering
Serving as one of the best autoflower strains 2020 has to offer, Trippy Gorilla Autoflowering does not disappoint. The uniquely named strain lives up to its moniker with its out-of-this-world yields, especially for a plant that's set to grow on auto. Trippy Gorilla is a Sativa-dominant strain that's ready to harvest in less than 8 weeks, and it packs on a sticky-icky coating of potent resin fast. You'll be energized with her beast-like Sativa effects that produce a clear-headed high, making this variety ideal for daytime use and strolling around. Transform yourself into a 'trippy gorilla' before taking a trip to the zoo or aquarium, or simply sightseeing around town – you'll be mind-blown.
Purple Lemonade
You'll fall in love at first sight with the beautiful purple buds and stunning good looks that Purple Lemonade serves – just one of the reasons this gene has taken its place among the most popular weed strains that growers have turned to in 2020. Beyond its appearance, the autoflowering strain delivers high yields in less than 9 weeks of flowering, and is ideal for beginner growers. Accompanying its dynamic rich purple hues is a refreshing, zesty citrus scent that's as sweet to the senses as the strain's effects. The Indica-dominant hybrid uplifts the mind while relaxing the body for a buzz fit for any time of day. After a hard day's work, there's nothing better than a tall glass (or bowl) of Purple Lemonade.
Mimosa Evo
Mimosa Evo is definitely a newbie to get to know. This strain makes our top weed strains of 2020 for its growing popularity among consumers and cultivators alike. A Sativa-dominant hybrid, Mimosa Evo delivers high levels of THC averaging around 24-26% for an energizing and euphoric buzz. Growing-wise, the strain reaches great heights for high yields, with a color profile that's visually appealing to say the least. In addition, Mimosa Evo bursts with pungent fruity and tropical aromas that'll have you feeling like you're on a vacay, no matter your location.
Auto Critical Orange Punch
Serving as the finale of our top 10 is one of the best autoflower strains 2020 has to offer. Auto Critical Orange Punch is a popular triple threat that produces maximum yields, high levels of THC, and an aroma that will instantly have you craving more. In less than 75 days, you'll watch the strain pack on a white coating of resinous trichomes that deliver nearly 26% THC, and whose effects are well-suited for both medical and recreational users. Its refreshing orange-scented and skunky aromas elevate the mood with giddy euphoria, as it simultaneously comforts the body with all the relaxing feels you could ask for. This strain's zesty flavors will get any night out started on the right foot, or elevate your day with a surge of motivational energy.
The Best of 2020 – Try All Of Them!
Now that you know more about the top weed strains of 2020, there's still time to try the best of the best. As the world of weed continues to evolve, accessibility to the top genetics does too. Check out these top choices and more of the strongest weed strains 2020 has to offer at Herbies now. No matter the challenges the year has thrown at us, Herbies continues striving to provide and deliver top-shelf seeds across the globe.
Herbies Head Shop expressly refuses to support the use, production, or supply of illegal substances. For more details read our Legal Disclaimer.