Pyramid Seeds Rocks: 10 American Cannabis Strains Are Released!
20 November 2019
Our recent attention has been drawn to 10 brand new cannabis strains that recently joined Pyramid Seeds' catalog. Featuring incredible potency, crave-worthy flavors and fast-acting therapeutic effects, these cannabis varieties shine brighter than Hollywood stars on the Red Carpet. Please welcome 10 finest American beauties: Black Cherry Punch, Cookies USA, Do-Si-Dos, Double OG Haze, Gorila, Purple Urkle, Romulan, Sunset Sherbet, Tahoe Cure, and Watermelon Zkittlez.
Dessert Cannabis Strains With Mind-bending Potency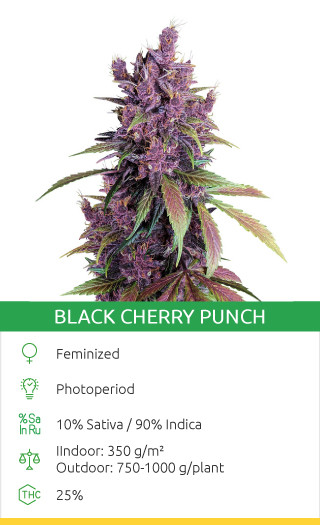 Black Cherry Punch is a super delicious strain that brings a lot of sweet berry flavors on the table and packs a punch with its incredible 25% THC. This Indica-dominant strain is blessed with a rich terpene profile and brings an instant pain relief combined with mind & body relaxation.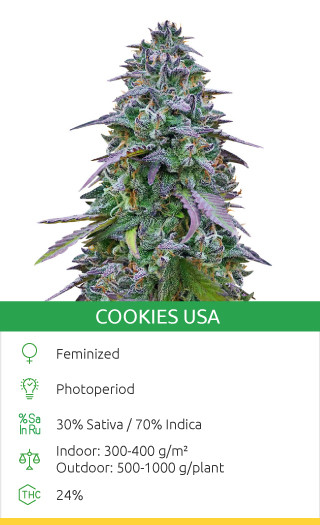 Smelling like a freshly-baked pastry, Cookies USA is another flavorsome cannabis strain in the new American lineage from Pyramid Seeds. Brimming with pleasing fruity flavors and earthy undertones, this Indica-dominant strain is one of the richest in terpenes.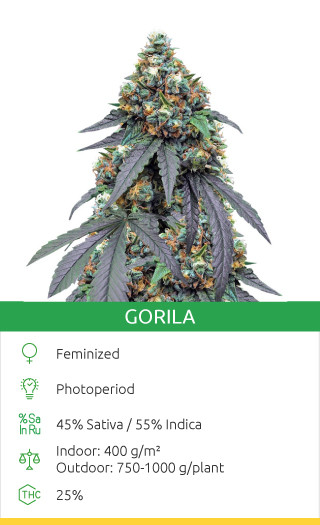 Soaked with 25% THC, Gorila is probably the most powerful strain among these exciting new arrivals. A cross between two American legends, Chem Sis x Sour Dubb, this Indica-dominant cannabis strain is oozing with resin which makes her a great choice for concentrates and extracts. On top of that, her well-balanced Sativa/Indica content and sweet, earthy flavors make for an overarching feeling of euphoria transforming into pleasant relaxing sensations.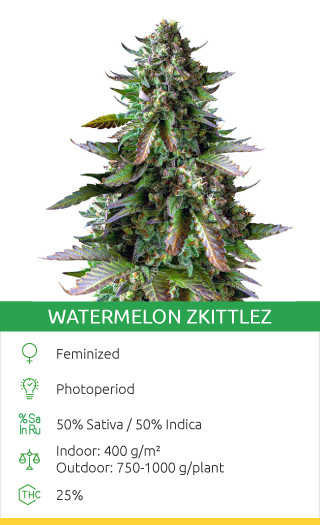 Watermelon Zkittlez is a well-balanced Sativa/Indica hybrid much appreciated for her refreshing juicy flavors and energizing effects. Decorated with orange trichomes, this strain is packed full of resin and tests 25% THC which makes it a perfect choice for extractions.
Better Than Pills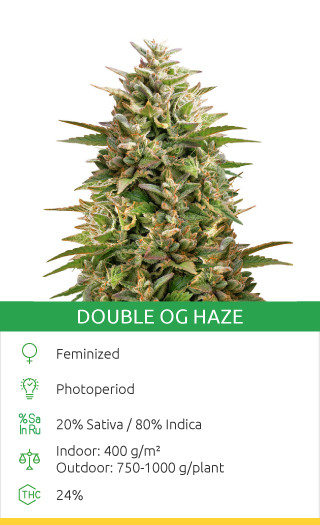 Bred by mating Big Bud, Afgoo and SFV OG, Double OG Haze is a feminized strain with wonderful therapeutic effects. Featuring mild citrus aroma with a hint of Skunk and diesel, this 80% Indica helps to relieve pain, anxiety or stress. This cannabis variety is perfect for cozy evenings with friends and relaxing moments.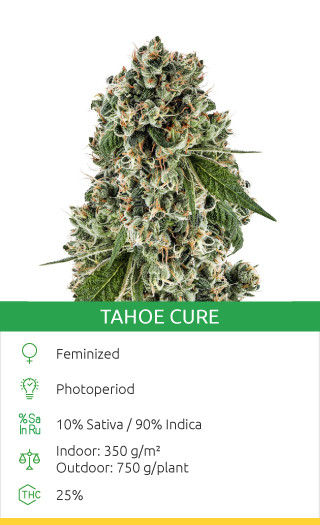 Tahoe Cure is a 90% Indica sporting a strong sedative effect and a penetrating grape-pine aroma. Her name implies wonderful healing properties for a reason. The strain triggers a sneaking high phasing into a deep sense of calm and body relaxation helping to relieve anxiety, pain and stress.