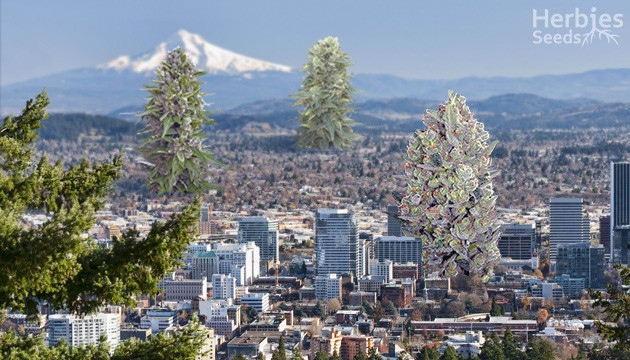 Oregon was among the first states to legalize growing medical marijuana back in 1998, helping to pave the way for today's more accepting laws regarding recreational usage, possession, and cultivation in the U.S. Now, in 2021, post-legalization of adult recreational use and growing means that Oregon has remained one of the best states for growing marijuana, allowing people to keep up to four cannabis plants per household. To help you fill your home ganja garden, we've created a guide to Oregon weed strains – those varieties that will perform the best in this state's climate!
California might call itself the king of cannabis cultivation thanks to its year-round warm and sunny weather, but the Northwest U.S. is also a fantastic place to grow marijuana outdoors. In fact, Oregon has several zones, like Rogue Valley and Applegate Valley, with a Mediterranean climate that's ideal for cannabis cultivation, even including pure landrace Sativas. Summers here start early and are usually mild, leading up to higher temperatures in August. Planting your pot plants outdoors in late spring can therefore result in amazing harvests by the end of the season.
Best Outdoor Marijuana Strains For Oregon
Despite the variability of temperatures and weather in the Northwest, it can be a great place to grow marijuana. Choosing the right strain for the region is the first thing you can do to guarantee a bountiful harvest. If you live in Southern Oregon, you can grow most strains if you start early enough. However, for other regions of the state with harsher climates, such as the coastal range, the Willamette Valley, and Central and Eastern Oregon, when deciding what strains of cannabis to grow, go for early-finishing, autoflowering, and other strains that can handle high humidity levels and temperature fluctuations.
Strawberry Cough (Dutch Passion)
Strawberry Cough is a Sativa-dominant hybrid strain that loves to be grown both indoors and out. Easier to grow than most other Sativas, this lady should be planted somewhere that gets plenty of sunshine, and she will soak up all the water you can give her! Buds are typically quite dense when grown indoors, while outdoor plants produce huge, fluffy colas. All that aside, Strawberry Cough is an amazing, strawberry-flavored social smoke that will snuff out social anxiety with her sweet flavors.
Blueberry Cheese Auto (Barney's Farm)
Blueberry Cheese Auto, a nearly pure Indica autoflower, produces heavy, resinous buds that yield intensely soothing effects. Indoor growers may want to drop the night temperature during the last two weeks to bring out Blueberry Cheese Auto's spooky gothic colors; outdoor growers can achieve that simply by hitting the lottery with the weather forecast! Resistant to both hot and cold weather, Blueberry Cheese Auto is ideal for outdoor growers in coastal, Central, and Eastern Oregon. She is also one of the best high-yielding outdoor strains for Oregon, hitting up to 500g (17.3oz) per plant of huge, fruity buds with a stinky, cheesy taste.
Vanilla Kush (Barney's Farm)
Next up is Vanilla Kush, a Kashmir Valley native with Indica-dominant genetics. This Afghani lady is double-trouble, and will soothe your body as she stimulates the mind. What makes this strain particularly well-suited to outdoor growing is her ability to adapt to whatever growing medium you choose – although she particularly loves to grow in organic soil. Those who choose this grow medium will see a distinct improvement in the vanilla flavor of the buds. As with any other Kush, this strain is often chosen by outdoor growers in Eastern Oregon who are looking for a shorter flowering time and a sturdier plant structure that can withstand the desert winds.
Jack Herer Auto (Green House Seeds)
A resilient autoflowering strain like Jack Herer Auto is always an excellent choice for growing outdoors anywhere in Oregon. She takes only 7 weeks from seed to harvest, so plan your grow to coincide with the sunniest months of the year! This Sativa-dominant hybrid delivers pretty decent yields of 100g (3.5oz) per plant, and the sturdy bush will thrive as long as the temperature stays above 50F (10C). In other words, it's a foolproof choice for outdoor growers dealing with an unstable climate. The harvest of potent buds will induce a giggly, relaxed high that pairs well with social situations.
Bruce Banner #3 Fast (Original Sensible Seeds)
Bruce Banner #3 Fast is a speedy strain, resulting from a cross between the original Bruce Banner #3 and Black Domina. Her fruity Kush flavors remain identical to her namesake, with the added bonus of expedited growth. It should come as no surprise that Bruce Banner #3 plants are incredible hulking monsters – especially when grown outdoors! This strain isn't exactly discreet, with a height of about 3m (10ft) out in the open and massive harvests of 900g (31.7oz) per plant.
Sweet Skunk F1 Fast Version (Sweet Seeds)
A cross between Sweet Skunk Auto and Early Skunk has resulted in Sweet Skunk F1 Fast Version, a feminized Indica-dominant hybrid that yields 350-600g (12.3-21.1oz) per plant and is ready to be harvested in early September. This Skunky strain has inherited some of the all-star characteristics from her parents, with THC levels hitting 23% for a moderately sedative experience.
LA Confidential (DNA Genetics)
If you're looking to pull in some truly blissful harvests in record time, LA Confidential is one of the best outdoor marijuana strains to grow in Oregon. After only 7 weeks of flowering, this lady will produce dense, fluffy buds for a pure Indica experience with psychedelic effects. She's not just great for a drag-out stone, either – LA Confidential also shows off her stuff in her therapeutic qualities. With a terpene and cannabinoid profile this rich, growers in Oregon frequently plant LA Confidential for help with insomnia and pain.
Skunky Monkey Auto (Heavyweight Seeds)
Skunky Monkey Auto blows all expectations of autoflowering strains away with her huge harvests and 20% THC/1% CBD cannabinoid content. She likes to live in large containers of organic soil, ideal for outdoor growing. The yellow and green buds of this blushing girl are coated in sparkling white crystals for a glamorous aesthetic. The incredible effects of Skunky Monkey Auto relax the muscles, yet remain motivating and great for social situations. Complex old-school flavors of sugar, spice, and citrus make this a dessert strain worthy of any day!
Northern Lights (Sensi Seeds)
Northern Lights from Sensi Seeds is a feminized Indica-dominant strain that's particularly praised for her effectiveness against chronic pain and insomnia. Her potent Indica effects and citrusy taste create a smooth smoking experience that will put you in the chill zone. Easy to grow, mold-resistant, and adapting easily to changes in the environment, Northern Lights is a wonderful choice for novice cannabis growers getting their garden started in Oregon. Outdoor grows produce extremely generous yields, especially when the weather is warm and sunny.
High CBD Strains For Oregon
Enough about the recreational growth of cannabis – what about medical strains? While recreational usage and cultivation was only legalized in 2015, medicinal marijuana has been legal in Oregon since 1998. These days, there's a wide variety of strains that are low in THC and high in CBD, making them perfect for everyday symptom management.
CBD Auto 20:1 (FastBuds)
CBD Auto 20:1 is a no-brainer as one of the best high-CBD strains to grow in Oregon. This heavily CBD-dominant strain has 20% CBD with almost no THC, for a purely therapeutic experience that relieves pain and tension with flavors of a honey-soaked fruit salad. For outdoor growers who like a little discretion, CBD Auto 20:1 grows quite small, around 70-90cm (28-35in), into bushy plants with one main cola. She is particularly well-suited to the Oregon environment thanks to her genetic resilience to pests and disease, and can adapt to pretty much any climate.
Stress Killer Automatic CBD (RQS)
Stress Killer Automatic CBD is a citrusy hybrid that easily makes the list of essential Oregon medical marijuana CBD strains to grow in your garden. The combination of high CBD and 11% THC makes this a balanced smoke that invokes a mellow high with therapeutic effects. Stress Killer performs amazingly when planted outdoors, stretching up to 160cm (63in) in height when the climate is warm and sunny. From seed to harvest in just 11 weeks, this lady produces yields of over 100g (3.5oz) per plant.
CBD Lemon Potion Auto (Barney's Farm)
For medicinal marijuana users in Oregon, CBD Lemon Potion Auto is a dream come true. The strain has a relatively low THC content which is complemented by high CBD levels of 15%. From germination to harvest in 10 short weeks, you'll be shocked come harvest time when this lady's branches droop with citrusy buds. CBD Lemon Potion Auto is also naturally resistant to overwatering and environmental stress – great news for growers of all skill levels.
Growin' Weed On The West Coast
If you live in the Northwest, we'd like to extend the question to you: what do you think are the best strains to grow in Oregon? Let us know in the comments below!
Herbies Head Shop expressly refuses to support the use, production, or supply of illegal substances. For more details read our Legal Disclaimer.