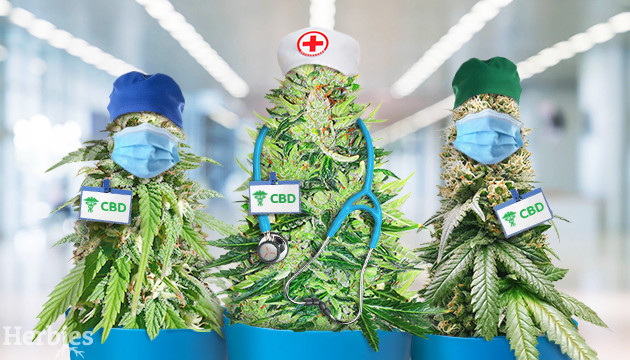 When the medical marijuana movement began to gain momentum in the 1990s, many people still viewed the idea of being treated with weed as just another excuse for getting high. Luckily, this has all changed now, and CBD is one of the reasons for this shift in attitude. No wonder high-CBD autoflowering seeds are being created in greater and greater numbers by the world's top breeders.
Let's review some of the best CBD autoflower strains available to you this season and their many therapeutic uses. And those of you who want to learn more about the principal active component of autoflower CBD strains – namely, cannabidiol – may also find an in-depth look at this natural compound very useful.
What is CBD in Autoflower CBD Seeds?
CBD, or cannabidiol, hardly needs an introduction. After THC, it's the second most known ingredient of the cannabis plant. CBD was first isolated in the 1940s and its chemical structure described in 1963, but until recently, the name of this compound drew mostly blank stares. Now, CBD is everywhere – on the shelves of dispensaries and in food, cosmetics, wellness products, and even dog chews… and of course, in high-CBD autoflower strains.
Arguably, the main reason CBD has become so popular is that it's not psychoactive. While for many pot smokers, this is hardly a recommendation, plenty of patients, especially older ones, who would like to experiment with cannabinoid medicine, find the lack of mind-altering effects in CBD the main argument to try it.
Autoflower CBD Strains as Medicine
Thanks to a plethora of research, we have already moved beyond the anecdotal evidence of what CBD can do. Its main documented effects are as an anti-inflammatory and analgesic, and since CB2 receptors permeate your whole body, CBD can fight inflammation and provide mild pain relief in every organ and tissue.
Cannabidiol also has a sedative effect and thus can help patients with stress and anxiety. Moreover, since anxiety plays such a big role in poor sleep, CBD may even help with insomnia. Depression is a more controversial subject, but some clinically depressed people take CBD and swear by it.
Popular Consumption Methods
While the question of how to consume high-CBD autoflowering cannabis seeds is a no-brainer for smokers, we have good news for medical patients as well: there are many more healthy ways of ingesting this medicine. You can use your harvest to make cannabutter and then add it to all kinds of edibles, and you can produce your own extracts and concentrates, as well as creams and lotions. You can follow the links to learn more, but for now, let's focus on autoflower CBD seeds for sale in our store.
Best CBD Autoflower Strains For Sale in 2022
When choosing CBD autoflower seeds, the main thing to pay attention to is THC and CBD percentages and their ratio. Some strains might contain so little THC as to fit into the hemp category, making them legal to grow almost anywhere.
Others have enough THC that you will notice its effect, but the good news is that CBD will act in tandem with it and work its special healing magic. Yet another category of autoflowering CBD seeds are 1:1 THC:CBD varieties, which have quite a high recreational value, yet whose one-of-a-kind mellow and relaxing high is something you've probably never experienced before.
CBD Lemon Auto
CBD Lemon Auto is ideal for those recreational users who want to make their weed-smoking an even healthier habit. With 17% CBD, you can fill your body to the brim with its healing properties while the equally high THC content ensures tremendous fun in the process. Upon inhaling this lemon-scented smoke with an earthy taste, you'll be bubbling with happiness and creative ideas. The plants themselves are low-maintenance, vigorous hybrids with hefty yields of up to 500-600g/m² (1.6-2oz/ft²).
CBD Auto 20:1
CBD Auto 20:1 is a no-nonsense and natural CBD-manufacturing factory. The amount of THC here ranges from 0.3 to 0.85%, so its contribution to the overall effect will be imperceptible. Perfect for those who live with chronic pain, muscle tension, or anxiety and need to stay medicated all day and yet remain fully functional, the extracts made from these frosty buds taste sweet like fruit and honey.
CBD Auto Compassion Lime
The original Compassion was one of the pioneers of the medical CBD seeds market, and CBD Auto Compassion Lime is its autoflowering feminized version that only got better. The ability to finish in 10-11 weeks from seed without the hassle of changing light schedules is definitely an improvement, as is the great smell of lemon and lime and the taste of roasted oranges and spice. The high cannabinoid content with a roughly 1:1 CBD-to-THC ratio is great for those who want a potent high but don't like a rollercoaster ride with every smoking session.
Sweet Nurse Auto CBD
The breeder Sweet Seeds has been in the business long enough to offer the fifth generation of autoflowers, of which Sweet Nurse Auto CBD is a fantastic example. Needless to say, each new iteration was way better than the one previous. These pungent, fruity, sugar-frosted buds have slightly more CBD than THC, while the overall cannabinoid content hovers around 20%. This Indica-dominant cultivar is an equally reliable producer both indoors and outdoors, with yields of up to 600g/m² (2oz/ft²).
Solomatic Auto CBD
The fat, frosty buds of Solomatic Auto CBD glitter with crystals and look like they pack some serious power, and they do, but it's the power of healing. These autoflowering feminized CBD seeds produce plants with a record-breaking 21% cannabidiol and less than 1% THC. This is medical weed at its finest, with no high to distract you from the business of getting better. Whether you suffer from stress, insomnia, nausea, or many other conditions, you may try this potent medicine and expect relief.
CBD Auto Blackberry Kush
Any Kush is medicine by default, but CBD Auto Blackberry Kush takes marijuana's therapeutic benefits to the next level. With 15% CBD, you can count on significant improvement in your condition, while the 5-10% THC is enough to put a huge grin on your face. A pleasant buzz in your body will signal that your health and wellness are being taken care of as well. The cultivation is a breeze, and the huge purple buds at harvest time are stunningly beautiful.
Tonic Ryder
In experienced hands, Tonic Ryder is a gram-per-watt yielder. Its dense, citrus-smelling buds are very resinous and perfect for extract makers. The THC content is high, but its CBD content is even higher, so whenever you feel a strong buzz in your body, you'll know that there are some subtle curative processes underway. There'll be a lot of healing happening in your soul as well, and the best indications of this autoflower working its magic are an easing of anxiety and stress.
Sweet Pure Auto CBD
You might remember the time when there was only one 20:1 cannabis strain on the market – the legendary Charlotte's Web – and it seemed like a miracle. Now, such levels are almost commonplace. Sweet Pure Auto CBD is one such cultivar, and it's also an unassuming autoflower – reliable, dependable, hardy, and easy to grow. If you expect a great smell and taste from a Sweet Seeds variety, you're absolutely right: this strain has a fantastic candy-like and fruity flavor with notes of spice and wood.
Fast Eddy Automatic CBD
Even among all other autoflowers on our list, Fast Eddy Automatic CBD stands out for its speed of flowering – only 8-9 weeks from sprout. However, she doesn't lose out on any of that time, building a strong structure during veg and stacking up buds while in flower. This strain is Sativa-dominant, with a high that will make you motivated, energetic, talkative, and come up with the craziest creative ideas ever. All this is due to her 10% THC, while the same amount of CBD takes care of the medicinal effects. With Cheese among her parents, you can count on this auto being a piercingly pungent skunk with citrusy and spicy notes.
CBD Auto White Widow
White Widow genetics are a dream come true for any grower and smoker, and CBD Auto White Widow has two more things to recommend her – the infusion of 9-10% CBD makes her a powerful medical variety, while her Ruderalis genes shorten her life cycle to just 9-10 weeks from seed. At the end of a trouble-free grow, you'll be rewarded with heaps of dank sweet-smelling goodness. These high-THC, high-CBD autoflower seeds will be a lucky choice for recreational smokers who want to experience a different type of high or take a step toward a healthier lifestyle.
CBD Autoflower Seeds at the End of Your Fingertips
At Herbies, we have these and many other high-CBD autoflowering seeds ready to dispatch wherever you are in the world. Get your medicinal strains today and benefit from all the perks of being a Herbies customer: stealth shipping, expert 24-hour customer support, a germination guarantee, and of course, free seeds with every order!
Herbies Head Shop expressly refuses to support the use, production, or supply of illegal substances. For more details read our Legal Disclaimer.