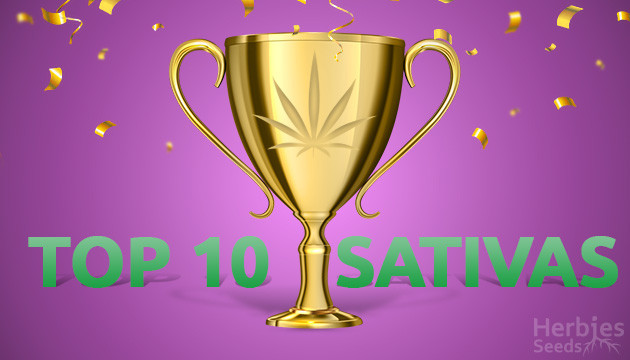 The Sativa subspecies is known for its incredibly potent and uplifting high, and has been reported to induce euphoria, focus and alertness in the user's mind. Due to its physical and mental effects, Sativa is also hailed in the medical world, commonly used to combat and relieve depression, anxiety and chronic pain. No wonder so many cannabis enthusiasts are avid growers of Sativa strains. The following list is a compilation of our customers' favorites. These varieties are incredibly resilient and productive, and have received the best feedback from growers shopping at Herbies.
Bruce Banner #3 – The Icy Giant
Bruce Banner #3 is one of the best Sativa strains in the market. It is incredibly productive, forming huge, dense buds with a thick, resinous coating. When planted outdoors, it grows as tall as 3 meters (9.8 feet), significantly increasing the amount of buds for harvesting.
This strain has a sweet, citrusy aroma that combines tastefully with its herbal, earthy and spicy undertones.
When smoked, it leaves a fruity, lemony aftertaste on the tongue.
Bruce Banner's high is quick, sneaky and intense. It lifts you into a tranquil state of calm and relaxation. 
It is used to relieve aches and pains – perfect after a grueling workout at the gym, as it helps ease and relax the muscles.
Mimosa Evo – Mystical And Mysterious
imosa Evo is one of the best Sativa strains to grow outdoors. Its origins are a combination of rare Clementine and gorgeous Purple Punch, giving it a slick, enigmatic aura. Planted in the warm sun of the Mediterranean, this strain grows as tall as 2.2m (7.2ft) and produces as much as 2000g (4.4lbs) of buds.
This strain has a smell that will remind you of fruit punch and sunny tangerines.
Its smoke has a rich, complex, and nuanced flavor that delicately blends notes of citrus and tropical fruit.
Smoking Mimosa Evo results in a powerful, euphoric, and uplifting high that enhances conversation and creative focus.
It also helps combat pain, depression, and anxiety.
HulkBerry – The Sweet Lemon Beast
HulkBerry is an incredibly strong and durable Sativa strain that traces its lineage to OG Kush and Strawberry Diesel. HulkBerry does unbelievably well indoors – placed under a 12/12 light schedule, it blooms to bring forth dense, frosty buds in as short as 9 to 10 weeks.
HulkBerry is pleasant on the palate. It has a sweet, fruity, berry-like scent with dark hints of fuel and lemon.
This strain has a long, intense and euphoric high.
It is uplifting and exciting without being too racy, making for a beautiful afternoon smoke with friends.
Dr. Grinspoon – The Herbal Trouble
Dr. Grinspoon is a Sativa strain with an exciting history. It was named in honor of Dr. Lester Grinspoon, a Cannabis researcher and enthusiast.
This strain has a tangy, lemony and tropical fruit smell, and an earthy, honey and herbal pine flavor.
Smoking it results in a vigorous, cerebral high and increased sensory awareness.
This makes it perfect for engaging in conversations and creative activities.
Dr. Grinspoon is commonly used by people with mood disorders, attention deficit and chronic pain.
Orange Sherbet Auto – Laziness' Kryptonite
Orange Sherbet Auto is one of the best autoflowering Sativa strains according to our customer reviews. It does well both indoors and outdoors, and when planted indoors, grows quite tall (up to 150cm/4.9ft), producing 650g/m2 (2.1oz/ft2) of buds with great smoke characteristics.
This strain has a sweet, creamy scent that's reminiscent of its parent strain, Sherbet.
It leaves a smooth, sweet, and fruity aftertaste of tangerines and oranges while inducing a powerful high.
Smoking Orange Sherbet Auto brings on an uplifting, motivating, and exciting high that melts down into calm, clear-headed euphoria.
It's commonly used to treat depression, insomnia, and chronic pain.
The Psychedelic Purple Haze Auto
Purple Haze Auto is an autoflowering Sativa strain that comes with an exhilarating high. It grows both indoors and outdoors and shows incredible resilience against pests and diseases. Planted indoors, it takes 70 to 75 days to flower and yields 350g (18.6 oz) per m2.
Purple Haze Auto results in an intense, energized and focused high.
It is bound to make you more open to conversation and is used medicinally to deal with anxiety and depression.
This strain has an earthy sandalwood aroma and a sweet, slightly acidic taste.
Green Crack Auto – How Much Higher Than This Will You Ever Get?
Green Crack Auto from Fast Buds lives up to its name. It has an insanely high THC content, making it very potent. This strain is quite productive, yielding as much as 425 grams (15 oz.) per plant.
It has an earthy, fruity flavor with distinct mango overtones.
Smoking Green Crack Auto tips you into a stimulating, euphoric and powerful high that takes forever to come down.
Green Crack Auto takes only 9 to 10 weeks to flower and produces large buds that have a deep citrus, fruity and pineapple scent.
Super Lemon Haze – The Albino Wonder 
Super Lemon Haze is an incredibly resilient Sativa-dominant strain. It does exceptionally well both indoors and outdoors, yielding as much as 600g per m2 and 800g per plant.
This strain smells zesty, citrusy and sweet.
It is sugary and tart, leaving a lemony aftertaste on the tongue when smoked.
Its high sets in rather quickly and is lively and energetic.
Super Lemon Haze also helps increase the mind's focus and get the creative juices flowing.
This strain is commonly used to stimulate the appetite and relieve pain, stress, depression and anxiety.
Amnesia Haze – Nearly A Legend 
Amnesia Haze is one of the best outdoor Sativa strains on the market. It also does well in controlled indoor settings, holding its own against pests and disease.
It has a balmy, earthy lemon flavor and a fruity, herbal and citrus scent.
Its high is long-lasting, cerebral, euphoric and happy.
If you're suffering from pain, depression, anxiety, stress or fatigue, this is the strain you've been looking for.
Jack Herer – The Intellectual's Green
Jack Herer, this beautiful Sativa strain was named after Jack Herer, an author and marijuana activist. It does well in sunny Mediterranean climates, producing a large number of dense, aromatic buds.
Jack Herer has a blissful and clear-minded high that makes it easier to focus on creative projects.
Users also experience a wave of euphoria and happiness, making it ideal for dealing with depression and anxiety.
It has a spicy pine aroma that mixes superbly with its fruity herbal flavor, making it a joy to smoke.
Sativa strains are perfect for afternoons spent hanging out with friends, or even as daily wake-and-bake strains. Sativa plants grow large and tall, yielding insane amounts of flower to become a farmer's best choice. If you're toying with the idea of growing your own weed, one of these ten best Sativa strains would be an excellent place to start.
What are some of your favorite genetics? Leave a comment below and let fellow growers find their new Sativa favorite!