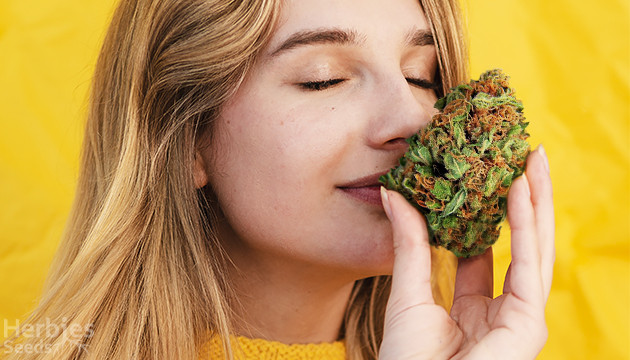 There's nothing quite like opening a fresh jar or bag of marijuana and being treated to some sweet-smelling weed. In fact, cannabis has one of the most recognizable and pungent smells of all plants. Whether you're a beginner user or cannabis connoisseur, different smells of weed can be one of the most exhilarating parts of growing or purchasing. But do you know what makes weed smell or the best smelling strains overall? Let's sniff our way into the world of cannabis and find out more about these unique scents.
Why Does All Weed Smell Different?
By now, you probably know that cannabis is a complex plant, with each genetic or strain having its own particular cannabinoid content, growing style and effects. So, it should come as no surprise that all weed smells different as well. But why? The answer lies in each specific plant's terpene profile. Terpenes, or terps for short, are found in all plants, fruits and vegetables, and are the aromatic centers of cannabis. Depending on the individual plant's genetics or growth quality, every strain produces a different cannabis smell.
A Plethora Of Scents To Choose From
Of course, most strains share similar scents, since there are some terpenes that are more prevalent in cannabis than others. Myrcene, for example, makes up over 20% of terpene profiles for most commercial strains. Myrcene by itself has an earthy and musky scent, with hints of cloves and fruity aromas. Other common terps and flavor profiles that produce varied weed smells include:
Limonene – Zesty & Citrusy
Caryophyllene – Spicy & Woody
Pinene – Refreshing & Piney
Linalool – Floral & Herbal
Humulene – Earthy & Hoppy
Herbies' Picks For Best Smelling Weed Strains
Even though we don't discriminate against any different smells of weed here at Herbies, there are a few that really stand out from the crowd. From sweet-smelling weed to unique and fragrant aromas, here are our all-time favorite best-smelling strains.
Super Lemon Haze
Super Lemon Haze, or SLH, is a potently refreshing strain that tingles your senses from first scent. The irresistible aromas aren't that hard to guess at based upon the strain's name. Super Lemon Haze bursts with invigorating citrus smells that have hints of candy-like sweetness. Many describe the strain as being similar to a popular hard lemon candy that you'll keep coming back to for more. In addition, the Sativa energy of Super Lemon Haze is quite exhilarating itself.
Blackberry Gum Autoflower
Like blowing up deliciously sweet bubblegum bubbles, Blackberry Gum Autoflower pops with lusciously rich weed smells. Uniquely, not only does Blackberry Gum Auto taste like the candy it's named for, but it also boasts hints of sour balsamic notes. You'll be treated to layers of fruity goodness that solidify Blackberry Gum Auto as one of the best sweet-smelling weed strains on today's market. This Indica dominant strain is also as highly euphoric and relaxing as it is alluring for its uncommon cannabis smells.
Strawberry Cough
You'll be coughing with fruity delight from the pungently sweet and satisfying Strawberry Cough. Widely known as one of the best-smelling strains out there, its genetics are abundant with exquisite aromas like the fresh fruit it's named for. However, Strawberry Cough isn't just a one-note strain. Beyond its initial sweetness, you'll be treated to dynamic hints of peppery spice that ignite the senses. The strain will also treat you to classic skunk-like weed smells as you enjoy the equally delightful uplifting effects.
Sugar Candy
To put it simply, Sugar Candy has a sweet-smelling weed scent that you'll practically want to take a bite out of. This somewhat elusive strain is divinely delicious with aromas of mint, licorice and mango. Sound odd? Quite the contrary, as the unique combination bursts with refreshing fruit salad-type smells. Think of it as a five-star restaurant dessert with a sprig of mint on top. The satisfying aromas have a hint of floral sweetness that completes the scent profile of this best-smelling strain.
Do-Si-Dos OG
Out of all of the genetics on our list, Do-Si-Dos OG is the most classic as far as best-smelling strains are concerned – meaning it has that standard and natural plant aroma that smells as fresh as fresh can be. Do-Si-Dos begins with a strong citrusy and fruity scent with a hint of refreshing mint. From there, the strain delights with earthy and herbal aromas that you'd expect from any top-shelf cannabis. Under it all, Do-Si-Dos' funky and floral notes blend all its fragrances together for a superior cannabis smell experience.
Best Smelling Strains – The Nose Always Knows
In the cannabis world, they often say 'the nose knows' when it comes to choosing a strain. With this list of best-smelling strains, you can help point your nose in the right direction. Whether you're into earthy and natural cannabis smells or different smells of weed like citrus or berries, keep sniffing until you find the sweet-smelling weed that perfectly suits your tastes.
Herbies Head Shop expressly refuses to support the use, production, or supply of illegal substances. For more details read our Legal Disclaimer.