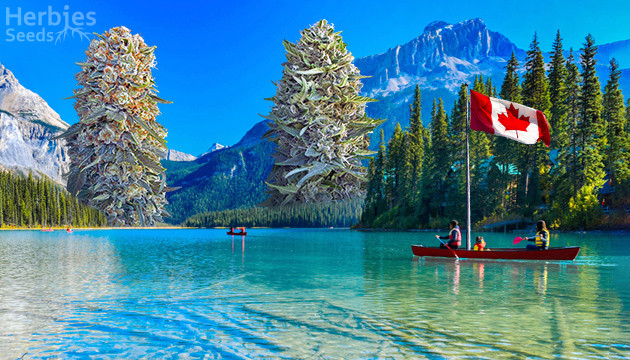 You may think of cold weather when Canada comes to mind, although this is far from the truth at certain times of the year. As long as you're selecting the best Canadian outdoor strains to grow, some parts of the country are blessed with good cannabis-cultivating climates.
Calgary, for instance, is the sunniest place in the country, receiving a good 2,405 hours of sunlight on 333 days of the year. Edmonton is another sunny place, with 2,299 sunlight hours on 321 days. When you combine this with respectable daytime temperatures during the summer months and a little bit of know-how and good outdoor strain choices, it's indeed possible to grow cannabis in Canada.
Photoperiod Strains for the Canadian Outdoors
Winter comes early to many places in Canada, so it's important that you choose a strain that's capable of reaching maturation before the cold weather arrives and ruins your crops. Most strains need to finish here in September, or in the first weeks of October at the latest. Here's a list of strains that do precisely that and thrive in the Canadian climate.
Shiskaberry (Barney's Farm)
Capable of gargantuan yields in record time, Shiskaberry is a well-suited outdoor weed strain for the Canadian outdoors. She's capable of stacking on an incredible 2,000 grams (70,5 oz) per plant and can be ready by mid-September. This 100% Indica cross between Blueberry and an Afghan landrace tests at around 26% THC, the strength of which induces a full-body buzz that will last for hours. The bud is delicious, too; as the name suggests the aroma is dominated by berries, which gives way to earthy and spicy flavors – and of course, more berries.
Godzilla Original Glue GG#4 (Herbies Seeds)
Godzilla Original Glue GG#4 is a short-flowering, THC-loaded beast, and one of the best marijuana strains to grow in Canada. This strain will be ready to harvest sometime in September and is capable of monstrous yields of 1,200g (42 oz) per plant. She produces ultra-resinous buds stacked with THC levels around the 29% mark for a happy, euphoric high. This perfectly-balanced Indica/ Sativa hybrid is a cross between Chem Sis, Sour Diesel, and Chocolate Thai, and is a beginner-friendly strain that's easy to grow. Expect enticing citrus and chocolatey flavors come harvest time.
Eleven Roses (Delicious Seeds)
An important consideration for cannabis strains in Canada, Eleven Roses is a rapid-flowering 100% Indica normally ready by mid-September when planted outdoors, and is capable of whopping-big yields of 2,000 grams (70,5 oz) per plant. Eleven Roses features body-bending THC levels of around 25%. It's definitely a strain you don't want to overdo – otherwise, you may find yourself heavily sedated. This strain is often used medicinally to treat insomnia and other sleep disorders. She turns a delightful shade of purple when mature, producing floral and earthy aromas to complement her hints of fruit.
Cookies Kush (Barney's Farm)
Sitting at 70%-dominant on the Indica side, Cookies Kush by Barney's Farm is primed for the outdoors and is one of the best cannabis seeds for Canada. Needing just 60 days of flowering, you can expect potent buds ready to harvest by early October. Those buds normally test around the 24% THC mark, while CBD levels usually sit between 1-2%. That may not sound like much, but the entourage effect is enough to induce a euphoric head high, which gives way to a calm and relaxing full-body stone.
Royal Medic CBD (Royal Queen Seeds)
Harvested in the first two weeks of October if grown outdoors, Royal Medic CBD is ideal for those who prefer a head buzz along with their medication. The 10% THC is enough to clear and energize the mind, while the 12% CBD works in the background to alleviate pain and inflammation, keeping you in a great mood all day long. This Canada-friendly weed strain grows delicious buds that produce enticing lemony aromas and are used to treat sleeping disorders such as insomnia.
THC Bomb (Bomb Seeds)
Normally testing between 20-25% THC, the delightful THC Bomb varies a bit with different phenotypes but is always ready to harvest sometime in October, making it among the best cannabis seeds for Canada. THC Bomb is slightly Indica-leaning and is capable of outdoor yields of over 1,000 grams (35 oz) per plant. If you experience some of those cooler Canadian nights, your bud will likely feature gorgeous purple streaks – just make sure early October temperatures don't go too low. The strain induces a full-body high with gentle waves of relaxation, while the aroma is more mellow and mild.
Autoflowering Strains for the Canadian Outdoors
Modern autoflowering strains are somewhat of a revelation. They have been engineered for speed, heading from germination to harvest in lightning-quick times while losing nothing in the way of potency or flavor. If you plant early enough in the Canadian spring, it's even possible to grow two back-to-back autoflowering crops before the weather turns nasty and ruins everything. To do this, we need to look at particularly quick maturing strains that don't mind the occasional cool night.
GG#4 Original Glue Auto (Auto Seeds)
Ready in just 70-75 days from seed to harvest, the Indica-dominant and delightful GG#4 Original Glue Auto is a great outdoor weed strain for Canada. She's capable of producing buds with 23% THC, complemented by a noteworthy 1% CBD. GG#4 Original Glue Auto unleashes aromas of lemon, fuel, hash, and pine. A couple of deep drags will leave you euphoric and exceptionally high. This gives way to the famous glue-like body high that will have you locked to your couch. Expect a great night's sleep!
Gelato Auto (Herbies Seeds)
One of the most popular strains in Canada, Gelato Auto from Herbies Seeds is one of the strongest autoflowers on the market, with THC levels up to a dizzying 26%. This wonder is one for everyone, from the beginner to the connoisseur. It lends the user almost overwhelming feelings of bliss and happiness. Feel the good vibrations and positive energy mix with an outpouring of creativity, and enjoy as the sweet and sour aromas give way to delicious flavors of vanilla ice cream and cookie dough. The only challenge is not to overdo it!
CBD Auto Compassion Lime (Dutch Passion)
It's all about quality with CBD Auto Compassion Lime, which produces modest outputs of thick, resinous buds. Containing between 9-15% THC and 9-10% CBD, this strain from Dutch Passion only yields around 100 grams (3,5 oz) per plant outdoors, but more than makes up for this with its wonderfully aromatic buds that induce massive therapeutic effects able to effectively treat anxiety, pain, inflammation, and other ailments. Experience spicy citrus aromas with roasted orange and herbal undertones, paving the way for a deeply relaxing and anxiety-lifting high.
Original Cinderella Auto (FastBuds)
One of the best Canada-friendly outdoor strains, Original Cinderella Auto is perhaps the tallest-growing auto on the market. She comes from good stock; her grandparents are Original Haze, Northern Lights #5, and Shiva Skunk, combined to create this magical 65% Sativa-dominant hybrid. She goes from seed to harvest in less than 63 days, growing beautiful, sparkling buds loaded with 23% THC. Typical of Sativa dominance, the cannabinoids will uplift your mind into a euphoric high that will have you falling in love with life over and over again. Flavor-wise, expect a delicious tropical cocktail of pineapple and peach.
Wedding Cheesecake Auto (FastBuds)
Wedding Cheesecake Auto is another hard-hitter, packing 24% THC into those trippy purple and green buds. The 65% Sativa dominance ensures this is an uplifting, energetic, and creative smoke, making it more than ideal for daytime use. She goes from seed to harvest between 63-70 days and thrives in outdoor conditions. This Canada-friendly weed strain tastes sweet – almost like a dessert – and is capable of outdoor yields of 30-300 grams (1-10 oz) per plant.
Trippy Gorilla Autoflowering (Big Head Seeds)
If you're after a clear-headed, happy, and energizing high, Trippy Gorilla Auto could be what you're looking for with its outrageously high THC levels of 25-28%. The breeders at Big Head Seeds have done us a service by crossing GG#4 Original Glue and Big Head #1 with a Ruderalis phenotype, leading to this resin-drenched delight. She also packs a mesmerizing pine and citrus aroma profile to go with those racing head highs and monster yields.
Ready to Choose Cannabis Seeds to Grow in Canada?
Every strain we feature comes from the best cannabis seeds online for Canada and will thrive in the outdoors. If you live in a colder region of Canada where winter comes early, consider a fast-growing autoflower strain. If you're blessed with some of Canada's finer weather and September is normally warmer than 12-15°C (53-59°F), perhaps choose to grow a photoperiod feminized seeds. Try any of the strains above based on your own taste and effect preferences.
Herbies Head Shop expressly refuses to support the use, production, or supply of illegal substances. For more details read our Legal Disclaimer.