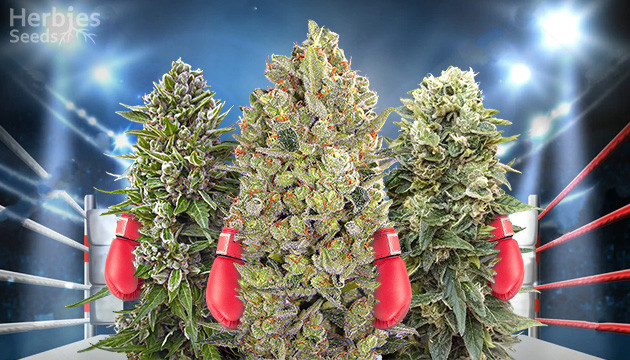 We continue with our long series of posts that are intended to answer two main questions: what's trending in the world of cannabis and what are our customers buying and growing these days? In this regard, we couldn't possibly leave out Heavyweight Seeds, a company that offers so much more than an attractive and promising name. Read about this seed bank and their 5 most popular creations, and you'll see what pleasant surprises are in store for you.
Heavyweight Seeds: First-Rate Genetics From The Very Start
The history of this Spanish seed bank is said to have begun in 2008 with a private collection of mother plants gathered by a certain long-time grower. These genetics were of such high quality that the success of the seeds produced from them was practically guaranteed. The founders of the company spent two years crossing these plants and perfecting their cultivation and selection processes, and in 2010, they were ready to enter the European seed market and take it by storm. Now, a decade later, Heavyweight Seeds' catalog contains many of the massive yielders and hard-hitters that are so appealing to cash-crop growers and amateurs alike.
Outdoor Cannabis Seeds
Buy
Only The Hardiest Plants Make It To The Customer
Besides the obvious method of selecting only the best specimens in terms of yields, effects, aromas and tastes, the breeders at Heavyweight Seeds act like drill sergeants at a boot camp, using the 'what doesn't kill them makes them stronger' philosophy. During germination, they subject the seeds to less-than-optimal and fluctuating humidity levels and temperatures, mercilessly culling all the 'wimps'. The only survivors are therefore only those plants that have enough vigor and will to live. Of course, this also means their progeny will be strong and hardy right out of the gate.
5 Top Sellers For Every Taste
Whether you like a stimulating buzz, a heavy stone or a hybrid effect that puts a warm and fuzzy blanket over your whole being, you're sure to find a strain of weed to your liking in this short list of Heavyweight Seeds' top 5 best sellers.
Fruit Punch Auto: The One To Get You In The Party Spirit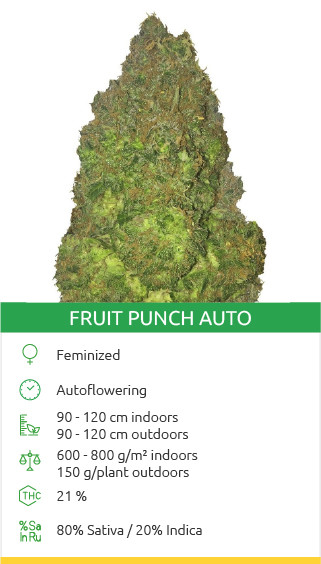 This strain is celebrated for its sweet, clean and strong fruity aroma with notes of lemon and mango and for its uplifting high. Smoke Fruit Punch Auto when you're chilling with your friends or going to a party: you'll feel happy, animated, and eager to talk and laugh. And when you consume it on your own, this Sativa-dominant strain will spark your creativity, make you focus on the task at hand, and give you enough energy to finish what you started. With 21% THC and a healthy dose of CBD to boot, the effects hit fast and last a long while.
Sweet Strains
Go to sweet strains
Extreme Impact Auto: Knock Yourself Out, Literally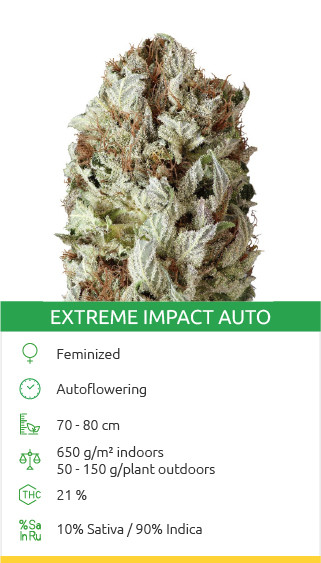 People choose this autoflower for its blissful yet heavy-handed relaxation. With 90% Indica in its genetic makeup, it's obvious that Extreme Impact Auto is best consumed in the evening when all chores are done, you're positioned safely on the couch, and you have the snacks and the remote ready right next to your bong. If not, trying to go anywhere to fetch anything will be a slow and heavy task, and its 21% THC will feel like a ton of weight on your shoulders. Another feature of this strain's almost pure Indica heritage is the thickly sweet and earthy smoke that reminds of the best-imported hashish.
Fast & Vast Auto: No Trade-Off Between Speed And Size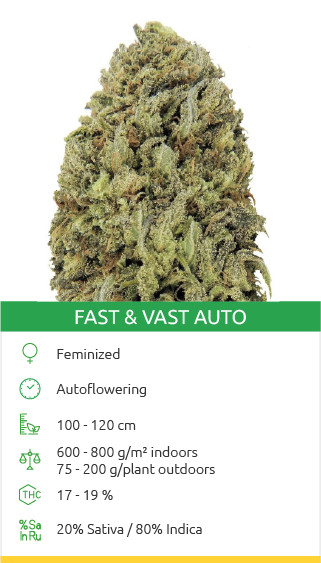 The times when 'autoflowering' meant small size and puny yields are over, but it's still not so easy to strike a balance between how many days you spend on your grow and how much bud you harvest. With Fast & Vast Auto, this is no issue: the plants get large, the colas dense and massive, and all this takes only 8 weeks from seed. Just add 3 more weeks of curing and you're all set, with numerous fragrant sweet and earthy buds providing a strong and pleasant body stone.
Fast Flowering Cannabis Strains
Open collection
2 Fast & 2 Vast Auto: An Overall Improvement With A Social Turn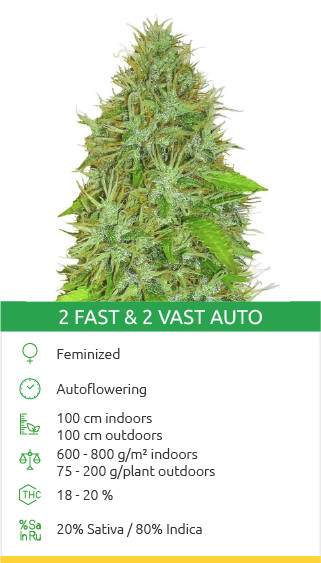 Those interested in the speed and productivity of Fast & Vast Auto will certainly appreciate its new and improved version that received an injection of Northern Lights genetics. 2 Fast & 2 Vast Auto got stronger at all points, including a higher THC content of up to 18-20%. Moreover, the effects are different – expect an engaged, active and social high, perfect for shooting the breeze with your friends, chatting and laughing. You'll also fall in love with the pungent fruity smell and taste, which are amazing if the buds are properly cured.
Green Ninja: Stealthy And Deadly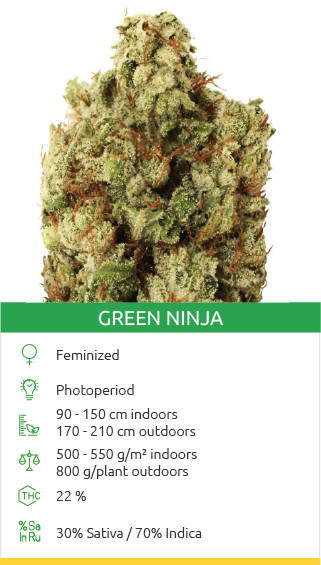 Choose this Indica-dominant plant for a grow where compact size and discreet smell are a must. Despite developing lots of dense and resinous buds, Green Ninja belongs to a relatively rare family of low-odor strains. This fact will be appreciated by many indoor and outdoor growers who can't afford to draw any attention to their secret garden. The fruity flavor with a spicy background is delicious, and the effects kick butt while offering relaxation for both body and mind – a perfect medicine against pain, as well as stress and anxiety.
Growing All Heavyweight Strains Is A Bold But Rewarding Endeavor
The five strains we've described above will give you just a taste of what's in store for you if you make Heavyweight Seeds genetics your primary aim at Herbies. You can keep growing their strains almost indefinitely and produce literally tons of buds before you exhaust their range of photoperiod and autoflowering varieties. However, if you want to keep your options open, get acquainted with other top-rated breeders and their best strains in the rest of the articles of this series.
Herbies Head Shop expressly refuses to support the use, production, or supply of illegal substances. For more details read our Legal Disclaimer.