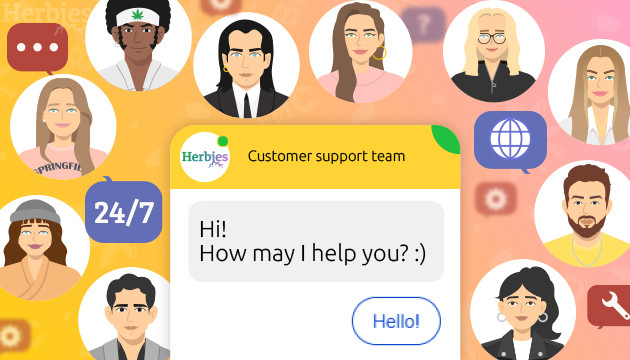 What's that cheerful beep that you hear while browsing Herbies? If you don't yet know, it's our chat window, there for you to use any time you need help with anything Herbies-related. But who's on the other side of the screen behind the cartoonish avatar? It's our expert customer support managers who speak many languages and know Herbies and cannabis growing like the back of their hands. Today, we're going to break the ice and learn more about each of them, so maybe after reading the article you can send your first message in the Herbies chat!
What Do People Ask Us?
Our customer service agents are behind the desk 24/7 waiting to receive your message and put their expertise to use. They receive all kinds of questions about our huge collection of seeds, how to order them, and how to grow them. There's no question too big or too small – ask away! Here's just a portion of the questions that our agents answer daily:
What's the best yielder with the shortest flowering time that you have?
I'm a first-time grower, and I need a small and bushy strain with a low odor. Could you pick one for me?
Any fast autos here?
Here's what I want: high yield, large buds, good taste. What strain do you suggest?
What are your highest THC strains? 
What happens if my order gets seized?
Can you help me track my order?
What are your payment options?
Meet Your Experts
Whether you're looking for something similar to the questions above or something else entirely, don't be afraid to drop a "hi!" You'll soon get a response from one of these lovely people.

Rosalia
Superpower: Miss Responsibility
My name is Rosalia, and I consult English- and Spanish-speaking customers at Herbies.
In my everyday life, I enjoy drawing, watching movies and TV shows, riding motorcycles, and playing volleyball. When it comes to work, what I love most here is interacting with people from all over the world and helping them choose the best strains from our store!
Speaking of strains, my favorites are:
I'm always happy to help with shipping-related issues, or even place an order for you if there's any difficulty with that! Wanna just talk about anything? I'm here for that too!
¡Bienvenidos a Herbies!

Martina
Superpower: The Great Researcher
Hi everyone!
It's me, Martina, and I can answer all of your questions in English or Spanish. I'm also actively learning Italian, and hopefully, I'll add that language to my list soon!
I like getting to know different cultures, and traveling helps me with that. When I'm not traveling, I like dancing and watching stupid TV shows for fun. What I like most about Herbies is our big team where everyone knows their area of responsibility and is always ready to help. And it's great that I get to work with people – dispelling their doubts and finding solutions to their requests feels great! If you're in the chat with me, get ready to receive tons of questions, because I'll get to the bottom of the problem and leave no trace of it!
My favorite suggestions for you:
Just let me know if you need anything – I'm ready to help!

Nelly
Superpower: Sativa Connoisseur
Hi all,
My name is Nelly, and I'm a customer service agent in English and German.
I have many interests, but most of all, I like to learn and expose myself to new foreign languages. Right now, I'm mastering Spanish and hope to be able to use it for my consultations in the future.
Every day, I get inspired by working in a team where everyone has each other's back and no customer is left without proper attention. Being able to help customers really find the best variety for their particular growing conditions is amazing and keeps me going.
These are the items from Herbies that I love:

Nicolas
Superpower: Strain Expert
Hi everyone!
My name is Nicolas. You can find me here at Herbies giving advice in English and Spanish.
Drawing, listening to podcasts, and working out is what I do when I'm not working. In my job, I like to implement a personal approach and choose the best cannabis varieties for each and every customer. You can also always count on me if you want to make your ordering process as easy and smooth as possible.
The top three weed varieties I love recommending are:
Always happy to help with any questions!

Claire
Superpower: Miss Dependable
Bonjour!
My name is Claire, and I'm a consultant and quality manager in French.
I also study English to improve my language skills and use it in my work with more customers from different parts of the world. It's one of my main hobbies. I also love to cook and dance.
I love Herbies and my job! I like to be useful to clients and help them to choose the right variety or solve any difficulties. For me and everyone else in our large team, it's important that the customer is always satisfied and wants to come back again and again.
Here is a selection of my favorite varieties for you:
I'm always happy to help, so if you have any questions, just let me know!

Lea
Superpower: Support Hero
Hi there,
I'm Lea, a consultant in English and French. I'm into psychology, skating, and languages. Besides that, I can't imagine my life without music and travel.
I joined the team at Herbies because of my desire to be understanding and empathetic toward people. I love to help people with choosing strains – it keeps exciting me because in such a delicate matter as choosing a plant that will bring them lots of benefits and emotions, there are no insignificant details.
Here are some strain choices I can always stand behind:
I hope I can give you some good ideas for your future crops!

Alice
Superpower: Herbies' Mastermind
Hi all,
My name is Alice and I consult in English!
When I have the time, I love to draw, dance bachata, travel, and drive! I also love learning foreign languages and am currently actively mastering my Spanish! I hope that soon, I'll be able to give advice in Spanish as well as I do in English – that's my main motivation.
I love Herbies for our friendly team and how we get to help people! The best part of my job for me is the process of hand-picking strains according to the customers' growing conditions and preferences. Sometimes I do it via phone, which I love even more.
My favorite strains are:

Michael
Superpower: Listening Guru
Hey there,
My name is Michael, and I'm an English-speaking customer support manager. I love football, good music, and hanging out with friends.
I value Herbies for its family atmosphere and the feeling of unity. My favorite thing about this job is that it allows me to develop customers' loyalty. It feels amazing to be able to earn people's trust in the brand, and then see them coming back satisfied and ready for long-term cooperation.
My favorite strains are:

Samuel
Superpower: Mr. Friendly
Hello!
My name is Samuel, and I'm a Spanish-speaking consultant and quality manager at Herbies. My interests are in traveling, sports, music, and simply spending time with interesting and positive people. That's in part why I love my job at Herbies – for the opportunity to interact with people from different countries and backgrounds. I appreciate our team for their intelligence and ease of communication.
It's important for me to treat every client with special attention, spread positive emotions, and find the best solution to their problems.
My top three strains are:
Anthony
Superpower: Zen Master
Hi,
My name is Anthony, and I consult with Herbies customers in English. The things I love? Team sports, Blue Gelato 41, and good literature!
Working at Herbies, I can't help but appreciate the healthy work climate and lots of direct contact with customers, especially our regulars – I love to help them out and create stronger bonds.
My personal favorite strains are:
Drop Us a Hi!
As you can see, our experts behind your screen are a lovely bunch. They find joy and pride in helping you navigate the world of cannabis seeds and grow stronger plants. Meanwhile, they grow stronger as a team over their appreciation for cannabis and occasionally the love of simple joys of life, like dancing, music, or sports.
"We do our best to provide you with the best quality assistance, even though our team isn't huge. We work alternating shifts, and sometimes it's just a couple of us for all the Herbies customers from all over the globe! Despite that, we're always ready to help you choose the best seed options and solve any issues you might face. We appreciate your understanding and patience – give us a minute, and we'll get to your message as soon as possible. Maybe one of our agents has started to answer your request just now!"
Want to get to know our customer service agents better or get some personal advice or a recommendation? Then head over to the chat window on the right bottom corner of Herbies and drop a hi!
Herbies Head Shop expressly refuses to support the use, production, or supply of illegal substances. For more details read our Legal Disclaimer.